Says gubernatorial candidate Clay Pell "hasn't spent a dime on advertising."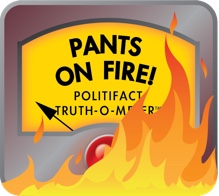 NEARI Executive Director Robert A. Walsh Jr. says candidate Clay Pell hasn't spent anything on advertising in his run for governor
During an April 20, 2014, interview on WPRI-TV's "Newsmakers," Robert A. Walsh Jr., executive director of the National Education Association-Rhode Island, was asked about the likelihood that Clay Pell would win September's Democratic primary and, ultimately, the November election.
Walsh downplayed the importance of the latest polls showing little support among Democrats for Pell, the gubernatorial candidate supported by the union. (Pell was favored by  9.4 percent in an April 11 Brown University poll and 15 percent in a February Providence Journal / WPRI survey.)
"Poll numbers in April for a relatively new candidate are meaningless," Walsh said. "What is he? Mid-teens or something right now? But he hasn't spent a dime on advertising or done anything else. He's getting out there meeting people. When he meets people he converts them to his cause and his message."
Hasn't spent a dime on advertising? That didn't make cents to us.
Immediately after Pell's announcement on Jan. 28, 2014, it was almost impossible to go online and not see ads for Pell popping up on nearly every website you'd visit -- even those featuring General Treasurer Gina Raimondo, one of Pell's Democratic opponents.
Those ads cost a lot of dimes, so we called Walsh to see if he could justify his claim. He responded by email:
"Of course the reference was to the traditional television buys that accompany campaigns (since I was on TV when I mentioned it)," he wrote.
That's not a distinction he made during the program.
Exactly how much has Pell spent on advertising?
On April 23 we began an effort to get that information -- even a rough estimate. Pell's campaign promised to get back to us, but despite repeated follow-up calls and emails, we couldn't get our questions answered.
A week later, on April 30, the Pell campaign, as required by law, filed its quarterly finance report for the first three months of 2014. It showed that Pell, who began his campaign by loaning himself a million dollars, has now invested another million dollars of his own money in his campaign and spent $311,547 in January, February and March.
It also showed that on Jan. 7, Pell spent $36,530 on advertising and media production through a media company in Washington, D.C. The firm got another $7,880 on March 10. (The other two items listed as advertising expenditures were $200 for an ad with the Rhode Island Black Heritage Society and $800 for a full-page ad in the program book of this year's Providence Newspaper Guild Follies, run by unionized workers at The Journal.)
Our ruling
NEARI executive director Robert Walsh said candidate Clay Pell "hasn't spent a dime on advertising."
At the time, the Pell campaign had already spent 444,100 dimes, or $44,410, on advertising through a Washington media firm. We know the public has seen at least some of that money because we were inundated with online Pell ads soon after his announcement.
To suggest that Pell hasn't spent a dime -- or a quarter, or a dollar -- on advertising is not only short-changing the truth, it's ridiculous.
We rate it Pants on Fire!
(If you have a claim you'd like PolitiFact Rhode Island to check, email us at [email protected] And follow us on Twitter: @politifactri.)
WPRI.com, "Newsmakers 4/18/2014: Robert Walsh, NEARI," April 18, 2014
ProvidenceJournal.com, "Providence Journal/WPRI poll: Taveras has slight edge in Democratic primary race for R.I. governor," Feb. 12, 2014 and "Brown poll finds Taveras and Raimondo in statistical tie for governor's race," April 10, 2014
Email and interview, Devin T. Driscoll, campaign manager, Pell for Governor, April 23-25, 2014
Email, Robert Walsh, executive director, NEARI, April 25, 2014
RICampaignFinance.com, "Summary of Campaign Activity - Clay Pell - Period Ending 3/31/2014," Rhode Island Board of Elections, filed and accessed April 30, 2014
Browse the Truth-O-Meter
More by C. Eugene Emery Jr.
Support independent fact-checking.
Become a member!
In a world of wild talk and fake news, help us stand up for the facts.