Stand up for facts and support PolitiFact.
Now is your chance to go on the record as supporting trusted, factual information by joining PolitiFact's Truth Squad. Contributions or gifts to PolitiFact, which is part of the 501(c)(3) nonprofit Poynter Institute, are tax deductible.
I would like to contribute
Says he's "the only licensed firearms dealer in America running for Congress."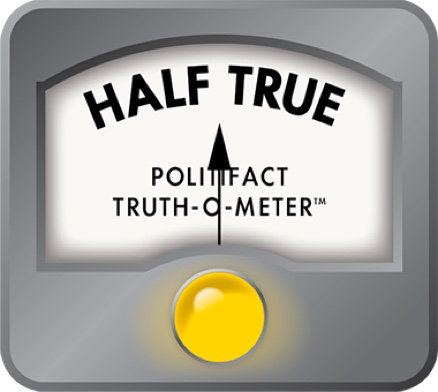 Stone claims unique position as gun dealer
It's an attention-grabbing campaign ad.
John Stone fires a cannon that he says resembles the one his forefathers used in the Revolutionary War.
"As the only licensed firearms dealer in America running for Congress, I'm willing to do the same if we have to," Stone declares on the video. "But it's a whole lot easier just to vote in new House Republican leaders who will stand up to Obama and defend our Constitution."
Stone, a Republican and former congressional aide, is making his second bid to unseat five-term 12th District U.S. Rep. John Barrow, a Democrat from Augusta. He last tried in 2008.
The Second Amendment is a galvanizing issue, and politicians know it. Barrow pulled out his father's gun, his grandfather's gun and his National Rifle Association endorsement for an ad when he was fending off other challengers two years ago.
And it's unlikely that many would say it was coincidence that this year, with the entire General Assembly up for re-election, state lawmakers passed a gun bill that the NRA called the "most comprehensive" in recent Georgia history and that critics decried as one of the nation's most extreme.
But can Stone really say he's the only licensed firearms dealer in America running for Congress?
We decided a fact check was in order.
We saw the potential to check Stone's claim. The Bureau of Alcohol, Tobacco, Firearms and Explosives keeps a database of all federal firearms licenses, so a check of those names against the names of all U.S. House and Senate candidates could do the trick.
The only problem: There are about 140,000 current federal firearms licenses, and many are issued in the names of businesses and corporations, not individuals.
Stone was forthcoming with us about his license (he even emailed us a copy) and about how he came to make his only-one-in-the-country claim.
Friends in the firearms industry pointed out to him in 2012 that he might be the only U.S. House candidate with an ATF license, Stone said. He said he went to multiple sources for verification, including the NRA, Gun Owners of America, the National Shooting Sports Foundation and the ATF.
"To everyone's knowledge, I am the only one," Stone said. "I have Google and Bing searched this extensively, and to the best of my knowledge and ability to check, I am the only one."
He volunteered that he would change his ad if another candidate were found to be able to make the same claim.
But our research turned up another question: Can he really call himself a dealer?
Stone has a federal firearms license. It is what's known as a Curio and Relic license. He collects, restores and trades historic firearms, at least 50 years old, and as a hobby, not a business.
When we asked the ATF to assist in our search for his license, we were told that, based on a code on the license, "he's a collector, not a dealer," a distinction we wondered about since his ad says dealer.
The ATF does issue what it labels as "dealer" licenses. They are largely reserved for gunsmiths, pawnbrokers and others who make a living buying and selling many types of guns.
Jerry Henry, with the gun advocacy group GeorgiaCarry.org, said he thinks Stone's YouTube claim is "misleading at best."
"He's a collector," Henry said. "That's not what I consider a firearms dealer."
Others we talked to agreed. Tim Coker with the National Firearms Dealer Network said gun enthusiasts hearing the claim would assume that Stone is a licensed dealer, selling modern firearms.
NRA officials were not aware of Stone's claim, spokesman Andrew Arulanandam said. The group has been a Barrow supporter.
"He (Barrow) has stood steadfast with gun owners, hunters and sportsmen thought his career," Arulanandam said.
Stone remains insistent. He sent us two dictionary definitions of dealer. He also said he deals in black-powder firearms and pre-1899 firearms, which require no ATF license, restrictions or registration on buying and selling.
"I am a firearms dealer. I buy and sell firearms," he said. "This fact is indisputable."
When we first started the fact check, we asked Stone why he decided to tout the fact that he was a federal firearms dealer. He said the discussion of where a candidate stands on Second Amendment rights can be time-consuming. With the dealer moniker as his calling card, he said his position is immediately clear.
In summary, Stone, a former congressional aide, has proclaimed himself the "only licensed firearms dealer in America running for Congress." He said he wasn't able to document that statement, but after talking with people in the firearms community, he believes it's true.
We couldn't find any sources to definitively prove or disprove Stone's claim of exclusivity.
He does have a federal firearms license for a very niche group of collectors. He contends this status allows him to make the claim that he is a gun dealer. Others suggest his statement is misleading.
Overall, a viewer of Stone's ad needs much more information to weigh the value of his claim -- an awful lot of context is missing even though there is some truth to part of his statement.
We rate the statement Half True.
YouTube ad,
Phone and email interviews with John Stone, Republican candidate, 12th Congressional District of Georgia.
Interview with Jerry Henry, executive director, GeorgiaCarry.org.
Interview with an official with the Bureau of Alcohol, Tobacco, Firearms and Explosives and a review of website data,
Phone interview with Tim Coker with the National Firearms Dealer Network.
Browse the Truth-O-Meter
More by Nancy Badertscher
Support independent fact-checking.
Become a member!
In a world of wild talk and fake news, help us stand up for the facts.