Stand up for the facts!
Our only agenda is to publish the truth so you can be an informed participant in democracy.
We need your help.
I would like to contribute
New Jersey has had "seven credit downgrades" since Chris Christie became governor.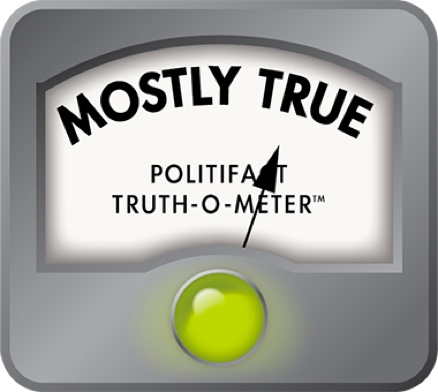 Claim: New Jersey has had 7 credit downgrades since Chris Christie took office
Not surprisingly, the Sunday morning pundits were already forecasting what Republicans' midterm election gains mean for the 2016 presidential race.
Republicans considering a run for the presidency need to prove they are adept money-managers, and that might be a problem for New Jersey Gov. Chris Christie, said Fox News host Greta Van Susteren on ABC's This Week.
Christie had a great week of election-night wins as head of the Republican Governors Association, but she said that won't matter as much when the 2016 conversation picks up and voters "actually dig in and look at the numbers" of how governors managed their states.
"Two years from now, though, we're going to be looking at the economy in New Jersey," Van Susteren said. "And so far they've had seven credit downgrades since the time he's been governor. That doesn't look good."
Sure, credit downgrades sound like a bummer, but what do they actually say about a governor's performance as state CEO? Did Christie really have that many?
Bond rating basics
A state's credit rating is an expert, independent analysis of a state's ability to meet its debt obligations, not unlike a regular person's credit score.  Here, we're specifically looking at a state's general obligation bond rating. Its full faith and credit has been pledged to repay the debt, said Lisa Washburn, managing director of Municipal Market Advisors, an independent research firm.
Generally, the better the rating, the lower the borrowing cost.
Other types of state-backed bonds, such as transportation trust fund bonds and others secured by an appropriation commitment by the Legislature, are weaker because their repayment depends on legislative action. Appropriation ratings are usually rated below general obligation bonds due to the risk that money is not appropriated.
The rating for New Jersey's general obligation bonds has been docked eight times, not seven, we found, by the three major ratings agencies of Wall Street: Moody's Investors Service, Standard & Poor's Rating Services and Fitch Ratings.
The following chart details the instances in which a major credit rating agency has lowered New Jersey's general obligation debt.
| | | | |
| --- | --- | --- | --- |
|   | Date | Rating service | Rating change |
| 1 | Feb. 9, 2011 | | AA to AA- |
| 2 | April 27, 2011 | | Aa2 to Aa3 |
| 3 | Aug. 17, 2011 | | AA to AA- |
| 4 | April 9, 2014 | | AA- to A+ |
| 5 | May 1, 2014 | | AA- to A+ |
| 6 | May 13, 2014 | | Aa3 to A1 |
| 7 | Sept. 5, 2014 | | A+ to A |
| 8 | Sept. 10, 2014 | | A+ to A |
An important note lost in Van Susteren's claim. New Jersey's credit rating hasn't dropped eight notches. Instead, it's been adjusted downward a total of eight times by the three major ratings agencies.
"It's not wrong, but it also makes it sound like the state's credit rating itself was downgraded by itself by seven places," Washburn said.
The agencies' ratings tend to be similar, so it's not surprising that over three years, Standard & Poor's and Fitch have both decreased the credit rating from AA, the third-highest level, gradually to A, the sixth-highest rating. The Moody's system is slightly different but tracks similarly.
The rating agencies' reasons
Now let's get into why the credit rating dropped.
As the chart shows, the first drop came in February 2011, the start of Christie's second year in office. In announcing the first credit-rating downgrade of Christie's governorship, Standard & Poor's mentioned long-running problems with the state's pension and health care obligations, as well as a slow economic recovery.
Christie called the public employee pension and health care system a ticking time bomb and engineered a bipartisan pension law in 2010 that called for shoring up the state's unfunded pension liability, recently estimated at $40 billion.
The full pension contributions haven't happened, and the economy remains sluggish, so the outlooks have been generally negative. Ratings services emphasize ongoing concerns about the state's "structural imbalance." Translation: As long as the state continues to rely on one-time, short-term fixes and only partially funds its pension obligations, the budget outlook and ratings won't be getting any better.
In its Sept. 5 letter, Fitch outlined how the state lacked a long-term plan to close its budget gaps in the 2014 and 2015 fiscal years amid lingering low revenues, and the "repudiation" of promised pension contributions set in the 2011 law that Christie did not fulfill. Christie vetoed temporary tax increases on millionaires and businesses set by Democratic legislators in effort to pay for the pension contribution.
"New Jersey's economic performance continues to lag that of the nation, and a multitude of long-term spending demands are expected to prolong the achievement of sound financial operations," the Fitch report said.
Just days later on Sept. 10, Christie earned an unenviable distinction among Garden State governors with another downgrade from S&P: He has overseen the most downgrades of any governor, at eight.
We did not hear back from Christie's staff in time for our fact-check. In a September story about the latest S&P downgrade, a spokesman for the state Department of Treasury told The Star-Ledger that it did not come as a shock "given the tendency of rating agencies to follow one another closely in all actions -- as they did leading up to the financial crisis of the late 2000s." Christie himself said the ratings agencies were "being significantly over-aggressive because they were such bums back in '08 and '09 and they left everybody hanging out to dry."
In fact, an S&P analyst had cautioned Christie months earlier that another downgrade was likely to come if revenue remained stagnant and the state kept "deferring pressures into future budgets."
The frequent downgrades do not mean the state is falling to financial pieces. Yes, the state's credit rating is the second-worst among states in the nation, behind only Illinois. But states generally have solid credit, and New Jersey's is rated higher than most corporations and is nowhere near the junk-bond status of Detroit or Puerto Rico, Washburn said.
"An A rating isn't a bad rating," Washburn said. "It's still solidly within the investment grade. It's just well below its peers."
Our ruling
Van Susteren said New Jersey has had "seven credit downgrades" since Chris Christie became governor in 2010.
We counted eight instances in which the three major credit rating agencies of Wall Street lowered the state's general obligation bond rating. It's important to note that does not mean the state's credit rating has dropped eight places.
Not all of the downgrades can be blamed squarely on Christie, as he inherited a large pension obligation that only grew. But the downgrades are a well-documented vulnerability in a potential presidential run, and several analysts have criticized Christie's more recent budget moves for perpetuating an unstable budget climate.  
Van Susteren's claim is close but slightly misses the mark. We rate her claim Mostly True.
NJ.com, "Fitch downgrades N.J. debt, saying Christie is repudiating his pension reform," Sept. 5, 2014
Fitch Ratings, "Fitch Downgrades New Jersey's GO & Appropriation Ratings; Outlook Remains Negative," Sept. 5, 2014
Bloomberg, "N.J. Rating Cut by S&P as Christie Gets Record Downgrade," Sept. 10, 2014
NJ.com, "Citing Christie's pension cuts and budget issues, S&P downgrades N.J. debt rating," Sept. 10, 2014
NorthJersey.com, "Ratings agencies add Christie policies to legacy issues as causes of credit downgrades," Sept. 11, 2014
Wall Street Journal, "S&P Cuts New Jersey's Debt Rating," Sept. 10, 2014
Washington Post, New Jersey's credit rating has been downgraded more under Chris Christie than any other governor
Bloomberg, "New Jersey's Rating Lowered to A+ by S&P Amid Budget Imbalances," April 10, 2014
Interview with Kim Rueben, Tax Policy Center senior fellow, Nov. 9, 2014
Interview with Lisa Washburn, Municipal Market Advisors managing director, Nov. 9, 2014
Interview with Joseph Henchman, Tax Foundation vice president of legal and state projects, Nov. 9, 2014
Browse the Truth-O-Meter
More by Katie Sanders
Support independent fact-checking.
Become a member!
In a world of wild talk and fake news, help us stand up for the facts.