Stand up for the facts!
Our only agenda is to publish the truth so you can be an informed participant in democracy.
We need your help.
I would like to contribute
"We have a retiree that is collecting a $17,000 paycheck a month . . . tax free."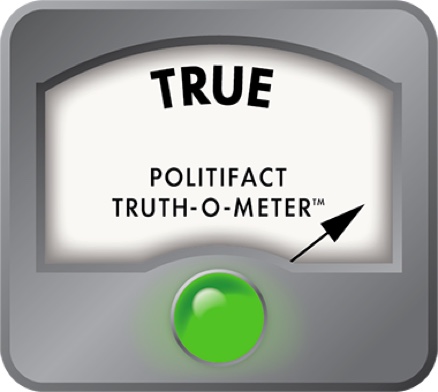 Jorge Elorza says Providence is paying $17,000 a month tax free to one pension recipient
If you're looking for reasons why Providence is in financial trouble, Democratic mayoral candidate Jorge Elorza says a good place to start is the city's pension costs.
During a Sept. 30, 2014, mayoral debate, he was asked about the city's huge pension debt. Elorza blamed one of his opponents, Vincent A. "Buddy" Cianci Jr., an independent, for signing a consent decree when he was mayor that provided for 5- and 6-percent cost of living allowances for retirees.
"Now we have a retiree that is collecting a $17,000 paycheck a month . . . tax free," Elorza said. "How many families in Providence don't make $17,000 a year."
"You can thank the court for that," Cianci retorted.
We were curious about whether that $17,000 monthly paycheck -- equivalent to $204,000 in annual tax-free income -- is real.
Providence officials sent us the 2014 list of the 49 people receiving the largest pension payments.
Thirty seven retirees are receiving checks totaling over $100,000 per year, or at least $8,333 each month.
All but eight were firefighters. The rest were police officers.
At least 28 of those 37 are tax-free disability pensions. Four others may be disability pensions but it's not clear from the list because the money is going to a surviving spouse.   
At the top of the list: Gilbert McLaughlin of Warwick, who retired in October 1991 with an accidental disability pension. He served as chief for 15 months before retiring, citing health problems stemming from a job-related injury to his neck and shoulders.
His annual payment from the city as of May 2014: $196,813.
That's $16,401 per month, or $599 shy of the $17,000 cited by Elorza.
McLaughlin retired as the city's fire chief at the age of 55. At retirement, his base salary was $63,537 per year plus $6,959 in longevity pay for his 36 years, six months and eleven days of service. Total: $70,496.
He received 83.7 percent of that as his pension, or $59,001 a year, according to Lawrence J. Mancini, the city's acting director of administration and finance.
His payment grew so large because he received an annual 5-percent compounding cost of living adjustment that was increased to 6 percent in 1996, Mancini said. (Cianci's second stint as Providence mayor ran from 1991 through most of 2002.)
All of this was part of a long-running legal war over pensions in the city. The stage was set around 1977, near the beginning of Cianci's first stint as mayor, when the General Assembly gave the city's unions a controlling number of seats on the city's Retirement Board. A 1983 City Charter change, when Cianci was still in office, gave the board extra power to make pension decisions.
In 1989, with Joseph Paolino as mayor, the board granted compounded cost-of-living adjustments of 5 and 6 percent for all present and future public safety retirees and 3 percent for non-uniformed workers. In 1991, in the midst of a court battle over pensions, Cianci was back in office and he signed a consent decree that locked in some of the benefits, a decree that he would come to regret.
In 2012, in an agreement Mayor Angel Taveras negotiated with the police and fire unions, the city ended the big compounded cost of living adjustments, so his annual pension remains frozen at $196,813.
To put this in context, the salary of the current fire chief, Clarence Cunha, is $164,736 a year, including longevity pay.
If McLaughlin's initial pension had risen with inflation, and not at 5 or 6 percent, it would be worth $103,036 today, or just under $8,586 a month.
Our ruling
Jorge Elorza said, "We have a retiree that is collecting a $17,000 paycheck a month . . . tax free."
The city's biggest retirement check goes to a retired fire chief who is getting $16,401.
Although Elorza overstated the amount a bit, its close enough to rate his statement True.
(If you have a claim you'd like PolitiFact Rhode Island to check, email us at [email protected]. And follow us on Twitter: @politifactri.)
WPRI.com, "Providence Mayoral Debate," Sept. 30, 2014, accessed Oct. 1, 2014
ScribD.com, "Top Providence RI retiree salaries in 2014," accessed Oct. 1, 2014
Emails, Lawrence J. Mancini, Providence acting director of administration and finance and Ann S. Gooding, acting deputy director of communications, Mayor Angel Taveras, both Oct. 1-3, 2014
Interview, David Ortiz, spokesman, Jorge Elorza for Mayor, Oct. 1-2, 2014
ProvidenceJournal.com, "Retirement board once dominated by unions compounded Providence pension woes," June 7, 2011
ProvidenceRI.com, "Taveras Administration, Retirees, Police and Firefighters Reach Historic Tentative Agreement on Pension Reform," Providence news release, undated, but the news release was issued May 30, 2012, accessed Oct. 3, 2014
BLS.gov, "CPI Inflation Calculator," U.S. Bureau of Labor Statistics, accessed Oct. 2, 2014
Browse the Truth-O-Meter
More by C. Eugene Emery Jr.
Support independent fact-checking.
Become a member!
In a world of wild talk and fake news, help us stand up for the facts.