Stand up for the facts!
Our only agenda is to publish the truth so you can be an informed participant in democracy.
We need your help.
I would like to contribute
Says Jeanne Shaheen has "voted with the president 99 percent of the time."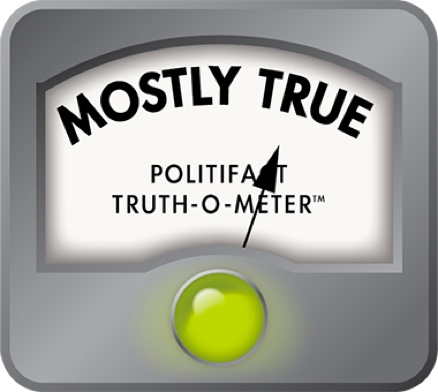 Scott Brown says Jeanne Shaheen voted with the president 99 percent of the time
It's become a go-to line of Scott Brown's campaign to win a New Hampshire seat in the U.S. Senate -- so much so that he repeated it several times during an hour-long debate on Oct. 21, the first televised face-off of the campaign.
Shaheen, Brown said just seven minutes into the debate in Concord, "has in fact voted with the president over 99 percent of the time. What does that mean to people in New Hampshire? It means she was the deciding vote for Obamacare. … She's also voted to put in place policies where we have more and more gridlock by voting with her party over 99 percent of the time."
Brown has delivered variations of this claim so frequently over the past few months that anyone in New Hampshire who's been plugged into an electronic device has surely heard it. It's been a mainstay of Brown's ads in a frenzied air war -- so far in the race for U.S. Senate, more than 10,000 ads have aired costing, more than $7 million.
PolitiFact New Hampshire looked into a version of this claim last March, after the New Hampshire Republican Party released a web video titled "99 Percent." It claimed that Shaheen consistently supports the president and "votes with Obama 99 percent of the time." The ad was launched before Brown had officially declared himself a candidate in the race.
Here, we'll look at Brown's claim that Shaheen has "voted with the president 99 percent of the time."  (Last year PolitiFact New Hampshire checked the claim that Shaheen was the deciding vote for Obamacare and ruled that Mostly False.)
Brown's charge carries some weight. Even though Obama won New Hampshire twice, a majority of residents (55 percent) now disapprove of his job performance, and his signature legislative accomplishment -- the Affordable Care Act, or "Obamacare" -- is opposed by 52 percent of the people in the state, according to findings from an Oct. 10, 2014 Granite State Poll, conducted by the University of New Hampshire Survey Center.
Democrats across the country have faced similar critiques from Republicans; PolitiFact has frequently checked such claims and found them to have varying degrees of accuracy.
Obama himself acknowledged the strategy during a speech at Northwestern University on Oct. 2, 2014.
"Now, I am not on the ballot this fall," Obama said. "But make no mistake:  These policies are on the ballot -- every single one of them."
During the debate, Brown even quoted the president to drive home his point.
Of course, most politicians fall in line with the president when their party controls the White House. Still, we decided it would still be useful to dig into Shaheen's voting record to see whether Brown was correct.
When we checked this claim previously, we asked the NHGOP for evidence. Executive director Matt Mowers pointed us toward Congressional Quarterly's annual presidential position votes report.
CQ, a news service that covers Capitol Hill, examines voting patterns for every member of Congress and sorts them in ways that allow for comparisons. One of those ways is an annual examination of presidential support -- the number of votes by each lawmaker on bills in which the sitting president has staked out a position.
The 2013 CQ analysis shows that, when you look at the pool of votes in which Obama took a clear position, Shaheen's vote matched the president's stance 99 percent of the time.
Still, there's more to that number than meets the eye.
In 2013, the Senate took 291 roll call votes. CQ registers Obama as having taken a clear stance on 108 of those votes --  about one third.
WMUR political reporter James Pindell further analyzed the figures and found that 70 of those votes involved presidential nominations -- to positions that ranged from Secretary of State John Kerry to a variety of federal judgeships. The remaining 38 involved some type of public policy, including seven on immigration, four on gun policy, and five budget bills.
The only time Shaheen voted against Obama in 2013 came on a bill involving an Internet sales tax, Pindell reported.
We found similar figures across CQ reports since Shaheen took office, which coincided with Obama's election to his first term. CQ put her voting with Obama at least 95 percent of the time each year.
Overall, during the five years since Shaheen took office, Shaheen's votes have aligned with the president's position 98 percent of the time.
That's pretty close to the 99 percent figure, however, it's important to note some limitations of judging Shaheen's support for the president based solely on the CQ analysis.
Shaheen communications director Shripal Shah noted that the senator had broken with Obama on some issues that do not come to a vote; these are not reflected in the CQ tally.
For instance, Shah noted that Shaheen spoke out against a new round of military base closures, an idea the Obama administration advanced in budget proposals, and she opposed a proposal floated by the president to change Social Security benefits.
There are also other ways to measure Shaheen's voting tendencies. OpenCongress, a nonpartisan legislative tracking service, found that in 2013, Shaheen voted with the majority of Democrats 93.1 percent of the time. That's less frequently than the average Democrat in the Senate, putting her on the bottom half of the list.
Finally, in June 2013, Shaheen was featured as a "Bipartisan Champion" by the Bipartisan Policy Center for her work on energy efficiency legislation.
"It's disingenuous to draw conclusions about Sen. Shaheen's record by only looking at a small number of votes," Shah said.
Our ruling
Scott Brown said Shaheen votes with Obama 99 percent of the time.
Brown has credible support for this claim -- in 2013, Shaheen took the same position as the president 99 percent of the time when Obama outlined a clear position, based on analysis by Congressional Quarterly. That wasn't much different than earlier years in the Senate -- overall, her votes have aligned with Obama's 98 percent of the time since she took office.
Still, the CQ ratings address a fraction of all issues facing Congress. Obama only took a clear position in about one third of the Senate votes, and in some issues that didn't come to a vote, Shaheen broke with the President.
Still, Brown's claim about Shaheen isn't far off. We rate it Mostly True.
Browse the Truth-O-Meter
More by Jonathan Van Fleet
Support independent fact-checking.
Become a member!
In a world of wild talk and fake news, help us stand up for the facts.