Get PolitiFact in your inbox.
"If black America were a country, it'd be the 15th wealthiest nation in the world."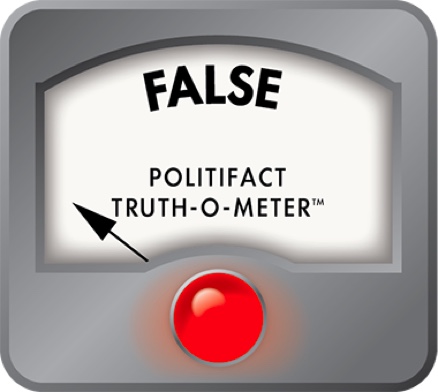 Larry Elder: If black America were a country, it'd be the 15th wealthiest nation in the world
Conservative commentator Larry Elder and liberal CNN contributor Marc Lamont Hill got into a heated argument recently after while discussing the situation in Ferguson, Mo. Elder accused the media of exaggerating American racism for political ends.
"As long as black people believe that race and racism are the major problem in America, you've got that 95 percent monolithic black vote without which the Democratic party cannot survive," Elder said.
Elder used his father's rise from janitor to small business owner as an example of what he called the "thriving black middle class."
"This is what happens in America," Elder said. "If black America were a country, it would be the 15th wealthiest country in the world. For crying out loud, this is not our grandfather's America, and we ought not act like it is."
Fifteenth wealthiest, out of 196 countries, sounds impressive and worth checking out.
Buying power of African-Americans
Elder referred us to an annual report by Target Market News called "The Buying Power of Black America," which publishes the only estimate we could find of the total earned income of African-Americans. In 2011, the report he provided us, Target Market News put the income spent by African-Americans at $836 billion.
Elder got his talking point by comparing that figure to the World Bank's list of each country's Gross Domestic Product (GDP), which is the monetary value of all the finished goods and services produced.
In 2011, "black America's" $836 billion would have put it in 16th, above Indonesia and below South Korea. (The Target Market News report is behind a paywall, so we can't see precisely how they reached their figure. We asked if Target Market News would provide us a copy, but we didn't hear back.)
Target Market News hasn't published another estimate on African-American's earned income since 2011, but a 2013 report by the Selig Center for Economic Growth pegs their contribution to the market at $1 trillion. That would also rank 16th -- above Indonesia and below Mexico.
Case closed?
Not really. Experts told us that there are two major problems with Elder's methodology.
Earned income vs. GDP
First, earned income and GDP aren't quite the same thing. Comparing them isn't fair, said NYU economics professor Gian Luca Clementi, "because GDP is a concept that applies to a jurisdiction, not a group of people living in a jurisdiction." GDP is "a measure of the total income produced in a country," Clementi said, and factors like government expenditure and private investment mean that buying power and GDP aren't comparable.
Second, Clementi said, "a country's total GDP only gives a measure of the total income produced in the country. Anyone having the ambition of using GDP as a measure of average economic well-being, should start dividing by the number of residents."
Clementi used China as an example to better explain. While China has the world's second-highest GDP, "its inhabitants are still a lot poorer than any Western country's residents."
We took Clementi's suggestion and divided the most recent estimate of black earned income, $1 trillion, by the Census Bureau estimate of 44.5 million African-Americans. That would create a per capita buying power of around $23,000 a year, which would translate to around 34th around the world on the International Monetary Fund's list of countries by GDP per capita (between the Bahamas and Malta).
But $23,000 doesn't go as far in the United States as, say, in Lithuania. Economists multiply GDP per capita by a conversion factor called purchasing power parity to account for the different values of goods and services in different countries. If you apply these factors, the African-American population's $23,000 a year ranks 44th (between Portugal and Lithuania).
The United States as a whole, for comparison, ranks seventh.
Our ruling
Arguing that racism is "not a major problem," Elder said that "if black America were a country, it would be the 15th wealthiest in the world."
Elder took an estimate of African-Americans' total earned income ($836 billion in 2011) and looked at how it compared to national GDPs (it was actually 16th). But comparing earned income for a group of people to national GDPs isn't a sound methodology, experts told us.
The comparison falls more off the rails when you look at things on a per capita basis. In that scenario, black America's buying power would rank around 44th when compared to countries' per capita GDPs.
We rate his claim False.
Correction: Elder said racism was not a "major" problem. An earlier version of this fact-check omitted the word major.
Larry Elder on CNN Newsroom with Brooke Baldwin, Aug. 20, 2014
Email interview with Larry Elder, Aug. 21, 2014
Email interview with Gian Luca Clementi, NYU economics professor, Aug. 21, 2014
Email interview with Jared Ball, communications professor at Morgan State University, Aug. 21, 2014
Global Finance, "The World's Richest and Poorest Countries," June 14, 2013
World Bank, "Gross domestic product 2013," July 1, 2014"
Terry College of Business, "Minority buying power grows in 2013, according to Selig Center report," Sept. 4, 2013
Statistic Brain, "Countries With the Highest GDP," Oct. 11, 2012
Target Market News, "'Black buying power of America' probes spending shifts caused by tight economy," Aug. 26, 2014
Centers for Disease Control, "Black or African American Populations," Aug. 26, 2014
Census Bureau, African-American population, accessed Sept. 2, 2014
Browse the Truth-O-Meter
More by Derek Tsang
Support independent fact-checking.
Become a member!
In a world of wild talk and fake news, help us stand up for the facts.