Stand up for the facts!
Our only agenda is to publish the truth so you can be an informed participant in democracy.
We need your help.
I would like to contribute
Greg Abbott did "nothing" to pursue reports of the sexual abuse of boys at a West Texas state-run school.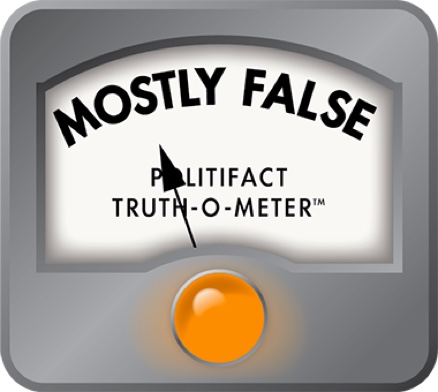 Wendy Davis claims Greg Abbott didn't act on allegations of sexual abuse at state-run school
In a TV ad suggesting Greg Abbott failed to act when allegations of misconduct came to his office, Wendy Davis reminds Texans of the sexual abuse scandal that touched off a 2007 legislative overhaul of the Texas Youth Commission.
In the ad, a narrator says in a dark tone: "Young boys at a state-run school are sexually abused. When a local investigation lags, a Texas Ranger notifies Attorney General Greg Abbott, asking him to investigate. Abbott does nothing," the narrator says, adding that 11 months then went by with more incidents of abuse and neglect.
"But Abbott didn't pursue the case," the narrator says.
By way of backup, the Davis campaign offered news stories describing attempts by a Texas Ranger to get authorities outside of West Texas, including the attorney general, to look into the alleged incidents at the West Texas State School in Pyote.
We reviewed those news reports and others, which together chronicled initial inaction by a state lawyer before Abbott's office presented the related allegations to a grand jury.
Abbott does nothing?
Public knowledge of alleged sexual wrongdoing by officials at the remote school traces to February 2007 news reports by the Texas Observer and Dallas Morning News. But a Texas Ranger, Brian Burzynski, had been on the case for years and had already reached out to the state for help.
Burzynski emailed an assistant state attorney general, Will Tatum, on Feb. 21, 2006, graphically detailing sexual abuse of male youths at the school, according to information released by Abbott's office in March 2007. The Ranger's email said the local prosecutor had the case but "hasn't done anything with it and I am losing hope that he will. ... I would like you to view this report and tell me what you think." Burzynski had begun his investigation in February 2005.
According to Abbott's office, Tatum declined to pursue the case because of jurisdictional concerns; under state law, the attorney general's office needed a local prosecutor to ask for assistance before it could get involved.
As Burzynski's emailed request became public, Abbott's state spokesman, Jerry Strickland, said Tatum still should have forwarded the report to his supervisors before responding to the email, but he didn't follow agency procedures, according to news reports at the time. Knowing "the seriousness of the allegations contained in that email, action would have been taken by the attorney general's office, and this agency would have actively engaged in the matter in any way possible," Strickland said.
But Strickland also said that two days after Burzynski sent the email, Tatum correctly told the Ranger that the Ward County district attorney, Randall Reynolds, would have to ask Abbott's office for help on the case. An April 2007 Austin American-Statesman news story said Tatum sent Burzynski the name and address of his supervisor, Adrien McFarland, for the Ranger to give to Reynolds.
Abbott acted in 2007
Strickland said the attorney general's office began an aggressive investigation after Reynolds asked for help; that request came in Jan. 17, 2007.
In April 2007, a Ward County grand jury returned 13 indictments against two former school administrators for improper sexual conduct with six students, ages 16-19, the attorney general's office announced at the time. Abbott and other state prosecutors appeared before the grand jury to present the charges against former Texas Youth Commission officials Ray Edward Brookins and John Paul Hernandez, Abbott's office said.
Abbott said at the time: "With today's indictments, the victims of sexual abuse at West Texas State School are a step closer to the justice they deserve."
According to the state announcement, on April 4, 2007, District Judge Bob Parks had granted the attorney general's office sole authority to investigate and prosecute allegations of abuse at the Ward County facility. Parks appointed the attorney general as "District Attorney Pro Tem" after the local district attorney recused himself from the case, the announcement said.
Footnote: In April 2010, a jury sentenced Brookins to 10 years in prison on his conviction for sexual relations with a teenage inmate. In 2011, a jury acquitted Hernandez on 14 counts of molesting boys in 2004 and 2005.
Texas law on the attorney general and criminal prosecutions
Generally, the April 2007 Statesman news story pointed out, the Texas attorney general is an executive who primarily defends the state in civil disputes, "though in local criminal cases involving fraud in insurance, Medicaid or elections, the attorney general can usually find a way to involve himself, one way or another. His staff, using a provision in the penal code dealing with computer crimes, can even initiate investigations into the solicitation of sex from minors on the Internet."
Charges like the ones from West Texas, the story said, "are off-limits until a local prosecutor requests assistance in writing."
Eric Nichols, deputy attorney general for criminal justice, told the newspaper the state agency followed the letter of the law.
At the time, the Texas Government Code said: "A prosecuting attorney may request the assistance of the attorney general in the prosecution of all manner of criminal cases or in performing any duty imposed by law on the prosecuting attorney. In requesting such assistance, a prosecuting attorney may appoint any assistant attorney general as an assistant prosecuting attorney."
The 2007 Legislature amended the law to say the attorney general may offer assistance in any criminal prosecution. Another adopted revision: The attorney general may offer assistance "in the prosecution of criminal offenses concerning the Texas Youth Commission."
The Statesman story said two lawmakers, Democratic Reps. Jim McReynolds of Lufkin and Jim Dunnam of Waco, questioned Nichols about whether Abbott's office should initially have done more: Even if he couldn't initiate prosecution, couldn't he have picked up the phone and called Reynolds, or even the governor, the state's chief executive officer?
Nichols said in an interview at the time that Abbott's aides assumed the local prosecutor was doing his job. "Do you automatically draw the conclusion that nothing is going to happen?" Nichols asked.
On the other hand, the Statesman story said, it might not have mattered whether someone in the attorney general's office called Reynolds to offer help. Burzynski told lawmakers in 2007 that Reynolds continually assured him he would prosecute the case. The story said Reynolds had said little in his defense except to blame politics or a "breakdown in communications."
A timeline accompanying the story said Abbott learned of the West Texas investigation at a meeting of senior agency staff Jan. 22, 2007. On March 9, 2007, Abbott announced the grand jury would soon begin hearing the case.
Our ruling
In her ad, Davis said Greg Abbott did nothing to pursue reports of the sexual abuse of boys at a state-run school.
In 2006, Abbott's office reacted to a Ranger's report detailing such allegations by saying a local prosecutor needed to seek state assistance--and a state lawyer reportedly did nothing more. But this charge ignores a pivotal development. In 2007, after the local prosecutor requested help, state attorneys overseen by Abbott steered a grand-jury presentation leading to indictments.
We rate this claim Mostly False.
---
MOSTLY FALSE – The statement contains an element of truth but ignores critical facts that would give a different impression.
Click here for more on the six PolitiFact ratings and how we select facts to check.
Browse the Truth-O-Meter
More by W. Gardner Selby
Support independent fact-checking.
Become a member!
In a world of wild talk and fake news, help us stand up for the facts.