Stand up for the facts!
Our only agenda is to publish the truth so you can be an informed participant in democracy.
We need your help.
I would like to contribute
Says opponent Mary Burke says she "supports Obamacare unequivocally and wants to expand it."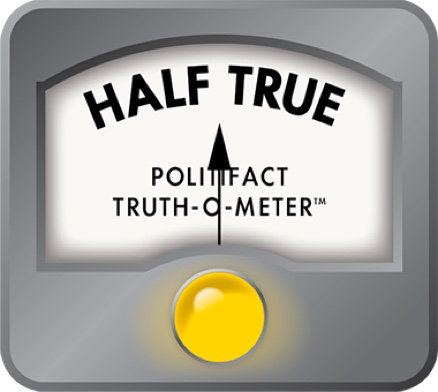 Mary Burke 'supports Obamacare unequivocally' and wants to expand it, says Scott Walker
Gov. Scott Walker's campaign released one of those ominous-mood TV ads on Sept. 18, 2014.
The ad opens with flames on the screen and a siren wailing in the background as a narrator with a deep voice intones: "It's been called the Lie of the Year."
The reference is to PolitiFact National's 2013 Lie of the Year, which was President Barack Obama saying about his Affordable Care Act: "If you like your health care plan, you can keep it."
Moments later, the narrator states:
"But while millions have lost their doctors and their plans, Mary Burke says she still supports Obamacare unequivocally and wants to expand it."
We'll check Walker's claim about Burke -- that she says she backs the law "unequivocally" and that she wants to expand it.
Obamacare, Medicaid, rollout
The Affordable Care Act, of course, is Obama's signature piece of legislation. Among its many provisions, the health care reform law mandates that people have health insurance, through an employer, a government program or by buying it with a government subsidy through an online marketplace that was created as part of the law.
The law also provides for the expansion of Medicaid, the federal- and state-run health care program for the poor, by making millions more low-income people eligible for it. Walker, however, refused the expansion for Wisconsin, saying he didn't trust the federal government to keep its promise to pick up the vast majority of the cost.
Obamacare has been law since March 2010, but its provisions took effect in stages. One milestone occurred on Oct. 1, 2013 when the online marketplaces were opened. That rollout was badly marred by technical problems.
Walker's evidence
To back the claim about Burke and Obamacare, Walker's campaign cited an April 2014 MSNBC.com article about Burke's candidacy for governor. It contained just one sentence about Obamacare:
"Burke is an unequivocal supporter of the Affordable Care Act and wants to expand Medicaid in the state, which Walker has refused to do."
There was no attribution for the statement, nor quote to that effect from Burke.
So, the Walker campaign is picking up the reporter's characterization, not Burke's own words.
Also in April 2014, Burke was asked by the Green Bay Press-Gazette if she supports Obamacare. She said, as she has on many occasions, that unlike Walker she backs the Medicaid expansion part of the law.
"Well, what I support is I would have taken the federal Medicaid money that Governor Walker turned down," she said. "This is hundreds of millions of dollars a year that not only makes health care more affordable in Wisconsin, but it helps fuel our economy."
It's worth noting that after she elaborated on what she views as the advantages of taking the additional federal money, Burke referred to problems with the online marketplace rollout.
"Certainly, Obamacare has its problems. I mean that was a really rough rollout," Burke said. "And I think time will tell how many people sign up. Certainly the latest numbers look quite encouraging. But we have to make sure that it is a system that's working. And it needs to be changed if it's not working."
The Walker ad includes some video clips previously posted by the Wisconsin GOP of Burke, prior to her candidacy, defending Obamacare. But for the most part during the campaign, Republicans have tried to call out Burke for not being more clear on her position on Obamacare or for backtracking on her support of it.
Indeed, while Burke has been clear on her contrast with Walker on the Medicaid expansion, she generally has avoided making comments about the overall law, although she has indicated support.
We asked Burke's campaign for Burke's position on Obamacare. A spokeswoman replied by referring us to comments Burke made in the Green Bay newspaper interview.
We also looked at some of Burke's other statements.
Asked in a Milwaukee TV interview in December 2013 if she supports the law in principle, Burke essentially sidestepped the question. But she said Wisconsin should have created its own online marketplace, or exchange, rather than having Wisconsin residents use the federal one, which is what Walker opted to do.
"I look at how Minnesota has handled it, and Minnesota actually has been able to do it in a way that benefits the people of Minnesota. And we had the same opportunity here in Wisconsin, but first and foremost we needed to accept the federal Medicaid money," she said.
Similarly, Burke told the Milwaukee Journal Sentinel in August 2014: "With our own online insurance marketplace, we could have negotiated with insurers to hold down prices. Obamacare has problems that need to be fixed, but we have to hold down healthcare costs to become a thriving, top 10 economy."
Our rating
Walker said Burke says she "supports Obamacare unequivocally and wants to expand it."
Walker provided no evidence that Burke has expressed unequivocal support for the Affordable Care Act, and we are not aware of any. At the same time, Burke does back the law and she supports expanding it through making more people eligible for Medicaid.
Walker's statement is partially accurate but leaves out important details. We rate it Half True.
To comment on this item, go to the Milwaukee Journal Sentinel's web page. 
YouTube, Gov. Scott Walker campaign "Lie of the Year" TV ad, Sept. 18, 2014
MSNBC, "Scott Walker's Democratic challenger is on the move," April 7, 2014
Livestream, video of Green Bay Press-Gazette editorial board interview of Mary Burke (at 27:00), April 3, 2014
Email interview, Mary Burke campaign spokeswoman Stephanie Wilson, Sept. 19, 2014
Wisconsin Republican Party, Obamacare section of MaryBurke.com, accessed Sept. 19, 2014
YouTube, Wisconsin Republican Party "Mary Burke goes all in on Obamacare" video, May 20, 2014
Milwaukee Journal Sentinel, "Gov. Scott Walker and Mary Burke on the Affordable Care Act," Aug. 5, 2014
WITI-TV, "One-on-one with Democratic governor candidate Mary Burke," Dec. 19, 2013
Email interview, Gov. Scott Walker campaign spokesman Tom Evenson, Sept. 19, 2014
Browse the Truth-O-Meter
More by Tom Kertscher
Support independent fact-checking.
Become a member!
In a world of wild talk and fake news, help us stand up for the facts.