Stand up for the facts!
Our only agenda is to publish the truth so you can be an informed participant in democracy.
We need your help.
I would like to contribute
Health insurance costs for Floridians are up 30 percent or more.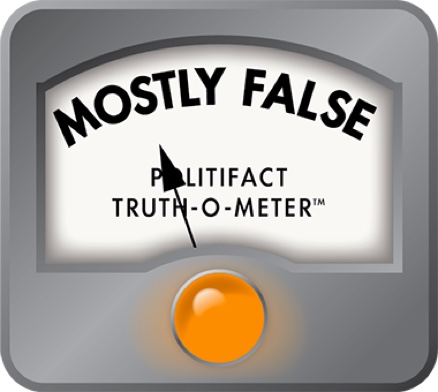 Health insurance costs are skyrocketing under Obamacare, Republican Party says
Got a beef with Obamacare? The Republicans want to remind voters that Democrat Charlie Crist thinks the president's health care law is "great."
A TV ad by the Republican Party of Florida features anecdotes from people making claims about how the health care law has hurt them in the pocketbook or made it harder to find doctors:
"I think Obamacare harms doctors and patients."
"It increased my health policy, personal health policy, 30 percent."
"I'm disabled and I can't find doctors that will help me."
"My family's medical costs have doubled."
"Many doctors are losing their patients, and patients are losing their doctors. I was one of them."
"Obamacare hurts my ability to create jobs."
The ad soon pivots to Crist saying of Obamacare "I think it's been great," comments he made in a TV interview with CNN's Candy Crowley in March 2014. Crist has campaigned in favor of the federal health care law while his opponent Republican Gov. Rick Scott has been a major critic.
The ad doesn't identify the various men and women complaining about Obamacare making it impossible to verify each individual's experiences. State GOP spokesperson Susan Hepworth's only reply to our questions about the people and their insurance woes: "They are not actors."
But we can research the ad's overall message that the Affordable Care Act has inflated Floridians' health care costs anywhere from 30 percent to twice as expensive.
Data about rising premiums
There have been various studies about average premium increases since the health care law was implemented, but the results vary widely depending on the methodology and available information.
The studies we saw that cited larger increases were generally based on the individual or small-group market and not the category of large-group employer plans. Some predictions that came from Florida officials were based on a hypothetical plan that wasn't even for sale in the state.
The Republicans cited a few surveys showing higher prices. For example, a national survey by the investment firm Morgan Stanley showed Florida was seeing a 36.8 percent increase for individual plans and 20.7 percent increase for small group plans based on the response of six insurance brokers.   
But large-group plans were not included in the study, even though those typically represent the most commonly held form of insurance. (PolitiFact New Hampshire noted this in their state as well.)
Individual plans, and to a lesser extent small-group plans, have long been expected to produce larger premium increases than large-group plans. That's because existing individual- and small-group policies likely didn't include many of the law's new minimum requirements, such as preventive care with no cost-sharing. When the policies had to change, premiums were likely to rise.
Larry Levitt at the Kaiser Family Foundation, a leading health policy research center, has said there are several reasons not to compare costs before and after Obamacare. Part of the challenge again is how policies have new coverage requirements, such as maternity care and mental health coverage. The plans people are buying in 2014 are not the same as what they may have bought last year.
In 2013, Kaiser explained that overall average unsubsidized premiums for nongroup coverage would be higher because "many people will be getting better insurance."
Kaiser didn't have a breakdown by state, but reported national data in September 2014 that showed average annual premiums for employer-sponsored family health coverage rose 3 percent.
A 2014 Kaiser survey found that nearly half (46 percent) of those who previously bought non-group insurance and switched to a subsidized, ACA-compliant plan said their current premium is lower than it was under their previous plan, while four in 10 (39 percent) say it is higher.
The rate at which those premiums changed is a question mark because of how each study measured whatever they measured, but the anonymous examples cited in the commercial sound extreme to some experts.
"While it would not be impossible for a consumer to experience a '30 percent increase' in his 'health care policy,' that situation would unquestionably be an extreme outlier," said Greg Mellowe, director of health research and analysis at the Florida Center for Fiscal and Economic Policy, a consumer health advocacy group. "The doubling of 'medical costs' would be even more extreme. Representing those consumers as typical Floridians would therefore be grossly misleading."
So what are typical premium numbers?
PricewaterhouseCoopers released data in August 2014 on individual market rate filings based on state insurance department rate filings and public statements. PWC found a 7.4 percent increase for Florida, a hair above the national 7 percent increase. The report cited a broad range of rate increases in some states and noted that they would likely shrink after regulators reviewed them.
Florida's Office of Insurance Regulation and the White House released different information regarding premium costs in August.
The Miami Herald wrote that Florida officials said rates would rise an average of 13.2 percent for new plans in the individual market next year, while the White House said most Floridians who buy an Obamacare plan will pay less in monthly premiums.
How can that be? Because they're each doing different math in order to prove their points.
The Florida insurance office, an agency working for a Republican governor and GOP-led Legislature that is against the Affordable Care Act, calculated the average on individual health plans on both the private market and the health exchange, leading to that 13.2 percent rise, the Herald pointed out.
The White House was only counting the second-lowest priced silver plan on the exchange in each Florida county. That method predicted an average 4 percent drop in monthly premiums.
"The bottom line is that there is absolutely no way to assess the ad without knowing where the person came from (pre-ACA insurance) and something about their health needs," Caroline Pearson, a vice president at health care consulting firm Avalere, told PolitiFact Florida. "Generally, most people in exchanges were previously uninsured or in the individual market. Most of those people will have much better coverage post ACA, but there are absolutely examples of healthy people whose costs will go up."
Gail Wilensky, who headed Medicare and Medicaid for President George H.W. Bush, said there still are some groups who may have seen substantial increases in their premiums.
"These are individuals or couples who had purchased individual insurance tailored to their needs and who were forced to buy more comprehensive and therefore expensive plans," she said.
Wilensky added that last fall there were many complaints from single people and older couples who had to buy policies with those new requirements. They didn't need things like maternity care and full dental plans for children, but their premiums went up anyway.
However, most people who have bought insurance were those who were eligible to get substantial subsidies, she said.
In response to the Republicans' ad, the Crist campaign sent reporters a copy of a recent Tampa Bay Times editorial that cited numbers that show health care reform is working in Florida -- including that nearly 1 million have elected to get a plan through the federal marketplace.
Our ruling
The Republicans' ad shows several unidentified people saying that health insurance costs for Floridians are up 30 percent or more.
Many reports that cite big double-digit premium increases are based on individual or small-group plans and omit large group plans, the type of coverage many people have through work. Kaiser concluded that in large-group plans, the largest segment in the market, premiums will rise 3 percent.
The Republicans' ad takes anecdotal experiences about cost increases that would be rare but potentially true and creates the impression that the federal health care law is just one big heap of problems for patients without any benefits. Then it tells voters that despite that morass, Crist supports it.
People may see increases to their health care costs under the law, but the typical experience is nowhere near what the ad suggests. Indeed, other Floridians will see their costs go down. We rate the claim Mostly False.
Republican Party of Florida, "Doctors and patients" TV ad, Sept. 24, 2014
CNN, "Where Obamacare premiums will soar," Aug. 6, 2013
Forbes, "49-state analysis: Obamacare to increase individual-market premiums by average of 41 percent," Nov. 4, 2013
Morgan Stanley, "Quarter 1 Survey: Significant Rate Acceleration Continues," April 7, 2014
FactCheck.org, "How Not to Use a Survey," April 10, 2014
PricewaterhouseCoopers, "A preliminary look at 2015 individual market health insurance rate filings," Aug. 27, 2014
Henry J. Kaiser Family Foundation, "Why premiums will change for people who have nongroup insurance," Feb. 20, 2013
Henry J. Kaiser Family Foundation, "Survey of non-group health insurance enrollees," June 19, 2014
Henry J. Kaiser Family Foundation, "2014 Employer health benefits survey," Sept. 2014
Florida Office of Insurance Regulation press release, "Insurers release 2015 PPACA individual health market insurance plan rate data compliant with federal regulations," Aug. 4, 2014
CNN, Interview with Charlie Crist, March 9, 2014
Miami Herald, "Florida says health insurance prices will spike, feds disagree," July 31, 2013
Miami Herald, "White House: rates in Florida will decline for Affordable Care Act exchange plans," Aug. 6, 2014
Tampa Bay Times editorial, "Numbers show health reforms are working," Sept. 23, 2014
PolitiFact, "AFP says health care premiums up 90 percent in New Hampshire," May 1, 2014
PunditFact, "Sean Hannity says health insurance premiums up 99 percent for men, 62 percent for women," Oct. 24, 2013
Interview with Susan Hepworth, Republican Party of Florida spokeswoman, Sept. 24, 2014
Interview with Craig Palosky, Henry J. Kaiser Family Foundation spokesperson, Sept. 24, 2014
Interview with Jonathan Gruber, MIT economist, Sept. 24, 2014
Interview with Gail Wilensky, head of Medicare and Medicaid for President George H.W. Bush, Sept. 12, 2014
Interview with Frank Walsh, spokesperson who provided statement from Caroline Pearson, vice president Avalere Health, Sept. 24, 2014
Interview with Amy Bogner, Florida Office of Insurance Regulation spokesperson, Sept. 24, 2014
Interview with Brendan Gilfillan, Charlie Crist spokesperson, Sept. 24, 2014
Interview with Greg Mellowe, Florida Center for Fiscal and Economic Policy director of health research and analysis, Sept. 24, 2014
Browse the Truth-O-Meter
More by Amy Sherman
Support independent fact-checking.
Become a member!
In a world of wild talk and fake news, help us stand up for the facts.