Stand up for the facts!
Our only agenda is to publish the truth so you can be an informed participant in democracy.
We need your help.
I would like to contribute
On supporting right to work legislation in 2015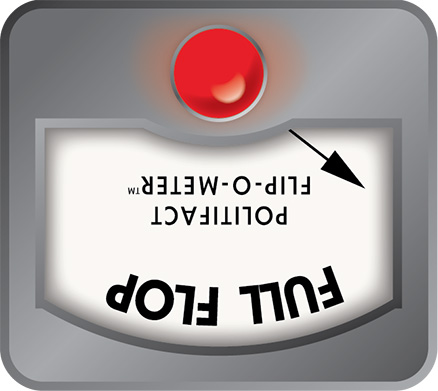 On supporting 2015 right to work legislation, a Scott Walker reversal
Gov. Scott Walker has gone from saying "I'm not supporting" so-called right to work legislation in Wisconsin's 2015 legislative session, to saying he will sign a bill that's being fast-tracked to his desk.
Flip-flop?
Let's turn to our Flip-O-Meter, which simply determines whether a politician's stance on an issue has changed. It does not test whether any change in position is good policy or good politics.
We're not addressing Walker on right to work per se; he's been a backer for more than two decades. Rather, we're looking specifically at whether he has changed his position in terms of supporting a right to work law in Wisconsin in 2015.
Right-to-work laws -- derided by some opponents as "right to work for less" laws -- are in place in 24 states. They prohibit businesses and unions from reaching labor deals that require workers to pay union fees.
Generally speaking, we have found there is some evidence of economic advantage in right to work states. But evidence is lacking that right to work, rather than other factors, is the cause.
(Go here to see a summary of our work on right to work.)
Walker has been an advocate of right to work dating back to 1993, when he sponsored such legislation as a Wisconsin state lawmaker.
But in recent months -- as he has transitioned from campaigning for re-election to pursuing a potential run for the White House – Walker has repeatedly called the issue a "distraction," saying he has higher legislative priorities.
Leadership committees in the Senate and Assembly voted Feb. 23, 2015 along party lines to open what is known as an extraordinary session, to take up only the labor legislation. Leaders expect it will be passed and sent to Walker within a week or so.
Three points in time reveal a shift on Walker's part.
Stating opposition
On May 11, 2012, Walker told reporters at the state Republican Party convention he had  "no interest in pursuing right-to-work legislation in this state."
"It's not going to get to my desk," he said. "I'm going to do everything in my power to make sure it isn't there because my focal point (is) private sector unions have overwhelmingly come to the table to be my partner in economic development."
Walker would later renew that opposition with regard to 2015.
Restating opposition for 2015
On Sept. 2, 2014, Walker -- in the midst of his campaign against Democrat Mary Burke to win re-election -- said he was not advocating for right to work. And he said he did not expect the Legislature to send such legislation his way in the session that would start in January 2015.
"I think it's pretty clear the Legislature has worked with us hand in hand in the past and I'm making it clear in this campaign, as I'll make it clear in the next (legislative) session, that that's not something that's part of my agenda," Walker said.

"My point is I'm not pushing for it. I'm not supporting it in this session."

Walker declined to say whether he would veto the measure if it reached him.
But that would change.
Promises his signature
On Feb. 20, 2015, Walker -- now a 2016 presidential hopeful riding a wave of momentum -- committed to signing the right to work bill being fast-tracked.
"I've never said that I didn't think it was a good idea," Walker told the Milwaukee Journal Sentinel. "I've just questioned the timing in the past and whether it was right at that time."
But Walker had an opportunity to discourage GOP lawmakers from pursuing it, or to tell them he would not sign it if it reached his desk at this time.
The Journal Sentinel reported that GOP Senate Majority Leader Scott Fitzgerald said he brought up the right-to-work proposal as a possibility to the governor on Feb. 18, 2015. The next day he alerted Walker's chief of staff, Eric Schutt, to the plan to act on the bill quickly. And the day after that, Walker announced he would sign the bill.
 
According to Fitzgerald, neither Walker nor Schutt discouraged him from putting the bill forward.
Fitzgerald called Walker "supportive" but said "he still probably believes there is a potential this could turn into something that would be disruptive."
Our rating
Echoing comments he made in 2012, Walker stated in September 2014 that "I'm not supporting" right to work legislation in the 2015 legislative session.
But on Feb. 20, 2015, with Republican lawmakers poised to send him such legislation, Walker said he would sign it.
That is certainly a form of support.
For a major reversal of position, we give Walker a Full Flop.
To comment on this item, go to the Milwaukee Journal Sentinel's web page.
------
More on Scott Walker
For profiles and stories on Scott Walker and 2016 presidential politics, go to the Milwaukee Journal Sentinel's Scott Walker page.
Browse the Truth-O-Meter
More by Tom Kertscher
Support independent fact-checking.
Become a member!
In a world of wild talk and fake news, help us stand up for the facts.