Stand up for the facts!
Our only agenda is to publish the truth so you can be an informed participant in democracy.
We need your help.
I would like to contribute
"The name Frank has risen in popularity by 20 percent" since the debut of 'House of Cards' on Netflix.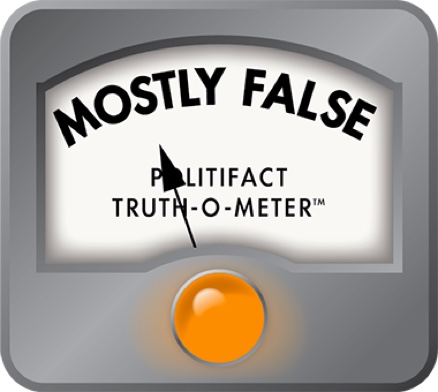 Matt Lauer says the name Frank more popular after Kevin Spacey's role in 'House of Cards'
Hollywood red carpet interviews are reliably substance-free safe zones for fact-checkers, a rare opportunity to turn on the TV and turn off our ears for misleading claims.
That's what we thought, anyway, going into Sunday's Golden Globes. We tuned in for the pre-show, with a beverage in one hand and our phone in the other. Our only care was coming up with snarky tweets about the rich and famous.  
Then Today host Matt Lauer had to go and kill our vibe with an apparently researched question for Kevin Spacey, who plays the conniving House Majority Whip Frank Underwood on Netflix's House of Cards.
"You know, we were sitting together at breakfast, and we saw a fact," Lauer said, ticking us off because now we had to put our beverage down and give him our full attention. "Do you know that the name Frank has risen in popularity by 20 percent since this show debuted? What does that say about parents across America?"
"Well," Spacey said, "if the parents also have last names that start with a 'u,' then, F.U. as initials has risen dramatically as well."
"We are live, Kevin," Lauer said, fearing an expletive. "Where's that seven-second delay when you need it?" joked co-host Savannah Guthrie.
Spacey went on to have a pretty great night, winning his first Globe for Best Actor in a TV Series (Drama) for his role as Underwood.
We still had work to do. We wanted to know if Lauer was for real about the name Frank taking a leap into popularity since the world was introduced to House of Cards (the third season premieres Feb. 27, 2015).
What the numbers say
We turned first to a super glamorous source: the Social Security Administration.
The agency, which maintains a list of baby names going back to 1880, receives information on names from parents when they apply for a child's Social Security number at his or her birth.
Frank, a form of Francis as you would know from watching the show, used to be a really big name near the turn of the 20th century. From 1880 to 1892, it was the sixth-most popular name of U.S. males. It remained in the top 10 of baby names for boys until 1923, the year it started its long, slow slide to the 327th spot in 2013.
The chart shows Frank was never more unpopular than in 2013, the same year subscription-based Netflix released the first season of House of Cards (Feb. 1, 2013, to be exact). The greater the ranking number, the lower the popularity of the name.
Ranking of the male name Frank
| | |
| --- | --- |
| 2013 | 327 |
| 2012 | 319 |
| 2011 | 308 |
| 2010 | 302 |
| 2009 | 291 |
| 2008 | 278 |
| 2007 | 262 |
| 2006 | 246 |
| 2005 | 231 |
| 2004 | 230 |
| 2003 | 230 |
| 2002 | 216 |
| 2001 | 213 |
| 2000 | 208 |
| 1999 | 187 |
Source: Social Security Administration
So Frank had become pretty unpopular before House of Cards started running. And now?
This is where we have to introduce a major plot twist to this fact-check: The Social Security Administration has not yet released its 2014 data. The agency releases that information on the Friday before Mother's Day in May.
Without the last year's data, we can't discern if there was a possible increase -- much less what really drove it.
We do, however, have an idea of what Lauer is talking about. BabyCenter.com, a subsidiary of Johnson & Johnson, is a popular pregnancy and parenting website that releases an annual Baby Names Survey and Top 100 Names list. The names list is based on 406,000 babies born in 2014 to mothers who are registered BabyCenter users.
BabyCenter global editor in chief Linda Murray hailed 2014 as the "year of the binge-watching baby name" because of the influence of TV shows that about 20 percent of surveyed moms said had on their baby name choice.
The press release doesn't just single out Frank, which saw a 19-percent increase from the 352nd ranking to No. 297 among BabyCenter users, but also House of Cards characters Claire (Frank's wife, up 14 percent), journalist Zoe (up 13 percent), and lobbyist Remy (up 11 percent).
Another Netflix show, Orange is the New Black, inspired a rash of baby-naming after characters from its female-centric cast, including Galina (up 67 percent), Nicky (up 35 percent), Piper (up 28 percent) and Dayanara (up 19 percent), BabyCenter says.
To be clear, these increases are just the percentage that the names moved up the list from the year before. The BabyCenter survey doesn't include information on how many people named their children Frank (or any other name) year by year.
The naming effect is similar for characters in the Shonda Rhimes-produced shows Scandal (Olivia), Grey's Anatomy (Meredith) and How To Get Away with Murder (Annalise), BabyCenter said, as well as the movie Frozen and its star Elsa.
Murray called the correlation between trending baby names and binge-worthy shows "undeniable."
Other experts weigh in
That doesn't mean we should take the word of BabyCenter as gold. Some of its user-generated  information mirrors federal name data, but there are discrepancies. BabyCenter's most popular male name in 2013 was Jackson, and the federal winner was Noah. Sophia remained the most popular girl name according to both sources.
For instance, the popularity of the name Frank varied pretty significantly when you compared BabyCenter and Social Security information from years past. (We looked so you didn't have to.)
Basically, experts say we need to wait for the Social Security Administration list to know for sure.
It isn't inconceivable that Frank or Francis is turning a corner after the popularity of House of Cards, said Laura Wattenberg, author of Baby Name Wizard and the website of the name. But it may also have to do with parents who want to honor Pope Francis (but don't want to call their children Francis).
"It's hard for one use to really move the needle," Wattenberg said. "Frank has been so unpopular for so long that you could get what looks like a really big jump just from a couple dozen names."
Echoing Social Security's 2013 press release about hot baby names, Wattenberg said the reality is that "obscure" Spanish TV shows are more likely to have the hottest name of the year than a Netflix hit. In 2013, the girl's name Daleyza, the name of a young woman's character on the Spanish-language show Larrymania, increased in popularity by more than 3,000 places.
Who would do this
Then we got curious about the name Frank itself. As Lauer prodded, what does naming a child after the murderous, conniving character say about American parents?
Parents are "desperate for fresh name ideas" these days, and are not choosy about the source, Wattenberg said. Gone are the days when all-American parents name their offspring in tribute to the new president. "They just want something that sounds fresh and creative," she said. "That includes villains, video game characters."
Albert Mehrabian, professor emeritus of psychology at UCLA, wrote the books The Name Game and Baby Name Report Card based on his studies of the attractiveness of names.
His studies aimed to capture the impressions left by names isolated from any other factor, such as appearance or personality. Participants in his studies were asked to imagine themselves meeting someone for the first time knowing just their first name, its spelling and the person's gender. The participants gave numerical scores on a range of adjectives describing the name, and their responses were averaged and categorized into four areas that defined the name's attractiveness -- ethical/caring, popular/fun, success and femininity/masculinity.
The name Frank scored a 65 of 100 overall, doing really well in terms of giving a successful, ambitious impression but lacking substantially in ethics, Mehrabian said. (Sounds a lot like Spacey's character, don't you think?)
The given name Francis, meanwhile, scores higher at 78 overall. The increase comes from the stronger impression of ethics and compassion for people named Francis, a score of 99 versus 22 for Frank.
"So Frank, I would say, it's a so-so name," Mehrabian said. "But it does have high implications of success."
A spokeswoman for Lauer's Today show did not get back to us.
Our ruling
Lauer asked Spacey if he knew that "the name Frank has risen in popularity by 20 percent" since the debut of House of Cards in 2013.
Lauer seems to be referencing a 2014 press release from the website BabyCenter.com that played up the influence of Netflix shows on new children's names.
It should be obvious that the company's priority is generating publicity and not sound scientific methods. Experts say the best data comes from the Social Security Administration, which will not release its baby name rankings until May 2015.
And we do know that, according to Social Security data, Frank was never more unpopular than in 2013, when House of Cards debuted.
Now you know more than you probably need to about baby name trends, and how a fact-checker's mind works while trying to watch mindless television.
The claim is Mostly False.
---
Help fund PolitiFact's Kickstarter to live fact-check the 2015 State of the Union and GOP response.
Email interview with Aimee Gellar Promisel, BabyCenter.com spokeswoman, Jan. 12, 2015
Interview with Albert Mehrabian, UCLA professor emeritus of psychology, Jan. 12, 2015
Interview with Dorothy Clark, Social Security Administration spokeswoman, Jan. 12, 2015
Interview with Laura Wattenberg, founder of Baby Name Wizard, Jan. 12, 2015
Social Security Administration baby name popularity finder
Browse the Truth-O-Meter
More by Katie Sanders
Support independent fact-checking.
Become a member!
In a world of wild talk and fake news, help us stand up for the facts.