Stand up for the facts!
Our only agenda is to publish the truth so you can be an informed participant in democracy.
We need your help.
I would like to contribute
"In 1913, it was legal to mail children."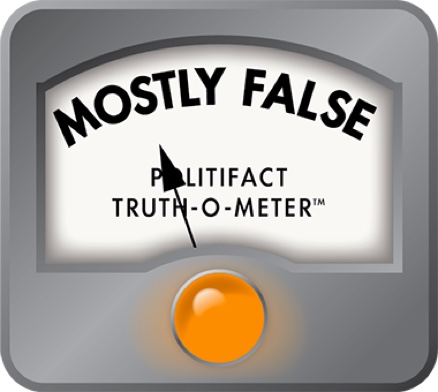 Think again about mailing off your noisy kids
A viral claim making the rounds on social media conjures up images of babies bouncing around in mail bags and wayward teenagers being stamped and shipped "special delivery" to grandma and grandpa down on the farm.
"In 1913, it was legal to mail children," the Facebook post says, among other things.
The post includes photographs of a couple of "mailed" children. Still, it's pretty clear from some readers' comments that the claim is not universally taken too seriously.
"The heck with mailing the kids. I wanna mail myself some place warm," one commenter wrote.
"So thankful with today's technology, we can now fax 'em," wrote another.
But is it true? Was it legal in 1913, or at any time, to mail children? PolitiFact Georgia readers who have been bombarded with re-posts of the claim asked us to weigh it on the ol' AJC Truth-O-Meter.
We contacted Nancy Pope, a historian and curator at the Smithsonian National Postal Museum in Washington. She told us there were "a handful" of children, who were "mailed" after the Postal Service created the parcel post service in 1913.
These children, for the most part, were sent short distances, not across the country or internationally, Pope said.
They also were typically delivered personally to their destination by a rural letter carrier — someone well-known and trusted in the community, considered on par with a member of the local clergy, she said.
"The trust in the mail at that point was almost sacrosanct," Pope said.
Mailing children — with stamps attached to their clothes — occurred as customers and Postal Service workers were becoming accustomed to the new service, which allowed packages weighing 50 pounds or less to be shipped by freight train at rates often cheaper than a child's train ticket.
But was it ever officially legal to mail a child? No, Pope said.
"The law did not specifically address (mailing children) when parcel post began Jan. 1, 1913, because nobody thought anybody would do such a stupid thing," she said.
A year later, when a few children had been "mailed" and made the news, Postmaster General Albert S. Burleson issued a memo to the nation's postmasters, advising them that all human beings were barred from being mailed, Pope said.
The first child "mailed" in the U.S. was an unnamed boy in Ohio. The kid's parents paid 15 cents for stamps and insured the child for $50 in January 1913 to have a rural Free Delivery carrier take their boy to his grandmother's house a mile away, according to the Postal Service.
A year later, May Pierstorff was sent by parcel post from her parents' home in Idaho to her grandparents' house about 73 miles away for 53 cents worth of stamps. May traveled with a relative who worked on the Railway Mail trains in early 1914, Pope said. (She's one of the children in pictures on the Facebook post.)
A book, "Mailing May," chronicles May's adventure shortly before her sixth birthday.
The longest known trip reportedly cost 15 cents. A 6-year-old from Pensacola, Fla., was mailed through parcel post from her mother's home in Florida to her father's home in Virginia, having just made it under the 50-pound limit, according to reports at the time.
"Babies were not being put in boxes or dumped in mailboxes," Pope said. "It was just a less expensive way to get the kids to see the grandparents."
Pope wasn't surprised to hear from us. She said reports about the "mailed" children began popping up all over the Internet in 2013, the 100th anniversary of the creation of the parcel post service. A second anniversary — the centennial of May Pierstorff's delivery to her grandparents in 1914 — has kept the buzz going, she said.
The claim attracted the attention of Snopes.com, the website known for debunking urban legends and Internet rumors, which found it was a mixture of truth and falsehood.
So where does this leave us?
The Facebook post says "In 1913, it was legal to mail children."
Postal historians say no more than a handful of children were mailed after the parcel post service was created in 1913. The law at the time didn't specify that it was illegal to mail children, but officials say no one had envisioned a situation where that had to be spelled out.
When there was evidence that children were indeed being mailed, the postmaster general sent a memo in 1914 barring human beings from postal delivery.
The Facebook post needs a whole lot of context. It leaves the wrong impression that children were being mailed legally in 1913. A few mailings did occur, but the practice — never legally sanctioned — was quickly abandoned.
PolitiFact's definition of Mostly False is a statement that contains an element of truth but ignores critical facts that would give a different impression. That seems to fit this one like a roll of bubble wrap.
We rate the Facebook post Mostly False.
Facebook post
Phone interview with Nancy Pope, historian and curator at the National Postal Museum in Washington, D.C.
Snopes: "Photographs show children sent through the mail," Rated it a mixture.
"Very Special Delivery," Nancy Pope, historian and curator, Smithsonian's National Postal Museum Blog, February 19, 2013.
"How Many Stamps Does it Take to Mail a Baby?" Smithsonian Institutional Archives, by Catherine Shteynberg, June 16th, 2009
Discoveries: Mailing Babies by Parcel Post? GenealogyBank.com
Browse the Truth-O-Meter
More by Nancy Badertscher
Support independent fact-checking.
Become a member!
In a world of wild talk and fake news, help us stand up for the facts.