Get PolitiFact in your inbox.
"We don't have a (military) reserve force if something happens."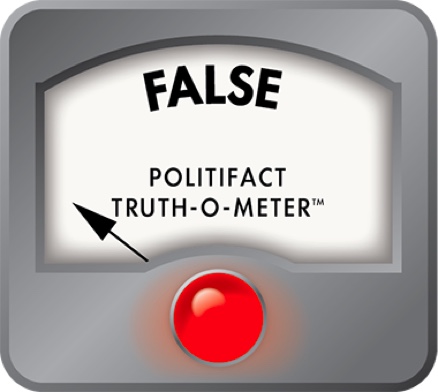 Former NFL QB Joe Theismann: 'We don't have a reserve'
Former NFL quarterback Joe Theismann recently joined the all-female cast of Fox News' Outnumbered to offer his perspective on recent news, from a federal judge ordering the logo of his former team to be canceled to the slaying of a San Francisco woman that sparked fresh debate about this country's immigration policy.
Theismann called the murder of Kathryn Steinle, 32, a tragedy and bemoaned the porous borders that allow undocumented immigrants to access the country, including the alleged killer, a Mexican felon who had been deported five times named Juan Francisco Lopez-Sanchez.
After criticizing Donald Trump's proposal to build a wall on the border as an unrealistic fix, Theismann warned that budget cuts to the military are making the already chaotic environment worse.
"Our border patrol is spread out so thin that people just walk through, they don't even know they're there," Theismann said during the July 9 episode. "We're faced with a situation now where you talk about National Guardsmen going down there. We're about to cut the military by 40,000 people, which is another subject. We went from 500,000 down to 400,000.
"We don't have a reserve force if something happens."
The retired quarterback who later had a long career as a sports broadcaster threw out a slew of facts, but the last one sounded the most alarming. Are U.S. leaders really sacrificing the military reserve as they whip the country into top fiscal shape?
No — a fact Theismann acknowledged during a phone call with PunditFact.
Theismann said he was trying to highlight cuts to the military that are, in fact, happening due to automatic federal spending cuts known as sequestration. But he took it too far.
"With all the things that are happening in the world, especially in the Middle East right now, if we ever felt like we needed to get our ground forces involved, what position would we be in to deal with any difficult situation that could come up anywhere in the world?" Theismann told us. "Because I still believe that we should be the world power and by continuing to cut the military, I think we diminish the ability to be the biggest stick in the valley."
"That was what I was trying to say in a short period," Theismann said.
America's reserve military forces include both the reserves and the National Guard. People may use the terms interchangeably, but they are different. National Guard units are jointly controlled by both state governors and the president and often respond to state-level emergencies, including riots, hurricanes and other disasters. Full reserves fall under the control of the president and the branch of the military in which they serve.
Theismann clarified that he was talking about the Army Reserve, not the Army National Guard or other components of the National Guard.
While it's important to have your vocabulary correct, it doesn't really affect the accuracy of Theismann's claim either way.
Both the National Guard and reserves expect cuts. But both will most definitely continue.
The Army National Guard is scheduled to shed 15,000 soldiers by Sept. 30, 2017, as part of sequestration. This will bring the Army National Guard to 335,000 soldiers — down from its current size of 350,000. The Air National Guard will not lose positions due to sequestration, said National Guard spokesman Kurt M. Rauschenberg.
The Army Reserve also expects to lose positions. On July 9, coincidentally the same day as this episode of Outnumbered, the U.S. Army announced how it would go about budget cuts that would affect active and reserve military.
The Army Reserve said its force would drop to 185,000 if sequestration continues through the 2017 fiscal year, part of an overall cut of 60,000 soldiers. The active military could fall to 450,000 soldiers by the end of fiscal year 2018, down from 570,000 in 2012 after the wars in Iraq and Afghanistan. Under the current plan for cuts, the overall Army would drop from 1,042,200 soldiers to 980,000, a total that includes active-duty Army (full-time), Army National Guard (part-time, can be activated to respond to state emergencies) and Army Reserve (part-time branch of the Army). Army Reserve employees would fall from 202,000 soldiers to 195,000 by the end of the 2017 fiscal year.
"I believe that where we are now is about as low as we can go," Army Chief of Staff Gen. Ray Odierno told reporters in a May conference call, according to Army Times. "If we continue to go lower, we're going to have to say we cannot do all the things we're doing today."
Our ruling
Warning of a shorthanded military amid a border crisis, Theismann said, "We don't have a reserve force if something happens."
Theismann later admitted he didn't choose his words very carefully.
Automatic federal cuts as part of sequestration are shrinking the military. Leaders have warned that cuts could reduce the Army's ability to respond to crises. But the Army Reserve, which Theismann says he was talking about, very much remains in existence. The Reserve would be available, along with the National Guard, to assist the border patrol or active military in emergencies.
We rate his claim False.
Fox News' Outnumbered, Segment on San Francisco murder, July 9, 2015
Interview with Joe Theismann, July 10, 2015
Interview with Kurt Rauschenberg, National Guard spokesman, July 10, 2015
U.S. Army press release, "Army to realign brigades, cut 40,000 soldiers, 17,000 civilians," July 9, 2015 (accessed via Nexis)
Army Times, "Army lays out plan to cut 40,000 positions," July 10, 2015
Browse the Truth-O-Meter
More by Katie Sanders
Support independent fact-checking.
Become a member!
In a world of wild talk and fake news, help us stand up for the facts.