Stand up for the facts!
Our only agenda is to publish the truth so you can be an informed participant in democracy.
We need your help.
I would like to contribute
The murder rate in Atlanta is on the rise this year.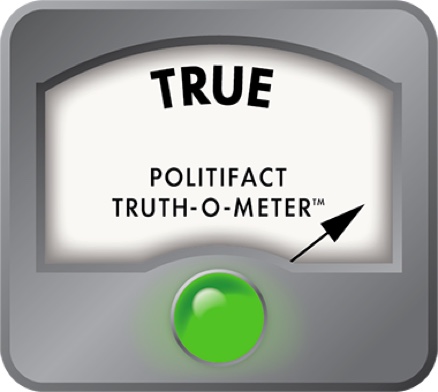 Increase of murders in Atlanta?
Crime is always the sort of news that attracts headlines.
Now it's also generating posts in online forums, where one neighborhood association alerted Atlanta residents that the city's murder rate was spiking and had even reached a 50 percent increase from a year ago.
PolitiFact Georgia couldn't resist when an alert reader asked us to check it out.
After all, the number of murders in several big cities is on the rise nationwide, after years of decline.
That includes cities with populations close to those of Atlanta's roughly 450,000 residents.
For instance, through the first half of the year, Milwaukee (population 600,000) has seen a 105 percent surge in its homicide rate and the rate is up by 33 percent or more in Baltimore (about 620,000 residents) and St. Louis (about 320,000)
And in Atlanta?
According to the Atlanta Police Department website, the rate was up 16 percent in the first half of the year.
Through July 11, the most recent date available, there have been 52 murders in the city. During the same time last year, there were 42 murders – a 24 percent increase.
So while the increase is not as dramatic as suggested in the neighborhood forum or compared to similar cities, the rate is up.
But the rates fluctuate wildly per week, which is how the police department reports all crimes.
So it did appear that Atlanta had a serious surge of murders for the week ending May 23, or the 21st week of the year.
Then, the homicide rate was up 54 percent at the time (40 murders at that point this year versus 26 last year).
Then again, the city went without any murders for three weeks this year, between March 15 and April 2.
And that spike in Week 21 was followed by no homicides in Week 22, the data show. In fact, the city had no murders at again for another multi-day run, between June 10 and June 20.
"These numbers are very fluid," said Atlanta Police Capt. Michael O'Connor, who serves as the department Homicide Commander.
So while brass are concerned that the rate is up and in theory on pace to be above 100 annual murders for the first time in years, "it's very difficult to trend to know where you are going to finish the year."
Criminologists support that analysis – and lack of analysis that can be done.
To some extent, after years of declining murder rates, an increase can be little more than a statistical blip to get closer to a median.
But without minimizing the loss of 52 lives, there isn't much statistical analysis that can be done with such a relatively low number, said Dennis Jay Kenney, a professor of criminology at the John Jay College of Criminal Justice.
For instance, only two women have been reported murder victims in Atlanta this year. While that may suggest the city has a better handle on domestic violence murders, a single such death could skew the data to suggest the exact opposite.
"You don't want to jump to a lot of conclusions," Kenney said. "If homicides are up, you are not necessarily at greater risk because we don't randomly select our murder victims."
That is, there are some people more at risk to be victims than others.
Broadly speaking, that tends to be young men, especially men of color.
Atlanta Police have just begun sifting through its first-half data to compare victims, perpetrators and scenarios to see just where the greatest risks lie, O'Connor said.
Police do that constantly, targeting for instance a specific neighborhood or specific gang that may be making trouble.
Putting a larger number of victims and suspect pool up for comparison should help analysts see if anything stands out that will help insert police sooner into the equation – and hopefully prevent some deaths, O'Connor said.
It also will provide Atlanta Police Chief George Turner with some information to share with his counterparts at the Major Cities Chiefs Association on Gun Violence Summit, being held in Washington, D.C. next month.
Such events are often heavy on anecdotes, Kenney said, but can provide the start of understanding crime trends.
"When you can see a general increase virtually everywhere, that suggests crime is up but doesn't tell you anything about why or what to do about it," he said. "Still, the police have to anticipate what they can so they can refocus their energies, and they seem to be doing that."
Our ruling
A neighborhood association alerted Atlanta residents that the city's homicide rate is up for the year and has even reached a 50 percent increase.
At one point, the murder rate did spike that high, though with weekly fluctuations, the year-to-date rate is up about a quarter from this time last year.
That puts Atlanta in line with other cities seeing an increase in their murder rates.
There is little conclusion on what might be driving the rate, or even if different cities share the same causes.
But a 24 percent increase is cause for notice. We rate the claim True.
Atlanta Police Department, Crime Data Downloads, accessed July 21, 2015
USA Today, "Several big U.S. cities see homicide rates surge," July 10, 2015
WWLTV.com, "NOPD chief says public can help fight murder rate 'crisis,'" July 14, 2015
Time.com, "U.S. Cities See a Wave of Homicides," July 9, 2015
Email interview with Atlanta Police Public Information Officer Elizabeth Espy, July 17 to July 21, 2015
Phone interview with Atlanta Police Capt. Michael O'Connor, homicide commander, July 17, 2015
Phone interview with Dennis Jay Kenney, professor of criminology, John Jay College of Criminal Justice, July 21, 2015
Browse the Truth-O-Meter
More by April Hunt
Support independent fact-checking.
Become a member!
In a world of wild talk and fake news, help us stand up for the facts.