Stand up for the facts!
Our only agenda is to publish the truth so you can be an informed participant in democracy.
We need your help.
I would like to contribute
The federal deficit would pay for 40 gallons of "New Hampshire maple syrup" for everyone in the United States.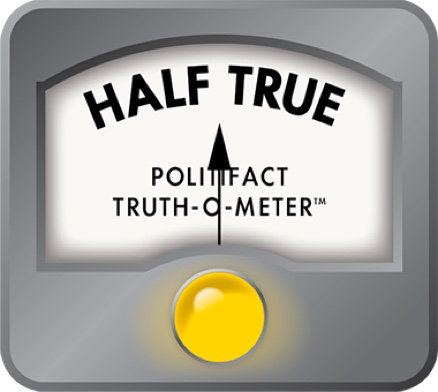 Ayotte says deficit could pay for 40 gallons of New Hampshire maple syrup for everyone in the U.S.
During a town hall on July 1, 2015,  in Colebrook, N.H., U.S. Sen. Kelly Ayotte used a regional example to explain the size of the federal deficit. She said the deficit -- some $483 billion last year -- would buy 40 gallons of maple syrup for every man, woman and child in the United States.
Ayotte has used that example before, including a January town meeting in Goffstown. And she has used other colorful examples to illustrate the size of our nation's deficit, telling voters in 2013 that it could pay "all of the 2013 salaries of every professional baseball player for the next 248 years." (That was True, by the way.)
But what about the maple syrup comparison? Would $483 billion cover that 40 gallons for every U.S. resident? PolitiFact decided to check the math.
This is a story of three numbers. The first is the U.S. budget deficit, which can easily be found in information from the official Congressional Budget Office. The deficit is the amount that the country runs short each year -- the difference between its income and expenses -- and shouldn't be confused with the national debt, which is much larger because it's the cumulative total of all past deficits, minus surpluses.
The office's report from January puts the 2014 deficit at $483 billion.
The second number is the population of the United States. According to the U.S. Census Bureau, which keeps close track of such things, the nation had 320 million people by the end of 2014. (It's added 1.3 million since then.)
Dividing those two numbers, then, means that each person in the country has $1,509.40 of our nation's deficit.
That then leads to our third number: the price of maple syrup. How much of the flapjack topping could $1,509.40 buy?
Fortunately, the U.S. Department of Agriculture tracks maple syrup prices, through its National Agriculture Statistics Service. It issued a bunch of numbers last month that can help us out. According those numbers, the average price of a gallon of maple syrup in New Hampshire in 2014 -- the same year as our $483 billion deficit and our 320 million population -- was $57.80.
That generally tracks with local farm prices. When we checked, Corlis Farm in Northfield was charging $55 a gallon. Maple Ridge Sugar House in Loudon was charging $58 per gallon. And last year, Sunnyside Maples in Gilmanton was charging $55 for a gallon.
The USDA figure was backed up by the New Hampshire Maple Producers Association. According to association publicist Robyn Pearl, it's not going to go down anytime soon.
"The price has been on a slow yet steady increase over the years, which reflects the same increase in production costs," Pearl said.
If we use that $57.80 average, Ayotte's claim gets, well, a little sticky. That $1,509.40 per U.S. resident would only buy a bit more than 26 gallons of syrup, not 40.
We checked with Ayotte's office to see what figures they were using.
They referred us to the same set of statistics on maple prices -- from a year earlier -- but pointed to different numbers. They used the U.S. average price per gallon, which was $37.40 for 2013, and the New Hampshire wholesale price for syrup, which was $37.90 per gallon in 2012 and $46.10 per gallon in 2013.
Using that national average price per gallon indeed yields 40 gallons of syrup per person, but Ayotte's office confirmed she was talking about New Hampshire made maple syrup.
Looking just at the New Hampshire numbers, the 2012 wholesale price for a gallon of syrup comes close, although the 2013 wholesale price yields only 32.8 gallons per person. (The 2014 wholesale price, which wasn't cited by Ayotte's staff, is $42.40 per gallon, which would given each person 35.6 gallons.)
But those at Ayotte's town hall meeting know they're not paying wholesale prices at their local sugar house, where gallons of syrup are going for well over $50.
There's a broader point here, of course. The senator's statement was meant to give residents a handle on an otherwise incomprehensible figure -- the size of the U.S. budget deficit. That's what Ayotte's staff said she hoped to do.
Just for fun, we decided to calculate how long 40 gallons of syrup would last the average American. While some of us in the Northeast might consume a gallon or more a year (don't tell the dentist), the national average is between 2.5 to 4 ounces per person, according to the Agricultural Marketing Resource Center and Center for Northern Woodlands Education.
In other words, 40 gallons of syrup should last the average American more than 160 years.
And never mind the fact that giving that much syrup to everyone in the United States would be a sticky situation. New Hampshire only made 112,000 gallons of syrup in 2014, and there were only 3.2 million gallons produced in the United States that year; enough to give one gallon to every 100 people.
In the words of Warner syrup producer Barbara Lassonde, "We don't make that much, and if we tapped every maple tree in the Northeastern quadrant of the country, I still don't believe we'd make enough."
Our ruling
U.S. Sen. Kelly Ayotte said the federal budget deficit is big enough to be able to buy 40 gallons of maple syrup for every resident of the United States. Ayotte's office said she was calculating it based on generic U.S.-made syrup, but that's considerably less expensive than New Hampshire-made syrup.
If we were buying New Hampshire syrup wholesale using 2014 prices, the amount would come closer, but still not hit a full 40 gallons. And if we use retail costs in New Hampshire, it works out to 26 gallons, not 40.
So her numbers are open to question, but her general point is valid: Either figure represents more than a lifetime supply for the average maple muncher in America. We rate the claim Half True.
Correspondence with Kelly Ayotte staff, July 15-17, 2015
"Ayotte facing a whole new political ballgame," Concord Monitor, July 5, 2015
"Ayotte talks about Medicare, deficit during town hall meeting in Goffstown," Union-Leader, Jan. 17, 2015
"Kelly Ayotte compares size of federal deficit, baseball salaries," PolitiFact New Hampshire, Nov. 18, 2013
"The Budget and Economic Outlook: 2015 to 2025," Congressional Budget Office, January 2015
U.S. and World Population Clock, United States Census Bureau
"Northeast Maple Syrup Production," National Agricultural Statistics Service, USDA, June 11, 2015
2015 Maple Syrup Prices, Corliss Farm
Try Our Products! Maple Ridge Sugar House
Order Form, Sunnyside Maples, Inc.
Correspondence with Robyn Pearl, New Hampshire Maple Producers publicist, July 15-17, 2015
Correspondence with Barbara Lassonde, July 15-17, 2015
"Northeast Maple Syrup Production," National Agricultural Statistics Service, USDA, June 11, 2014
Maple sugar profile, Agricultural Marketing Resource Center, 2014
"A Maple Bubble? How the Syrup Market Works, and What It All Might Mean," Northern Woodlands, March 18. 2014
Browse the Truth-O-Meter
More by Clay Wirestone
Support independent fact-checking.
Become a member!
In a world of wild talk and fake news, help us stand up for the facts.