Stand up for facts and support PolitiFact.
Now is your chance to go on the record as supporting trusted, factual information by joining PolitiFact's Truth Squad. Contributions or gifts to PolitiFact, which is part of the 501(c)(3) nonprofit Poynter Institute, are tax deductible.
I would like to contribute
Says U.S. Senate opponent Ron Johnson "is opposed to all government-assisted student loans."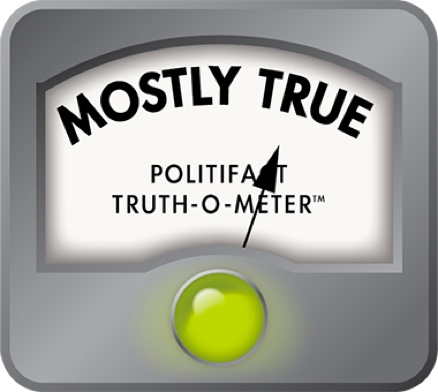 Ron Johnson is against all government-assisted student loans, U.S. Senate rival Russ Feingold says
One of the first shots Democrat Russ Feingold took at Republican U.S. Sen. Ron Johnson, after announcing he would try to retake his old U.S. Senate seat, was over student loans.
"Just because (college) costs keep going up, that doesn't mean we can allow the four-year degree to become the sole province of the rich," Feingold said June 5, 2015 at the Wisconsin Democratic Convention in Milwaukee.
"My opponent is opposed to all government-assisted student loans."
Is he?
Feingold's evidence
To be sure, Johnson has been critical of the government's role in student loans.
In May 2014, he said kids from affluent families are "taking advantage of all these student loan programs and grants," while many middle-class families with no connection to college are picking up the tab -- a claim we rated Mostly False.
But Feingold's claim is absolute -- that Johnson opposes all government-assisted student loans.
A Feingold spokesman referred us to Max Croes, a researcher for the Wisconsin Democratic Party. He cited three statements that go beyond Johnson criticizing the loan program.
"Should never have gotten involved"
At a May 2015 town hall meeting in Oconto, Johnson said:  
"I think we've done a huge disservice to our young people by enticing them into getting into debt. And, of course, college and universities, they've loved it. It helped fill their programs, it helped fill their campuses. It helped them build all kinds of beautiful campus buildings."
After an audience member interjected, Johnson added: "I will say the federal government never should have gotten involved in student loan programs."
"Shouldn't be involved"
In a videotaped interview in 2012 with the Daily Cardinal, a University of Wisconsin-Madison student newspaper, Johnson was asked if he supported extending what was then a 3.4 percent interest rate for student loans.
(Congress had recently agreed to keep the discounted rate in place for another year on some federal student loans, rather than allowing the rate to double to 6.8 percent.)
Johnson replied:
"No. No. Why are we encouraging our young people to get into debt, first of all? Why is the federal government even making money off the loans? Why is the federal government even involved in the student loan program? I have multiple problems with that.
"Again, for all you young people who agree with (former GOP presidential candidate) Ron Paul in terms of the limited constitutional government -- the federal government shouldn't even be involved in granting student loans."
"I'd like the government to get out"
At a town hall meeting outside of Madison in May 2014, Johnson blamed the federal government for encouraging college students to take on debt they can't afford, according to a report from Wisconsin Public Radio.  
"I'd like the federal government, over time, to remove itself from the funding mechanisms of college education," he said after the meeting. "I think it's done a great deal of harm – very unintended negative consequences."
Johnson's response
Johnson's staff responded to Feingold's claim by telling us it "is patently and demonstrably wrong," but cited only Johnson's support of one piece of legislation.
In July 2013, Johnson voted for a measure, later signed into law by President Barack Obama, that ties the interest rates on federal student loans to the financial markets. That is, if rates on Treasury notes rise, so would student loan rates.  The upshot was that the law reduced interest rates in the short term, but allows them to rise in future years if market conditions change, although the rates would be capped (at 8.25 percent for undergraduate loans).
A New York Times news article noted that many liberals were upset that some Democrats backed the measure, since it eliminated fixed-rate federally subsidized loans.
So, Johnson voted for a measure that helped student loan recipients in the short term -- although it took the government out of setting interest rates, creating the likelihood that the rates will rise in future years.
Our rating
Feingold said Johnson "is opposed to all government-assisted student loans."
Johnson has said the government never should have gotten involved in student loans, shouldn't be involved in it and should look to gradually get out of it.
But one of his votes helped student borrowers in the short term, though that measure could lead to higher interest rates in future years, since the rates are tied to changes in the financial markets.
Feingold's statement is accurate but needs clarification, our definition of Mostly True.
Wisconsin Eye, video of Russ Feingold speech (quote at 10:15), June 5, 2015
Email exchange, Wisconsin Democratic Party researcher Max Croes, June 12, 2015
Email exchange, U.S. Sen. Ron Johnson communications director Melinda Schnell, June 12, 2015
YouTube, video of Daily Cardinal interview (quote at 14:40) of U.S. Sen. Ron Johnson, posted Sept. 1, 2012
PolitiFact Wisconsin, "Ron Johnson: Affluent taking advantage of student loans at expense of middle class families," (Mostly False) Aug. 13, 2014
New York Times, "Playing politics with student debt," June 4, 2013
Library of Congress, S. 1003
Library of Congress, H.R. 1911
U.S. Senate, roll call vote on H.R. 1911
MoneyCNN.com, "Student loan deal passes Senate," July 24, 2013
New York Times, "Senate approves college student loan plan tying rates to markets," July 24, 2013
YouTube, video clip of U.S. Sen Ron Johnson town hall meeting, May 2, 2015
Browse the Truth-O-Meter
More by Tom Kertscher
Support independent fact-checking.
Become a member!
In a world of wild talk and fake news, help us stand up for the facts.