Stand up for the facts!
Our only agenda is to publish the truth so you can be an informed participant in democracy.
We need your help.
I would like to contribute
After laying off 30,000 people, Carly Fiorina said that in retrospect, "I would have done them all faster."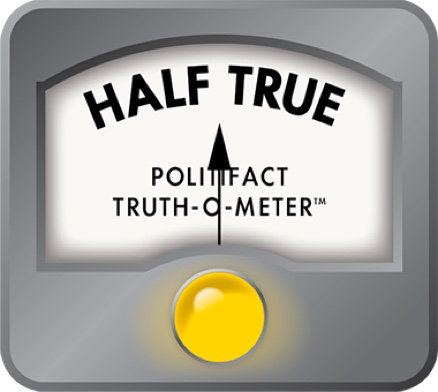 Cyber-squatter accuses Carly Fiorina of wishing she'd laid off 30,000 employees more quickly
Carly Fiorina, the former CEO of Hewlett-Packard, announced on May 4, 2015, that she'd be running for president as a Republican. But a cyber-squatter had moved fast to grab the Web address carlyfiorina.org and flame her.
Using a simple gray-and-white color scheme and uninspired fonts, the domain owner recalled Fiorina's controversial six-year tenure as CEO of the computer maker by addressing visitors to the page this way:
"Carly Fiorina failed to register this domain.
"So I'm using it to tell you how many people she laid off at Hewlett-Packard.
"It was this many:"
At that point, a very long list of frowny-face icons begins.
After much scrolling, the page concludes:
"That's 30,000 people she laid off. People with families. And what does she say she would have done differently?
" 'I would have done them all faster.'
"—Carly Fiorina"
Is the cyber-squatter -- who didn't identify themselves on the site -- correct? The 30,000 number is largely accurate (we fact-checked it back in 2010), but we wondered whether it's correct that Fiorina actually said she would have rather laid off people faster.
First, some background. Fiorina was named CEO of Hewlett-Packard in July 1999, becoming the first woman to lead a Fortune 100 company. She reorganized the company's structure and pushed for a controversial 2002 merger with Compaq Computer Corp. in an attempt to get a greater share of the personal computer market. The merger succeeded, but HP's board fired her anyway in February 2005 (with a $21 million severance package), primarily due to the company's sluggish stock price and missed earnings targets. Her actions at HP spawned detractors as well as defenders.
We looked at the numerical part of the claim in 2010, the year Fiorina ran unsuccessfully against incumbent Sen. Barbara Boxer, D-Calif. The charge was made in an attack ad by Boxer.
We found that Fiorina herself cited the 30,000-layoff figure in an interview with InformationWeek on Oct. 16, 2006. "When we combined the R&D budgets of HP and Compaq, we didn't have to have two R&D teams working on industry standard servers, for instance. We could have one. That's why the merger was such a great idea. We could decrease the cost structure by billions and billions of dollars. In the course of my time there, we laid off over 30,000 people. That's why I understand where the anger came from."
Fiorina's staff did not respond to an inquiry. Their official website, by the way, is www.carlyforpresident.com.
But did Fiorina say that she wishes she'd done those 30,000 layoffs "faster"? This is more problematic.
It stems from a 2005 article in Fortune magazine (reprinted here in 2011). The comment came in a section devoted to the departure of some of the company's senior executives after the merger. Here's an excerpt:
"Fiorina summarily fired — within hours — the head of enterprise sales, Peter Blackmore, and two of his senior executives. The speed and visibility of the move caused the tech industry to view the firings as an unnecessarily cruel public hanging, and criticism of Fiorina flared. She argues back, saying that a hanging it wasn't and that in truth these people were treated, in the usual HP manner, with 'respect, candor, and compassion.' But she also says that some of the European problems had been ripening for a time and that these three very senior executives clearly 'dropped the ball.' She believes in accountability, she says, so the men are gone. …
"Under Fiorina (HP) has lost — via firings, resignations, and retirements — a noticeable number of its top people. Here's one indicator of what some people call the 'brain drain': Of the 11 'direct reports' that Fiorina had in October 2003, one died and five others are gone. Michael Capellas, CEO of Compaq when the merger was done, left early. Former HP employees can also, without much effort, list another 20 well-placed executives who have departed, a few of them going to competitors Dell and storage company EMC.
"Fiorina does not agree, naturally, that there's been a brain drain. In fact, she believes that one lesson she's learned while running HP is that she should have moved more quickly in ejecting certain people. Smartened up now, she says, 'I would have done them all faster. Every person that I've asked to leave, whether it's been clear publicly or not, I would have done faster.' "
This puts Fiorina's comment in a somewhat different light. Rather than musing that she should have laid off 30,000 people faster, the full article suggests she's referring to a select group of high-ranking executives.
Our ruling
The cyber-squatter site claims that after laying off "30,000 people," Carly Fiorina said that in retrospect, "I would have done them all faster."
While the number is accurate -- acknowledged in a 2006 interview by Fiorina -- the comment that "I would have done them all faster" is pulled out of context. In fact, Fiorina was more specifically referring to her decisions to force out a small number of top-level executives, not tens of thousands of rank-and-file employees. The claim is partially accurate, but takes some things out of context, so we rate it Half True.
Browse the Truth-O-Meter
More by Louis Jacobson
Support independent fact-checking.
Become a member!
In a world of wild talk and fake news, help us stand up for the facts.