Stand up for the facts!
Our only agenda is to publish the truth so you can be an informed participant in democracy.
We need your help.
I would like to contribute
"Republicans have already cut our neighborhood public schools three budgets in a row."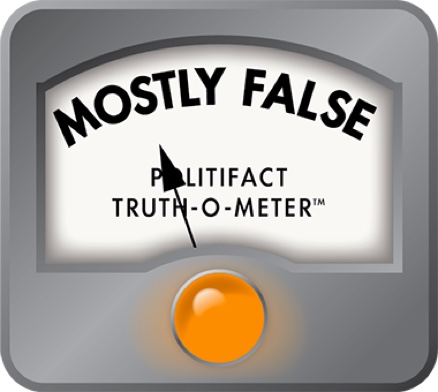 Democrat says Republicans cut three school budgets in a row
When new tax revenue failed to materialize during budget deliberations, Democrats in the state Legislature reminded voters that majority Republicans had pledged to backfill some of Gov. Scott Walker's cuts to public education.
"Now Republican legislators must answer to the people of Wisconsin: Where is the money they promised and why are our public schools last in line?" asked state Rep. Katrina Shankland, D-Stevens Point, who is assistant Democratic leader.
"Republicans have already cut our neighborhood public schools three budgets in a row," Shankland said in a news release on May 6, 2015. "They've perpetrated the largest cut to public education in our state's history while funneling millions of public dollars into unaccountable private schools."
That's a lot to chew on.
In 2012 we rated True a claim by Democrat Kathleen Falk that in his first two-year budget, Scott Walker enacted "the biggest cuts to education in our state's history."
That claim covered both kindergarten-12th grade schools and the public university system. But experts said Walker's K-12 cuts were the biggest ever.
Now we'll rate Shankland's claim that "Republicans have already cut our neighborhood public schools three budgets in a row."
It's clear she meant Walker's first two budgets, plus the proposed 2015-'17 budget that legislators are still working on: Republicans have controlled the Legislature and governor's office since Walker's election in 2010.
Asked to back up the claim, Shankland aide Annika Petty explained that according to the office's calculations, Walker and fellow Republicans have cut general state aid to local schools by $1.4 billion under the 2011-'13 and 2013-'15 enacted budgets plus the governor's proposed 2015-'17 plan.
She gets that number by comparing the funding level before Walker's arrival to that in each of the six years since, and adding up the difference.
The funding, in each of those six years, is lower than the amount from the last pre-Walker budget year, 2010-'11.
So in that sense, Republicans have come up short of the Doyle mark in each of the last three budgets (though the outcome of the current budget is pending).
But there's another much more common way to view this: Looking at how each budget compares to the final year of the previous budget.
That's typically the framework legislators use during budget deliberations. Each new budget uses the expiring budget as a starting point.
Walker's first enacted budget cut general aids by 8 percent compared to the pre-Walker base year.
But the second budget enacted under Walker actually added back some of the cuts. Funding went up 2 percent over the first Republican budget.
In the third, pending budget, there's a 2.6 percent increase over the previous budget.
So by the typical way of looking at budgets in Madison, Republicans have cut once and added back twice.
(Two notes: Doyle cut general school funding in his last budget, breaking with decades of increases. And general-aid trends vary by school district. In the last four years, between 56 percent and 97 percent of school districts saw aid reductions from 2011 to 2013. In 2014, that trend flipped; a bare majority saw increases).
Budget watchers with the Wisconsin Taxpayers Alliance, a nonpartisan research organization, said Shankland's method overstate the cuts because of the way it takes a base year and compares it to six subsequent years.
Todd Berry, president of the group, also noted that some of Walker's Act 10 law resulted in significant savings for many school districts, helping to offset some or all of the cuts.
But Berry said the aid money Republicans added back might not have mattered in many cases because the state placed tight limits on what school districts could raise in total from property taxes and state aid.
Finally, we note that Shankland focused on general state aid, but school officials say that Walker's pending budget would cut a more crucial form of special-purpose aid (categorical aids, in Madison parlance) over the two years from 2015-'17.
Our rating
Shankland claimed that "Republicans have already cut our neighborhood public schools three budgets in a row."
There's an element of truth in her claim in that general school aid is lower in Walker's proposed third budget than it was before he took office.
But it's misleading to say three budgets "in a row" made cuts, when two of them actually restored some of the general aid lost in Walker's first budget.
We rate Shankland's claim Mostly  False.
Press release from Rep. Katrina Shankland, May 6, 2015
Emails with Annika Petty, aide to Rep. Shankland, May 7, 2015
Legislative Fiscal Bureau budget papers and informational papers
Emails with Todd Berry, president of Wisconsin Taxpayers Alliance, and research director Dale Knapp, May 8, 2015
Emails with Thomas McCarthy, communications officer, State Department of Public Instruction, May 7, 2015
Browse the Truth-O-Meter
More by Dave Umhoefer
Support independent fact-checking.
Become a member!
In a world of wild talk and fake news, help us stand up for the facts.