Stand up for the facts!
Our only agenda is to publish the truth so you can be an informed participant in democracy.
We need your help.
I would like to contribute
As a senator, Hillary Clinton "actually paid female staffers a lot less than men."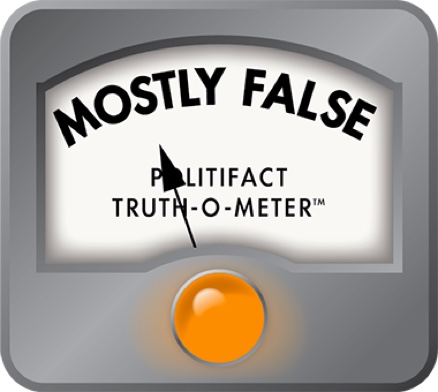 Sean Hannity: As senator, Hillary Clinton 'paid female staffers a lot less than men'
Is Hillary Clinton a hypocrite when it comes to equal pay?
That's the question raised by some conservative commentators after a Washington Free Beacon story said Clinton paid her female Senate staffers 72 cents for every dollar earned by a male counterpart.
As Fox News host Sean Hannity put it: "As senator, she actually paid female staffers a lot less than the men."
Hannity's guests, Democratic contributor Tamara Holder and former Vice Media co-founder Gavin McInnes, debated the story. Holder said the Free Beacon story was based on manipulated data. McInnes said the bigger picture was that women earn less in America because "they choose to" attend kids' piano recitals and not work late.
We'll set McInnes' statement aside and focus on the attack against Clinton, the 2016 Democratic frontrunner.
The Free Beacon story
The Washington Free Beacon article headlined "Hillary Clinton's War on Women" looked at data from Senate expenditure reports submitted to the secretary of the Senate from 2002-08. (The reports are not available online for Clinton's time in office, but we found the information published at Legistorm.)
The website focused on full-time staffers who worked a complete fiscal year, which runs Oct. 1-Sept. 30. Clinton was sworn in as New York's junior senator in January 2001, so the Free Beacon analysis does not include her first nine months in office.
The Free Beacon analysis also excludes Senate employees who took leaves of absence, which is common for employees who leave for short periods to work on campaigns, or left after even 11 months of work within the fiscal year.
Regardless, the Free Beacon concluded the median salary for a woman on Clinton's payroll was about $15,700 less than the median salary for the men of the office, or about $40,800 compared to $56,500 for men.
"The salaries speak for themselves," the story says. "The data shows that women in her office were paid 72 cents for every dollar paid to men."
Clinton campaign responds
A Buzzfeed News headline on the same topic presents a completely different take: "Internal Data: Hillary Clinton Paid Women And Men Equally."
What's going on here?
The Clinton campaign provided salary data for full-time staffers that worked in the Senate office as well as what they earned if they worked for a congressional committee or political groups Friends of Hillary, Hill PAC, and Hillary Clinton for President. The information showed names, positions and salaries for Senate staffers, Senate committees and applicable political activity from 2002-08.
The data show a median salary of $40,000 for both men and women receiving official Senate pay over those seven years (excluding Clinton's pay, since she does not pay herself). The median salary remains equal if you factor in non-Senate work, too.
The campaign argues this is a better picture of a staffer's annual earnings, as some staffers took time away from official duties to join in Clinton's presidential campaign efforts in 2007 and 2008. Huma Abedin, for example, earned $20,000 in 2008 as a senior adviser on Clinton's Senate staff, but she also made $150,000 working on the campaign that year, too.
"The Free Beacon based their analysis on an incomplete, and therefore, inaccurate set of numbers," Clinton spokesman Josh Schwerin said. "The fact is, Hillary Clinton paid full-time men and women equally."
If you isolate the data from year to year, the median earnings between men and women were not so even. In 2002, female Senate staffers (excluding Clinton) earned a median of $33,000, while men earned $42,500. The median pay gap closed in 2005 to $41,000 for women and $43,000 for men, and then women exceeded the men's pay in 2006 and 2007.
For what it's worth, there were more women working for Clinton overall than men in every year.
Not doing the same work
The fact is neither set of data provides a truly definitive answer to the following question: Did Hillary Clinton pay men and women equally?
Neither set of data compares wages for men and women who do the same work, which is the key issue in claims about the wage gap.
PunditFact ran into a similar issue when Carly Fiorina, the former Hewlett Packard executive running for the Republican presidential nomination, accused President Barack Obama of not paying men and women equally. She said Obama was "not paying women equally by his own measures in his own White House." Fiorina's claim rated Mostly False because she was using a misleading measure.
In reality, politicians and pundits of all stripes have abused data about the gender pay gap. Democrats often fall into trouble by suggesting women earn 77 cents on the dollar compared to men for doing the same work. In reality, women and men often choose to do different work, and those choices impact pay as much or more than gender.
In this case, the Free Beacon and Hannity are overlooking data gaps and the individual circumstances of life working in the U.S. Senate.
There are more significant differences between the methodologies of the Clinton campaign and the Free Beacon. Unlike the Free Beacon, the campaign includes staffers who worked full-time but not for the entire year. Our friends at FactCheck.org, which also looked at this topic, points out that an assistant chief of staff, Dan Schwerin, earned a $35,000 salary, but he was not included in the Free Beacon's analysis because he took a two-week unpaid leave of absence to work on a House campaign.
Norman Ornstein, a scholar of congressional pay at the American Enterprise Institute, said it's common for Senate staffers to temporarily leave payrolls to volunteer or work for campaigns and political committees. So he favors the Clinton campaign's approach.
Making apples-to-apples comparisons is difficult, he said, "but it is clear that the Free Beacon approach did not take into account the reality that people move in and out of payrolls on a fairly regular basis."
Another wrinkle for the Free Beacon analysis: Legistorm, the nonprofit that records salaries in Congress, cautions users from extrapolating exact salary information from the twice-yearly reports from offices that it shares, pointing out in its FAQ that true earnings fluctuate depending on bonuses and leaves of absence to work on the political side.
Our ruling
Hannity said Hillary Clinton paid "paid female staffers a lot less than the men" than when she was a senator.
One set of data supports that claim, but it is far from perfect. There are several ways of looking at Senate earnings — one created by the Clinton campaign, for instance, undercuts Hannity's claim. In reality, all the datasets have caveats.
While it's fair to note that Democrats can overreach on gender pay claims by using imperfect data, it doesn't mean critics can use the same imperfect data to make counterclaims.
Hannity's claim includes an element of truth but ignores critical facts that would give a different impression. We rate this claim Mostly False.
FactCheck.org, "Gender Pay Gap in Clinton's Office," April 22, 2015
BuzzFeed, "Internal data: Hillary Clinton paid men and women equally," April 12, 2015
Interview with Josh Schwerin, Hillary Clinton campaign spokesman, May 18-20, 2015
Interview with Tara Sinclair, George Washington University, May 21, 2014
Washington Free Beacon, "Hillary Clinton's war on women," Feb. 23, 2015
Interview with Norman Ornstein, American Enterprise Institute scholar, May 20, 2015
Browse the Truth-O-Meter
More by Katie Sanders
Support independent fact-checking.
Become a member!
In a world of wild talk and fake news, help us stand up for the facts.