Stand up for the facts!
Our only agenda is to publish the truth so you can be an informed participant in democracy.
We need your help.
I would like to contribute
Says Hillary Clinton "makes more per hour at a speaking gig than the average CEO does in a year."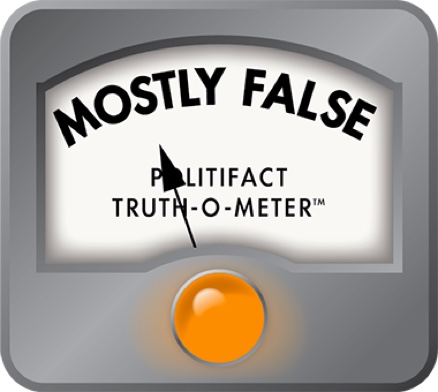 Glenn Beck says Hillary Clinton makes more at one speech than average CEO in a year
Conservative pundits are calling out Democratic presidential candidate Hillary Clinton for reeling in hefty speaking fees when she left the State Department, saying the big checks belie her message of addressing income inequality as she runs for the White House.
"Let's remember one thing about this woman of the people," conservative radio host Glenn Beck said on his May 13 show. "She knows a few things about making money. She makes more per hour at a speaking gig than the average CEO does in a year. Let me say that again: She makes more at a speaking gig in an hour than the average CEO does in a year. But let's have her lecture us about those out of control CEO salaries."
A reader wanted to know if that was true.
The Clinton presidential campaign did not comment for this fact-check. A spokesperson for Beck could also not be reached.
Clinton's pay
Since leaving her post as secretary of state in 2013, Clinton has earned millions of dollars from giving talks at universities, corporations and industry groups. So has her husband.
The Clinton Foundation recently disclosed speaking engagements by Bill, Hillary and Chelsea Clinton that brought in between $12 million and $26 million for the foundation. The foundation counts 16 Hillary Clinton speeches without giving specific amounts, including nine in the range of $250,001-$500,000 and seven within $100,001-$250,000.
Those fees go to the foundation. What about fees that go to the Clintons themselves?
Hillary Clinton's 2015 financial disclosure provides more specific information about 51 additional speeches in 2014 and 2015. The honorariums varied in amount, so here are some examples:
On the lower end of the scale, Salesforce.com paid $125,000, the California Medical Association paid $100,000, and the Canadian Imperial Bank of Commerce paid $150,000. On the high end, Biotechnology Industry Organization and Qualcomm paid $335,000, eBay paid $315,000, and Cisco paid $325,000.
More typical were honorariums around $225,000, such as from speeches to a Silicon Valley conference for women, Commercial Real Estate Women Network, SalesForce.com, the Council of Insurance Agents and Brokers, Ameriprise and the National Council for Behavioral Healthcare, among others.
With that background in mind, let's compare her speaking fees to the average pay of CEOs.
CEO pay
There are a few ways of talking about CEO pay, and it comes down to how you define the average CEO. Workers with that job description can make anywhere from five to nine figures.
Beck might be referencing a widely shared Washington Examiner story that compared Clinton's "reported premium speaking fee of $300,000 per speech" to the earnings of the country's top 10 highest-paid CEOs (as reported by Forbes). The Examiner broke down the CEOs' total compensation by a federal standard of 2,080 yearly work-hours.
The result: If you broke down CEO pay by the hour, they would earn $54,213 compared to Clinton's $300,000 speaking fee (which is on the high side of what we found).
The Examiner also points out that, realistically speaking, it takes more than an hour to make a speech happen — there's also speech prep, travel, and time for meals and rest to consider, too.
However, Beck's statement did not include the hourly nuance at all. He simply compared one Clinton speech to the annual income of a CEO.
By one measure from the liberal Economic Policy Institute, Beck is way, way off.
The think tank found that CEOs of the country's top 350 firms received average compensation of $15.2 million in 2013, the latest year for which data is available. The EPI researchers used data from Compustat, which pulls in chief executive salaries from publicly held companies as reported to the U.S. Securities and Exchange Commission.
That's several zeroes away from Clinton's average $225,000 speech in 2014 and 2015.
The AFL-CIO compiled a list of the 100 highest-paid CEOs in 2014. No. 100 was Dr. Leonard Bell of Alexion Pharmaceuticals, who earned $20 million.
Naturally, the income of the average CEO decreases as you expand the definition of who is a CEO.
Economist Mark Perry of the conservative American Enterprise Institute critiques the EPI methodology for neglecting CEO salaries on the lower end of the spectrum.  
The Bureau of Labor Statistics identifies 246,240 people by the title of "chief executive." Looking at that group, as of May 2014, the average wages was $180,700. For the more than 21,000 employees within that group who work as managers of companies and enterprises, average annual pay was about $216,100.
While those figures are less than the typical Clinton speaking fee, they're an incomplete picture of what people who classify themselves as chief executives make.
For one, as our colleagues FactCheck.org pointed out, the BLS data does not factor in stock options, bonuses and other benefits that typically round out a CEO's total compensation.
Several reports back up that salary comprises at least less than half of total compensation for many CEOs. 
For instance, salary made up just 10 percent of a CEO's total compensation in 2012, according to an Associated Press analysis of about 320 companies. A survey of 50 big-company CEOs for the Wall Street Journal found cash pay made up about 37 percent of a CEO's total compensation in 2014. Expanding the pool, Equilar determined that of the S&P 1500 CEOs, 20.8 percent of the pay mix in 2014 was for salary.
Also, the BLS averages include chief executives in Puerto Rico, as well as those who work in the public sector at schools and in government that might not fit the classic CEO definition. (Those groups, by the way, all see below-average wages, according to BLS.)
Plus, counting every CEO's pay overlooks that the vast majority employ few workers, said Lawrence Mishel, Economic Policy Institute president and an economist who worked on the executive pay research.
"That's cute but highly misleading," Mishel said of Perry's criticism, "because it doesn't reflect that the average worker works for a large firm, and the average CEO works for a very small firm."
The CEOs of small- to mid-sized businesses also often own large chunks of their businesses that can be sold as capital gains or passed down to heirs, which would not be counted as compensation, said Kevin Murphy, University of Southern California finance professor.
The debate about who counts as a typical CEO could also be applied to the worlds of professional athletes, musicians and actors.
"The fact is that, in many occupations with 'superstars,' the distribution of pay is highly skewed in the sense that the pay for the top earners may be many multiples of the pay for the median person in that occupation," Murphy said. "Perhaps it's best for us to always qualify 'CEO' with 'Superstar CEO' or 'S&P 500 CEO' to avoid confusion."
Our ruling
Beck said Hillary Clinton "makes more at a speaking gig in an hour than the average CEO does in a year," in the context of Clinton criticizing "out of control CEO salaries."
This is an example of imperfect data.
What's clear is Clinton earned north of $200,000 for a typical paid appearance. But what's complicated is comparing that one-off event to what a CEO makes in a year.
Looking at CEOs of large companies, Beck's claim completely falls apart.
The data that puts Beck's claim in the best light, from BLS, is incomplete. It doesn't include stock options, bonuses and other benefits that typically make up an executive's compensation package. Nor does it account for CEOs of small and medium-sized business who have ownership stakes. At the same time, it includes people classified as chief executives in the public sector, as well as in Puerto Rico — groups that drag the average salary down.
Beck's statement contains an element of truth but ignores critical facts that would give a different impression. We rate it Mostly False.
Glenn Beck Program, May 13, 2015 recording
Washington Examiner, "By one measure, Hillary earned more than America's top 10 CEOs," April 19, 2015
Hillary Clinton public financial disclosure, April 12, 2015
Interview with Lawrence Mishel, Economic Policy Institute president and economist, May 26, 2015
Email interview with Mark Perry, University of Michigan economist and American Enterprise Institute scholar, May 27, 2015
Email interview with Kevin Murphy, University of Southern California Kenneth L. Trefftzs Chair in Finance, May 27, 2015
Economic Policy Institute, "CEO pay continues to rise," June 12, 2014
AFL-CIO, "Corporate Pay Watch 2015," accessed May 26, 2015
Browse the Truth-O-Meter
More by Katie Sanders
Support independent fact-checking.
Become a member!
In a world of wild talk and fake news, help us stand up for the facts.