Stand up for the facts!
Our only agenda is to publish the truth so you can be an informed participant in democracy.
We need your help.
I would like to contribute
"We spend about 75 percent of the entire cost of the military aspect of NATO."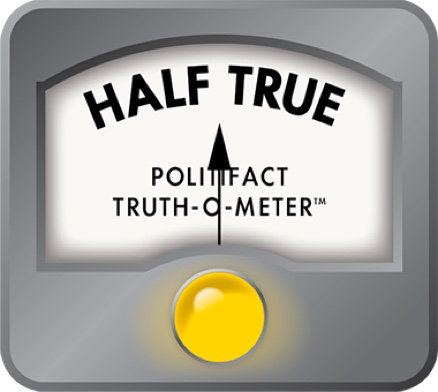 Sanders oversimplifies U.S. share of NATO
In most respects, Donald Trump and Bernie Sanders are light years apart, but on some policy points, they seem to be on the same page. One area of common ground is U.S. funding for NATO, the North Atlantic Treaty Organization.
Trump has raised the specter of America pulling out of the military alliance if the Europeans don't pick up a bigger share. At the Democratic debate in Brooklyn, N.Y. on April 14, 2016, Sanders didn't go quite that far, but he certainly talked about the problem in similar terms.
A panelist quoted Sanders' own words on NATO from 1997. Back then he said, "It is not the time to continue wasting tens of billions of dollars helping to defend Europe."
Asked if he still felt that way during the debate, Sanders said, "We spend about 75 percent of the entire cost of the military aspect of NATO. Given the fact that France has a very good health care system and free public education, college education for their people, the U.K. has a good National Health Service and they also provide fairly reasonable higher education, you know what, yeah, I do believe that the countries of Europe should pick up more of the burden for their defense."
Does the United States pay as large a share of NATO military spending as Sanders said?
When we originally heard this item, we thought Sanders had it right. We originally published this fact-check moments after the April 14 debate as True. But very quickly, we discovered that Sanders didn't describe the 75 percent statistic entirely accurately. We removed that fact-check from our database and are taking a fresh look here.
Warren Gunnels, policy director for the Sanders campaign, referred us to a Wall Street Journal article about how few NATO members meet the alliance's defense spending targets. On paper, members say they will put at least 2 percent of their GDP into their militaries.
In practice, only five do: the United States, the United Kingdom, Greece, Estonia and Poland.
"Sen. Sanders made the point that our NATO allies should pick up more of the burden for their defense, citing the fact that the United States spends about 75 percent of NATO's total military expenditures," Gunnels said.
We went to the latest NATO budget report.
By NATO's count, total defense spending of all NATO members stood at about $900 billion in 2015 in current dollars. The United States' share was about $650 billion. Do the math, and the percentage comes to about 72 percent.
Here are the top four top countries on NATO's list:
| | | |
| --- | --- | --- |
| Country | Spending (millions) | Percent of total |
| United States | $649,931 | 72.2% |
| United Kingdom | $59,699 | 6.6% |
| France | $43,864 | 4.9% |
| Germany | $39,743 | 4.4% |
| NATO total | $900,473 |   |
But we need to understand what these numbers show. They don't represent dollars or euros spent on behalf of NATO, or as Sanders said, "the military aspect of NATO."
These figures are the total defense budgets of the NATO members -- including spending on projects far from NATO's purview.
Gordon Adams, professor emeritus at American University's School of International Service, told us this is the standard approach to the question of which country brings the most to the NATO party.
"The comparison folks look at is overall defense spending, and by the NATO definition, the United States covers more than 70 percent of the total for all NATO members," Adams said.
Adams argues that the United States pays for a global operation, part of which includes Europe. The European members mainly pay for European-based forces for use in Europe. America's equipment and personnel, Adams notes, can be used anywhere.
"Were there a war in Europe, U.S. defense capabilities elsewhere in the world would be swung to Europe," he said.
So even if America has sent ships to the South China Sea to discourage China's activities there, and is bombing ISIS in Iraq and Syria, all that and more weighs in the balance of NATO's resources.
That is one view.
Laicie Heeley, a military budget expert at the Stimson Center, a defense policy think tank, sees things otherwise.
"Sanders' claim is a commonly quoted misperception, or misleading quote, however you choose to see it," Heeley said. "The stat says nothing about the U.S. relationship to NATO. It simply states that the United States is the world's greatest military spender."
Lisa Samp, a fellow with the International Security Program at the Center for Strategic and International Studies in Washington, also describes Sanders' words as a "common misunderstanding."
"There is a difference between what nations contribute to NATO and what they spend on their own defense," Samp said. "More accurate would be to say the United States contributes 22 percent of NATO's common funding."
NATO's common expenses
NATO does have things it calls its own. There is a civilian staff and headquarters, and military equipment such as surveillance aircraft. There are bases, command headquarters and a program to beef up military capabilities in certain countries above and beyond what they would need for their own defense.
For 2016, NATO's total military budget is about $2 billion. (Since Sanders specified the military aspect, we'll ignore the civilian costs, which are about $200 million.)
Each member contributes an agreed upon percentage of the shared budget. The United States leads the pack, paying 22 percent, as Samp said. This year, that comes to about $460 million. (Germany comes in second, paying about 15 percent.)
That is a far cry from 75 percent of NATO's military expense.
But while the common expenses allow us to be more precise about the money American taxpayers put into NATO, these numbers don't capture either the full picture of the U.S. presence in Europe, or NATO's true military capacity.
"You could not fight a war with the $2 billion," Adams said. "I have to say defining (the NATO budget) that way is, to me, both irrelevant and meaningless."
Interwoven goals, interwoven dollars
The one point that experts seem to agree on is that there is no easy way to separate America's military spending in Europe from its global military strategy.
The United States has responded to Russia's military moves in Ukraine with a program to boost the U.S. presence in central and eastern Europe. With a 2016 price tag just shy of $800 million, the Pentagon has put more boots on the ground, prepositioned equipment and supplies and in many other ways laid the groundwork to respond faster to any new moves Russia might make.
Samp told us while this clearly helps defend Europe, it has greater implications.
"It's not just for Europe but to forward deploy and have global reach," she said. "We can't say everything we're doing in Europe is just for Europe. It's for our benefit and our overall strategy as well."
In the same way that American forces around the world could be called in to help Europe, so too are American forces in Europe available to support U.S. operations elsewhere, for example in fighting ISIS in the Middle East.
"There is no easy way to sort out what the United States spends by region because both equipment and personnel are usable in every region of the world," Adams said.  
Our ruling
Sanders said that the United States spends "about 75 percent of the entire cost of the military aspect of NATO."
The problem with that statement is that NATO's military resources defy easy description. There are two ways to quantify them and both are incomplete.
The alliance sums up the total defense budgets of its members and counts that as its resources. By that measure, the United States represents about 72 percent of NATO. But that hardly captures America's role because its defense budget is shaped by factors outside of Europe.
On the other hand, NATO has common military expenses on the order of $2 billion a year. The U.S. share of that is about 22 percent. But those dollars exclude the vast spending it takes to sustain American forces, equipment and bases across Europe. And in a final twist, even those expenditures aren't solely for the benefit of Europe.
We rate this claim Half True.
https://www.sharethefacts.co/share/91c9f837-0e8f-4c6a-9add-a7b212c6deac
Washington Post, Democratic primary debate in New York City, April 14, 2016
NATO, Defence Expenditures of NATO Countries (2008-2015), Jan. 28, 2016
Center for Strategic and International Studies, The European Reassurance Initiative, Feb. 9, 2016
Wall Street Journal, Just Five of 28 NATO Members Meet Defense Spending Goal, Report Says, June 22, 2015
Congressional Research Service, NATO Common Funds Burdensharing: Background and Current Issues, Feb. 15, 2012
U.S. Department of Defense, Operation and maintenance overview - Fiscal Year 2017, February 2016
U.S. Department of Defense, European Reassurance Initiative: Fiscal Year 2017, February 2016
U.S. Department of the Arm, Fiscal Year 2017 budget estimates: Operation and Maintenance - Army, February 2016
Email interview, Warren Gunnels, policy director, Sanders for president, April 15, 2016
Email interview, Laicie Heeley, fellow, Stimson Center, April 18, 2016
Email interview, Gordon Adams, professor emeritus, School of International Service, American University, April 18, 2016
Interview, Lisa Samp, fellow, International Security Program, Center for Strategic and International Studies, April 18, 2016
Browse the Truth-O-Meter
More by Jon Greenberg
Support independent fact-checking.
Become a member!
In a world of wild talk and fake news, help us stand up for the facts.