Stand up for the facts!
Our only agenda is to publish the truth so you can be an informed participant in democracy.
We need your help.
I would like to contribute
Says that since lawmakers acted, "we have 130 new businesses across Texas doing helicopter hog hunts."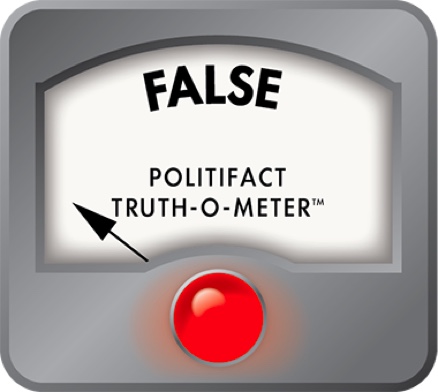 Sid Miller incorrectly says law he authored touched off 130 helicopter hog hunting businesses
Texas Agriculture Commissioner Sid Miller keeps a toothsome mounted boar's head on a wall outside his office. A toy helicopter looks like it's floating above.
As a Texas House member, the Stephenville Republican carried into law a 2011 measure enabling hunters to shoot at feral hogs or coyotes from helicopters, provided the landowner or his agent has given permission. "It became law," Miller told Austin American-Statesman columnist Ken Herman during an office tour in June 2016, "and we have 130 new businesses across Texas doing helicopter hog hunts. Took a liability and turned it into an asset. It's been great. It's been eradicating hogs ever since."
"Eradicating" means killing, which is how hunters including trappers and ranchers attack some of the estimated 1.5 million-plus feral hogs in Texas whose sows typically produce an annual litter of four to six offspring, the Texas Parks and Wildlife Department says.
"There seem to be very few inhibiting factors to curtail this population growth," the agency says on a feral hogs web page that lists various ways people can try to reduce the population. Among the options: "In some areas of Texas, aerial gunning from a helicopter is an efficient technique."
But are there really 130 new businesses devoted to helicopter hog hunts?
A couple of providers of the in-the-sky Texas hunts each told us that seems unlikely; more on that ahead.
When we asked about Miller's figure, an agriculture department spokesman, Mark Loeffler, advised by email that the commissioner's "130," offered in passing, Loeffler stressed, was based on his recollection of a TPWD statistic "for the number of companies permitted to do these aerial takes."
At the parks department, spokesman Tom Harvey told us there's no way for the agency to pin down from the paperwork how many hog-hunting operations sprung up after the law came to be. But 140 Aerial Wildlife Management Permits were active/valid when we inquired in July 2016, including, Harvey said by email, 104 permits whose recipients had indicated a commercial purpose--which we took to include businesses offering helicopter hog hunts.
Compared with 2010, the year before Miller won approval of his change in law, the count of 104 permit-holders indicating a commercial purpose was up from 86 applicants indicating a commercial purpose, according to the parks department.
Generally, Harvey said, aerial hog hunts have helped control feral hogs, which he called a "rampant nuisance species."
According to information provided by hunters, Harvey said, about 17,000 feral hogs were taken from the air in 2010. In contrast, 22,533 were removed in 2011 with more than that taken each year through 2015--on average 27,500 a year. Harvey added that hogs shot from the air account for a fairly small percentage of the estimated 750,000-plus feral hogs annually harvested statewide; the latter figure is a state estimate of the number of feral hogs harvested in 2010.
The state application for the "permit to manage wildlife or exotic animals by aircraft" asks for the names of each applicant and the names of pilots plus Federal Aviation Administration license numbers and the make, model and color of aircraft.
Harvey said permits may be issued for individuals, including rancher-landowners, to count or capture or kill native wildlife and exotic animals by aircraft. He said the permit is "often used for wildlife surveying (particularly white-tailed deer and feral hog counts), and even alligator nest counts."
We asked the agency for its latest list of permit holders. From the 104 indicating commercial purposes, we identified less than 10 businesses clearly offering hunters a chance to shoot hogs from the air.
We reached one of seven permit-holders whose applications didn't show commercial or noncommercial intentions. Kenneth Kemp of Victoria told us he's flown a helicopter to take out hogs for landowners for more than 30 years, killing more than 9,000 hogs from the air in 2015. Kemp said the Miller-authored law didn't lead him to offer hog hunts to people looking for such adventure.
Meantime, our web search for hog hunting services led us to Jay Decker, CEO of Texas-based Gunn&Hook, which was offering helicopter hog hunts starting at $775 as of mid-July 2016. To our  inquiry, Decker sent an email listing 14 Texas firms, including Last Shadow, HeliBacon, Pork Choppers and Heli Gunner, that he said provide hog hunts by helicopter. After we shared the state's 2016 list of permit holders with Decker, he marked seven as businesses that vend helicopter hunts, commenting: "I'm very confident in my number of 10-20 outfitters that fly part of or all of the year and take customers flying and shooting."
Separately, John Dumont, the managing partner and chief pilot for Helibacon, which vends helicopter hog hunts using automatic machine guns, said by phone that it competes with five to 10 similar Texas businesses.
In the end, we circled back to Loeffler with what we'd gleaned. By email, he specified that Miller was speaking to the number of AWM permits issued in 2012, the first full year of the law's implementation. State data shows 126 permits were issued that year. "To be fair, the number was a four-year-old statistic made in passing while giving a tour of his office," Loeffler wrote, "and not in an official statement or press release. Good Lord, I don't expect anyone reading this would want to held to a high standard for every half-remembered number used in casual conversation!"
Our ruling
Miller said that thanks to the law he authored authorizing hunters to shoot feral hogs from helicopters, "we have 130 new businesses across Texas doing helicopter hog hunts."
That figure reflects about the number of state permits issued one recent year allowing Texans to observe or hunt animals from the air. Best we can tell, though, around 20 new helicopter hog hunting ventures took flight after Miller's proposal became law.
We rate the claim False.
---
FALSE – The statement is not accurate. Click here for more on the six PolitiFact ratings and how we select facts to check.
https://www.sharethefacts.co/share/f8c83bd8-fef9-47c0-ad9a-fa806eb1493b
Commentary, "Herman: Texas Ag Commissioner Sid Miller's office is what you'd expect," Ken Herman, Austin American-Statesman, posted online July 9, 2016
Emails, Mark Dallas Loeffler, communications director, Texas Department of Agriculture, July 11 and Aug. 11, 2016
Web page, "Feral Hogs," Texas Parks & Wildlife Department, undated (accessed July 13, 2016)
News story, "War against feral hogs rages on," American-Statesman, Dec. 25, 2015
Emails, Jay Decker, ceo, Gunn & Hook, July 11, 13 and 15, 2016
Telephone interview, John Dumont, managing partner, chief pilot, Helibacon, July 11, 2016
Emails, Tom Harvey, deputy director, Communications Division, Texas Parks and Wildlife Department, July 11, 15 and 16 and Aug. 11, 2016
Telephone interview, Kenneth Kemp, owner, Coastal Helicopters Service, Aug. 11, 2016
Report, "Feral Hog Population Growth, Density and Harvest in Texas," Texas AgriLife Extension Service, August 2012 (noted in Aug. 11, 2016 email from Tom Harvey)
Browse the Truth-O-Meter
More by W. Gardner Selby
Support independent fact-checking.
Become a member!
In a world of wild talk and fake news, help us stand up for the facts.