Get PolitiFact in your inbox.
Says "employers are still allowed to pay people with disabilities below the minimum wage."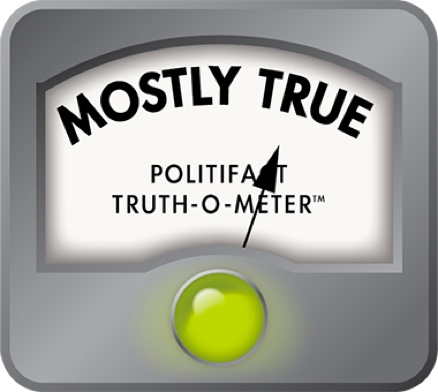 Can employers actually pay disabled Americans below the minimum wage?
Many speakers at this year's Democratic National Convention focused on Hillary Clinton's desire to help all people, including women, the gay and lesbian community, and racial minorities. Former Sen. Tom Harkin used his speech to focus on Americans with disabilities.
"Twenty-six years ago today, our nation won a hard-fought battle to end discrimination for over 50 million people when we signed into law the Americans with Disabilities Act, the ADA," Harkin stated. However, he continued, "when, 26 years later, employers are still allowed to pay people with disabilities below the minimum wage, it is time to change that law. Hillary Clinton will fight to eliminate the subminimum wage, and ensure that a fair day's work earns a fair day's pay."
Are employers actually able to pay people with disabilities below the minimum wage? We took a look.
The Americans with Disabilities Act
The Americans with Disabilities Act, or ADA, of 1990 is the most comprehensive piece of legislation that safeguards the rights and interests of disabled Americans.
Title I of the ADA protects qualified individuals from employment discrimination. It applies to private-sector employers employing more than 15 individuals, as well as to employment agencies, labor organizations, and joint labor/management committees. Employers are also required to make reasonable accommodation, which means making any change or adjustment that allows disabled people to partake in all functions of the job process.
The ADA also protects disabled individuals from discrimination in pay. Employers cannot make up the cost of reasonable accommodation by reducing a disabled individual's pay lower than the pay of others in the same position.
Subminimum wage provisions
While the ADA does protect individuals from pay discrimination, the protection is qualified.
Under section 14(c) of the Fair Labor Standards Act (FLSA), employers are able to pay a wage below the federal minimum wage to workers whose work is affected by a mental or physical deficiency. (The ADA does not change this provision.) The reduction in wage corresponds to the reduction in productivity as compared with a worker without a disability. This means that some disabled workers can make significantly less than the minimum wage, in some cases even less than a dollar per hour.
Employers must obtain a certificate from the Wage and Hour Division to set a wage below the federal minimum. According to the U.S. Labor Department, the certificate program has been implemented in the employment of over 420,000 disabled Americans.
This reduced wage, known as the subminimum wage, has been in effect since the 1930s, with several changes over the years. The National Industrial Recovery Act (NIRA) of 1933-1935 set the first productivity-based subminimum wage, which was adopted again with the passing of the FLSA in 1938.
The subminimum wage had a wage floor until 1986. Since then, the subminimum wage has been commensurate with productivity.
Executive Order 13658
In 2014, President Barack Obama issued Executive Order 13658, which established a minimum wage for workers working on or under a contract with the federal government. The order specifically included disabled workers under purview of section 14(c) of the FLSA.
While the executive order requires that all workers working on or under contracts of the federal government be paid a minimum of $10.15 per hour, the order did not inhibit the use of commensurate wages. Employers are still able to pay disabled individuals less than other workers as long as the wage remains at or above the $10.15 minimum.
Furthermore, the executive order only applies to work in association with the federal government. The order's limited scope and qualification of commensurate pay has made many disability advocates call for more far-reaching reform.
Calls for more reform
Many disability advocates claim that the subminimum wage is antiquated and fosters systemic inequities.
In an article for the Huffington Post in 2015, Curtis Decker, executive director of the National Disability Rights Network, wrote that the subminimum wage was an incentive for businesses to hire physically disabled individuals in the competitive manufacturing industries of the time.
However, the provision is exploited today because "unscrupulous employers eager to profit off the cheap labor … portray their business as a 'job training' program." Disabled Americans enter these programs under the assumption that they will gain valuable skills that will lead to real-world jobs and financial independence.
However, Decker said this rarely happens because "as soon as the worker becomes proficient in one area and ready to graduate, they change that person's task." Many never graduate from the program and are stuck making subminimum wages while employers benefit from the cheap labor.
We reached out to the Clinton and Trump campaigns for insight on their respective plans regarding disability policy.
The Clinton campaign directed us to a March 25, 2016, speech in which she discussed the subminimum wage.
"I want us to take a hard look at raising the minimum wage and ending the tiered minimum wages, whether it's for people with disabilities or the tipped wage," Clinton said. (Another group of people who can be paid below the minimum wage are those, such as restaurant servers, whose income comes to a significant degree from customer tips.)
The Trump campaign did not respond to our inquiries, and there is no disability policy agenda detailed on the official campaign website.
While there has been limited action at the federal level, three states -- Vermont, New Hampshire and Maryland -- have passed legislation that phase out use of the subminimum wage in their respective states.
Our ruling
Harkin said, "Employers are still allowed to pay people with disabilities below the minimum wage."
He's right that employers have been able to pay a subminimum wage to disabled workers since the 1930s. There's one significant exception today, created by Obama's executive order: Federal contractors must pay all workers a $10.15 minimum wage.
The statement is accurate but needs clarification, so we rate it Mostly True.
https://www.sharethefacts.co/share/cf683287-e597-4fcc-9926-102ddec70249
Tom Harkin, DNC speech, July 26, 2016
U.S. Department of Labor, "Laws and Regulations"
U.S. Department of Justice, "Americans With Disabilities Act 1990, As Amended"
U.S. Equal Employment Opportunity Commission, "The ADA: Your Employment Rights as an Individual With a Disability"
U.S. Department of Labor, "Fact Sheet #39: The Employment of Workers with Disabilities at Subminimum Wages"
U.S. Department of Labor, "The Fair Labor Standards Act Of 1938, As Amended," revised May 2011
U.S. Department of Labor, "Section 14(c) Subminimum Wage Certificate Program"
Fortune, "Disabled workers left in cold on minimum wage," Feb. 12, 2014
Congressional Research Service, "Treatment of Workers with Disabilities Under Section 14(c) of the Fair Labor Standards Act," February 2005
U.S. Department of Labor, "Fact Sheet: Raising the Minimum Wage for Workers with Disabilities Under Executive Order 13658," December 2014
Huffington Post, "People With Disabilities Deserve a Minimum Wage," Oct. 16, 2015
U.S. Census Bureau, "People in Poverty by Selected Characteristics: 2013 and 2014"
Email interview, Josh Schwerin, national spokesman for Clinton campaign, Aug. 9, 2016
The Atlantic, "Clinton's Case Against the Subminimum Wage," March 29, 2016
Browse the Truth-O-Meter
More by Taylor Leighton
Support independent fact-checking.
Become a member!
In a world of wild talk and fake news, help us stand up for the facts.