Get PolitiFact in your inbox.
"All of Texas is conservative, except a little bit of Austin."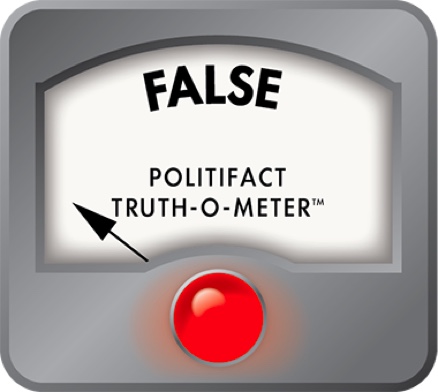 Sean Hannity incorrect that 'all of Texas' conservative save a bit of Austin
Sean Hannity, the Fox News host, took note of a brief protest during the Austin taping of his Aug. 23, 2016, interview of Donald Trump by characterizing the state's politics.
"All right," Hannity said amid shouts, "all of Texas is conservative, except a little bit of Austin."
Without question, Austin largely tilts left. At the time Hannity spoke, Travis County had no countywide elected Republicans while its Texas House delegation consisted of five Democrats and one Republican. In 2012, President Barack Obama carried 60 percent of the county's vote to Republican Mitt Romney's 36 percent.
We focused on Hannity's larger point — that the rest of Texas is conservative.
In Hannity's favor: No Democrat has won statewide since 1994 (when Democrats won five of 10 statewide non-judicial races). Also, no Democratic presidential nominee has captured the state since Jimmy Carter edged Gerald Ford by 129,019 votes in 1976 (a November so long ago that Donald Trump was only 30 and and Hillary Clinton had just turned 29).
Statewide in 2012, Romney beat Obama by more than 1 million votes, carrying 57 percent to Obama's 41 percent, leaving Texas pretty darned red, per this Politico map:
SOURCE: "Election Special, 2012 Texas Presidential Results," Politico, last updated Nov. 19, 2012
But contrary to Hannity's statement, Austin wasn't the only blue dot on the 2012 map. Obama won much of the traditionally stalwart-Democratic border region including El Paso County plus the urban counties of Bexar (home to San Antonio); Dallas; Harris (home to Democrat-dominant Houston); and Jefferson (home to union-strong Beaumont).
Two years later, Republican Greg Abbott trounced Democrat Wendy Davis for governor, doing well nearly everywhere outside the Mexico border region. Politico's map (below) shows that beyond border counties, Davis outpolled Abbott only in Travis and Dallas counties.
SOURCE: "2014 Texas Governor Election Results," Politico, update Dec. 17, 2014 (accessed Aug. 25, 2016)
Otherwise, meantime, Democrats show some local strengths--and not only in Austin or near Mexico.
As of August 2016, when Hannity spoke, Dallas County's judge (the county's top executive position) was Democrat Clay Jenkins while five other countywide officeholders, including Sheriff Lupe Valdez, were Democrats, per the county's Democratic Party. District Attorney Susan Hawk was the sole Republican in a countywide elected post.
In contrast, neighboring Tarrant County, home to Fort Worth, remained a Republican stronghold; by our count, per a county Republican Party list, Republicans held all six countywide elected posts. Also, the state's most-populous county, Harris, had just one Democrat in a major countywide post--Vince Ryan, the county attorney. Ryan won re-election in 2012 along with another Democrat, Sheriff Adrian Garcia. Garcia resigned in 2015 to bid for mayor and he was replaced with a Republican, Ron Hickman, who seeks re-election in November 2016.
Bexar County, meantime, had a longtime Democratic leader as county judge, Nelson Wolff, as well as Democrats Albert Uresti, the tax assessor-collector, and Nicholas "Nico" LaHood, the county's criminal district attorney. Then again, voters also had in place a Republican sheriff, Susan Pamerleau, seeking a second term in 2016; a Republican county clerk, Gerard "Gerry" Rickhoff, who'd held the office for more than two decades; and a Republican district clerk, Donna Kay McKinney.
We also asked the state parties to assess Hannity's claim, which by email Mike Joyce of the Republican Party of Texas called "fair."
Manny Garcia of the Texas Democratic Party noted Democratic gains in some parts of the state and pointed out that when Texas voters participating in a June 2016 University of Texas poll were asked to place themselves on a seven-point scale running from extremely liberal to extremely conservative, 39 percent chose "in the middle." Otherwise, 18 percent self-identified as liberal, 44 percent as conservative.
Our ruling
Hannity said: "All of Texas is conservative except a little bit of Austin."
If Hannity had solely singled out the state's many rural and suburban counties, he'd have a point. However, the state's border counties and biggest cities (not just Austin) lean Democratic while the UT poll showed the majority of all voters self-identify as something other than conservative.
We find this "all" claim False.
---
FALSE – The statement is not accurate. Click here for more on the six PolitiFact ratings and how we select facts to check.
https://www.sharethefacts.co/share/302cffe5-cc74-4ce3-a60d-3f143864676d
Website, "1992 - Current Election History," Office of the Texas Secretary of State (accessed Aug. 25, 2016)
Texas results, 2012 presidential election, Texas Secretary of State (from election history website accessed Aug. 25, 2016)
Politico web pages, "Election Special, 2012 Texas Presidential Results," last updated Nov. 19, 2012; SOURCE: "2014 Texas Governor Election Results," updated Dec. 17, 2014 (accessed Aug. 25, 2016)
Web page, "Our Elected Officials," Dallas County Democratic Party, undated (accessed Aug. 25, 2016)
Web page, "Tarrant County Elected Officials," Tarrant County Republican Party, undated (accessed Aug. 25, 2016)
Results of poll, University of Texas/Texas Politics statewide poll, taken June 10-20, 2016
Email, Mike Joyce, communications director, Republican Party of Texas, Aug. 25, 2016
Email, Manny Garcia, executive director, Texas Democratic Party, Aug. 25, 2016
Browse the Truth-O-Meter
More by W. Gardner Selby
Support independent fact-checking.
Become a member!
In a world of wild talk and fake news, help us stand up for the facts.