Stand up for the facts!
Our only agenda is to publish the truth so you can be an informed participant in democracy.
We need your help.
I would like to contribute
Says President Barack Obama "has not condemned" shootings targeting police.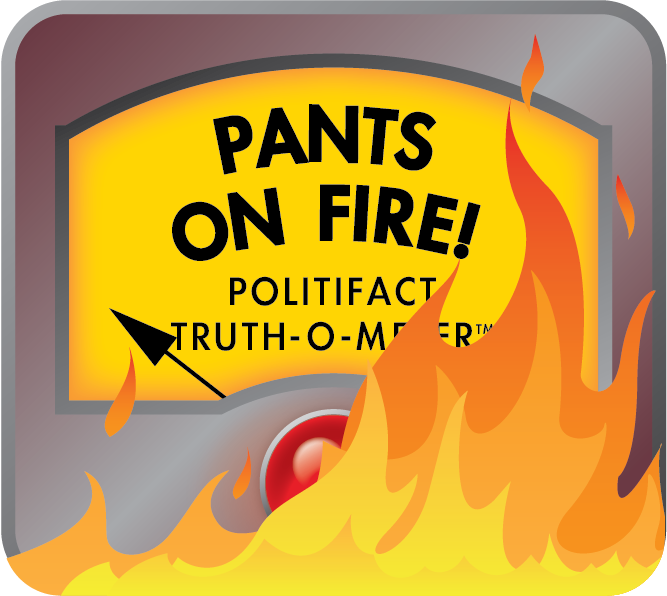 Pants on Fire: Larry Pratt says Obama hasn't decried killings of police
Larry Pratt, the longtime leader of Gun Owners of America, says President Barack Obama has been nonchalant about ambush shootings targeting police.  
"There have been officers simply gunned down because they had a uniform on," Pratt said during a Dec. 15 radio interview on WINA in Charlottesville. "It's not just Dallas, it's other places as well and the thing that frankly concerns me as I think about this is that the president not only has not condemned this, he actually seems to have a rationale that maybe this is what you would expect in the United States with its history of slavery and racial impression and so forth.
"That doesn't help in the here and now," added Pratt, a Republican who represented Fairfax County in the General Assembly in the early 1980s. "We don't have slavery and we don't have racial oppression, but we do have cops getting killed."
We wondered whether Pratt, whose organization is headquartered in Fairfax County and has criticized the NRA as being soft on gun rights, was correct that Obama never "condemned" the murders of police. So we examined the records and found three statements by Obama that decimate Pratt's claim.
Dallas
On the night of July 7, 2016, a sniper killed five Dallas policemen and wounded seven in the deadliest attack for police since 9/11. The assassin, before dying at the scene, said he was angered by the fatal police shootings of black men in Louisiana and Minnesota that had dominated national news in previous days.
Obama denounced the sniper's acts the next morning as "a vicious, calculated and despicable attack on law enforcement." He added, "I believe that I speak for every single American when I say that we are horrified over these events and that we stand united with the people and the police department in Dallas."
The president also said, "There is no possible justification for these kinds of attacks or any violence against law enforcement."
Obama was in Europe at the time to attend a NATO Summit and to hold meetings with leaders in Poland and in Spain. He cut short the trip by one day to speak at a memorial service in Dallas for the slain policemen.
Baton Rouge   
Three Baton Rouge law enforcement officers were ambushed and shot to death on July, 17, 2016. The assassin, who was killed at the scene, had vowed in an email to avenge the recent police killings of blacks.
Obama issued a statement that day that said, "For the second time in two weeks, police officers who put their lives on the line for ours every day were doing their job when they were killed in a cowardly and reprehensible assault. These are attacks on public servants, on the rule of law, and on civilized society, and they have to stop."
New York
Two New York City policemen sitting in their patrol car were shot at point blank range on Dec. 20, 2014.  The New York Times reported that the murderer, who committed suicide near the scene, had made statements on social media that he planned to avenge police killings of black men earlier that year in Ferguson, Mo. and New York.
Obama issued a written statement that day that actually used the word "condemn." He wrote:
"I unconditionally condemn today's murder of two police officers in New York City. Two brave men won't be going home to their loved ones tonight, and for that, there is no justification. The officers who serve and protect our communities risk their own safety for ours every single day - and they deserve our respect and gratitude every single day. Tonight, I ask people to reject violence and words that harm, and turn to words that heal - prayer, patient dialogue, and sympathy for the friends and family of the fallen."
We asked Pratt if he had second thoughts about his comment about Obama.
"Nah," he replied, saying the president's statements deploring the attacks on police have been tempered by other comments Obama has made legitimizing the distrust many blacks have of police officers. For example, Obama said on July 7, 2016, that while most police perform admirably, there are racial "biases, some conscious and unconscious, that have to be rooted out."
Pratt told us that Obama "has stirred the pot," on attacking police. "He's looking for division."
We should finally note that Pratt is not the first to accuse Obama of being aloof about the attacks on police. Our colleagues at PunditFact on July 8, 2016, examined a similar comment by William Johnson, executive director of the National Association of Police Officers. They rated it Pants on Fire.  
Our ruling
Pratt said Obama never "condemned" murders targeting police.
His outrageous statement ignores the president's expressions of abhorrence following each of three different ambush murders of multiple police officers in the last two years.  Obama publicly called the killings "vicious," "reprehensible," "cowardly," and "despicable."  Following the 2014 slaying of two New York policemen, Obama used the very word Pratt denies him, saying, "I unconditionally condemn" the murders.
We rate Pratt's claim Pants on Fire.
Larry Pratt, Radio interview on WINA, Dec. 15, 2016 (Obama comment at 13:44 mark of audio).
Time, "President Obama: Killing of Baton Rogue cops was 'work of cowards,'" July 17, 2016.
President Barack Obama, "Letter to America's law enforcement community," July 19, 2016.
The White House, "Remarks by the president at memorial service for fallen Dallas police officers," July 12, 2016.
The White House, "Remarks by President Obama...," July 8, 2016
The White House, "Statement by the President," Dec. 20, 2014.
The New York Times, "Five Dallas officers were killed as payback, police chief says," July 8, 2016.
CNN, "Palm Springs shootings: Two police officers killed, one wounded," Oct. 9, 2016.
Officer Down Memorial Page, "Honoring officers killed in 2016," accessed Dec. 21, 2016.
PunditFact, "Law enforcement lobbyist says pro-police speech is 'markedly absent' from Obama," July 12, 2016.
The White House, "Statement by the president," Dec. 20, 2014.
CNN, "Dallas sniper attack, five officers killed, suspect identified," July 9, 2016.
The Washington Post, "Five police officers were killed by a lone attacker, authorities say,' July 8, 2016.
Interview with Larry Pratt, executive director emeritus of Gun Owners of America, Dec. 22, 2016.
The White House, "President Obama on the fatal shootings of Alton Sterling and Philando Castile," July 7, 2016 (comment at 11:57 mark).
Browse the Truth-O-Meter
More by Warren Fiske
Support independent fact-checking.
Become a member!
In a world of wild talk and fake news, help us stand up for the facts.