Stand up for the facts!
Our only agenda is to publish the truth so you can be an informed participant in democracy.
We need your help.
I would like to contribute
"There's never been a (U.S. Supreme Court) vacancy in the last, I think, 30 years, lasting longer than 237 days."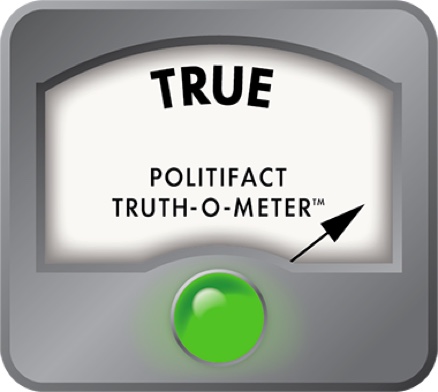 Sen. Richard Blumenthal correct that the longest Supreme Court vacancy in 30 years has been 237 days
In the political wrangling over whether President Barack Obama should appoint a new Supreme Court justice or wait until his successor is sworn in next January, Connecticut Sen. Richard Blumenthal argued on MSNBC's Hardball that a delay goes against modern precedent.
The Democrat said that failure to fill the seat could mean a lot of tie votes on the court, which could "really hurt people. And so there's a duty to fill that vacancy, to make the system work."
"Our constitutional system depends on nine members serving on the Supreme Court, which is why there has never been a vacancy in the last, I think, 30 years lasting longer than 237 days. The president has 339 left."
We wondered if Blumenthal was correct, and why he was limiting his analysis to the past 30 years.
Using the Supreme Court's list of justices and their terms, we counted the gap between the date each justice left office and the date their successor was sworn in, beginning with justices who were on the bench in 1900.
We found Blumenthal's 237-day gap. It began when Lewis F. Powell Jr. retired on June 26, 1987. It took nearly eight months to find a replacement. Ronald Reagan's first choice, Robert Bork, was rejected by the Democratic Senate, mostly along party lines. His second choice, Douglas Ginsburg, withdrew after admitting he used drugs, both as a college student and later as a professor at Harvard.
Anthony Kennedy, Reagan's third choice to fill Powell's seat, was confirmed without opposition by the Senate on Feb. 3, 1988. He was sworn in Feb. 18, 1988.
We found a longer vacancy, though it falls outside of Blumenthal's 30-year window.
When Justice Abe Fortas resigned on May 14, 1969, 391 days passed before his successor, Harry Blackmun, was sworn in on June 9, 1970. That was nearly 46 years ago.
Once again, a Republican president -- in this case, Richard Nixon -- failed to get his first two nominees approved by the Democratic-controlled Senate, although neither vote was on strict party lines.  
Like Kennedy, Blackmun was confirmed without dissent. Blackmun ultimately became one of the most liberal justices on the court.
In all, of the 59 vacancies that occurred in the 20th and 21st centuries, only four persisted longer than 200 days. Six were between 150 and 200 days.
The average time between a justice's departure and his successor being sworn in: 73 days.
Two things to note. Justices don't always get sworn in as soon as they are confirmed. John Hessin Clarke was approved by the Senate on July 24, 1916, but he wasn't sworn in until nearly three months later. Also, justices sometimes announced their resignations months before they step down from the bench, so their departures could take effect the day before or the same day a successor is sworn in.
In the case of the 237-day gap cited by Blumenthal, Powell is listed as leaving the court the day he announced his resignation.
Blumenthal was talking about the length of vacancies, not the gap between an announced departure and the swearing-in of a new justice. And on his specific timeline, he is correct.
We rate it True.
Browse the Truth-O-Meter
More by C. Eugene Emery Jr.
Support independent fact-checking.
Become a member!
In a world of wild talk and fake news, help us stand up for the facts.