Stand up for facts and support PolitiFact.
Now is your chance to go on the record as supporting trusted, factual information by joining PolitiFact's Truth Squad. Contributions or gifts to PolitiFact, which is part of the 501(c)(3) nonprofit Poynter Institute, are tax deductible.
I would like to contribute
"A third of the budget for the city of Ferguson (Missouri) was being reaped by civil fines."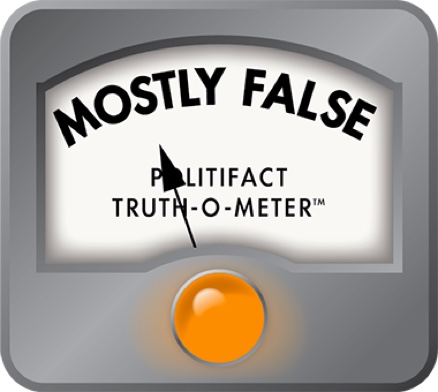 Budgets from Ferguson, Mo., don't support Rand Paul's claim on the city's reliance on civil fines
How to relieve the tension between police officers and the communities they serve was a topic during the Jan. 28, 2016, Republican presidential debate in Des Moines, Iowa. The question specifically focused on Ferguson, Mo., the site of protests and riots after a police officer fatally shot Michael Brown in August 2014.
When Sen. Rand Paul, R-Ky., was asked to address the issue, he said, "I've been trying to look for solutions to our criminal justice problem. One thing I discovered in Ferguson was that a third of the budget for the city of Ferguson was being reaped by civil fines. People were just being fined to death."
"Now you and I and many of the people in this audience, if we get a $100 fine, we can survive it. If you're living on the edge of poverty and you get a $100 fine or your car towed, a lot of times you lose your job," Paul said.
We wondered whether fines actually represented a third of Ferguson's budget.
The short answer: No.
Ferguson's annual operating budget for the fiscal year ending June 30, 2014, lists actual revenue and expenditures for 2012, forecasted revenues and expenditures for 2013, and budgeted estimates for 2014.
In 2012, revenue from "fines and public safety" was $2.2 million out of a budget of $19.5 million.
That's 11 percent.
That revenue was expected to go up to $2.6 million on a $25.9 million budget, or 10 percent.
And for the 2014 fiscal year, Ferguson was expecting fines and public safety revenue to jump even higher, to $2.7 million in a budget of $26.4 million. That means that that line item would be bringing in, once again, 10 percent of the revenue needed to run the city.
Even if you look at income from the "fines and public safety" line item and only compare it to revenue -- and not the total budget -- you don't come close to the 33 percent or so Rand is talking about.
It's 13 percent for 2012, 13 percent for 2013 and 14 percent for 2014.
When Paul's spokesman got back to us, she directed us to the probe of the Ferguson Police Department by the U.S. Justice Department.
Released in March 2015, it reports on efforts by the city to use Municipal Court fees and fines to increase revenue, particularly on missed court appearances and missed payments. The report notes, "The court's practices also impose unnecessary harm, overwhelmingly on African-American individuals."
The Justice Department report says that for the 2015 fiscal year, the city was expecting to collect $3.09 million in fees, fines and costs, with all revenues expected to total $13.26 million. That's 23 percent of revenue from fees and fines.
However, that didn't happen.
The city's latest budget, submitted June 24, 2015, specifically declares, "It is not the city's policy to maximize its government finances through the use of the judicial process. Therefore, court fines are not considered a targeted revenue source that the City strives to achieve."
That's reflected in the numbers.
While the city said it actually collected $2.1 million for its $13.2 million budget in 2014, it was expecting to get just $1 million in fines and public safety revenue in 2015 on a $14.4 million budget. That's 16 percent and 7 percent respectively.
Our ruling
Paul asserted during the Republican debate that, "A third of the budget for the city of Ferguson (Mo.) was being reaped by civil fines."
The evidence is clear that the city was heavily dependent on fines and fees for its revenue, and Paul's comments about the effect on residents is noted.
But we found that Paul seriously overstated that reliance. It went as high as 16 percent in 2014 and was expected to drop to 7 percent the following year in reaction to public outrage.
Because his statement contains some element of truth but ignores critical facts that would give a different impression, we rate it Mostly False.
Washington Post, "7th Republican debate transcript, annotated: Who said what and what it meant," Jan. 28, 2016
FergusonCity.com, "City of Ferguson Missouri Annual Operating Budget Fiscal Year 2013-2014," June 28, 2013, "City of Ferguson Missouri Annual Operating Budget Fiscal Year 2015-2016," June 24, 2015, both accessed Jan. 28, 2016
PolitiFact, "Rep. Emanuel Cleaver uses wrong figure in statement about Ferguson," Oct. 22, 2015
Email, Eleanor May, spokeswoman, Rand Paul campaign, Jan. 28, 2016
U.S. Department of Justice, "Investigation of the Ferguson Police Department," March 4, 2015, accessed Jan. 28, 2016
Browse the Truth-O-Meter
More by C. Eugene Emery Jr.
Support independent fact-checking.
Become a member!
In a world of wild talk and fake news, help us stand up for the facts.