Stand up for the facts!
Our only agenda is to publish the truth so you can be an informed participant in democracy.
We need your help.
I would like to contribute
"Each [Corbett administration] budget finished in the black."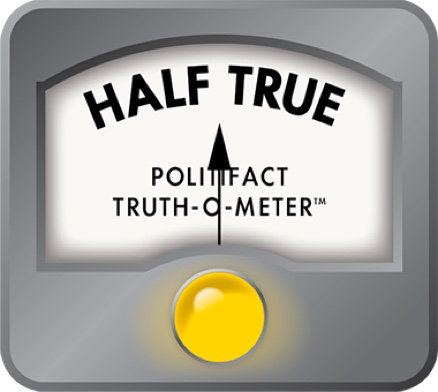 Surprising PA budget claim from GOP leader almost checks out
State House Speaker Mike Turzai criticized Governor Tom Wolf's stance on budget talks in a PennLive op-ed last month. As Turzai sees it, Wolf wants more taxes. But to balance the state's books, he argues, it doesn't have to be that way.
"Under former Gov. Tom Corbett, we made some tough decisions. But in the face of a sputtering economy, we delivered four on-time, balanced budgets without increasing broad-based taxes," wrote Turzai. "Each budget finished in the black"
With reports of deficits creeping past $2 billion when Wolf entered office, and the gloomy measure of the state's finances referenced frequently during last year's nine-month budget impasse, it may seem confusing to read that each Corbett year ended so well. We decided to look into the numbers for a clearer sense.
So, a structural deficit occurs when expenditures are set to outpace revenue. Budget experts refer to this for deficits that appear within the fiscal year at hand, but also for projections for the fiscal years to come. Corbett did indeed end each fiscal year with a positive general fund balance.
"That result must occur because the Governor is required to certify that the budget for the fiscal year that ends is in balance before agreement can be reached on the new fiscal year," Matthew Knittel, director of the Independent Fiscal Office,  a nonpartisan state center for budget analysis, explained in an email.
Mark Price, research director at the left-leaning Pennsylvania Budget and Policy Center, called Turzai's recollection accurate "on it's face." But he cautioned, "It's not a full accounting of the implications of those choices."
Nathan Benefield, vice president of policy at the Commonwealth Foundation, a conservative think tank also thought the statement bore truth, but noted that that matter was "nuance[d]."
"It depends on what 'in the black' actually means," he wrote in a statement. "Three out of the four Corbett budgets spent more than net revenue."
But how can this be?
Corbett has been largely blamed for the more than $1 billion in education cuts in 2011. His camp and Republicans in-state have long argued that pointing the finger at him is unfair. His predecessor, Ed Rendell, moved $1.3 billion in one-time federal stimulus funds towards schools after a study found the state's system to be underfunded by $4.4 billion.
"I don't see, from what we've seen so far, how you're not going to leave the next governor with a disaster on their hands," said Centre County Senator Jake Corman reacted in March 2009, according to Philadelphia City Paper.
The Corbett administration early on told constituents that financial management would be different under their watch. "All of these events and fiscal realities conspire to make the 2011-12 budget the year we get our fiscal house in order," Charles Zogby, budget secretary at the time, told the Pittsburgh Tribune-Review roughly two months into Corbett's term. "No more reliance on federal stimulus funds, no more gimmicks, no more use of one-time funds. We're focused on the core missions of government and making difficult decisions to live within [our] means."
That budget would up the state's contribution to education funding overall, as Team Corbett has reminded reporters plenty since, but did not nearly replace the federal money that had expired. The nearly $900 million shortfall in K-12 funding sent shockwaves through public education, and spawned, in many cases, crises, through school districts across the state.
Price pointed out that the state may not have raised "broad-based taxes," cash-strapped school districts upped property taxes. More than six in 10 school districts have increased them for the last six years straight. While Turzai can note that they achieved Corbett's goal and didn't raise taxes, local jurisdictions absolutely did.
But even with these cuts, the Corbett administration didn't fix the state's deficit in his four years. Actually, in 2014, while other states' general funds swelled, Pennsylvania found itself in the red. His administration argued that they'd inherited a deficit margin of $4 billion; Rendell staunchly denied this, stating that Corbett walked into a surplus. (The Independent Fiscal Office notes that the surplus in 2011 was $1.1 billion.) On the more liberal side, experts and politicians argued that corporate tax cuts had diminished revenue and aggravated an already dire situation.
In 2014, revenue came in $509 million lower than estimated, according to the Independent Fiscal Office. "[T]here are many methods that can and have been used to bring historical budgets into balance, such as one-time federal fund transfers, transfers from non-General Fund accounts and spending delays," Knittel told PolitiFact PA in an email. A late 2014 report from Knittel's office lists a total $1.5 billion in transfers, payment delays and other "nonrecurring" deals "used to balance and enact the FY 2014-15 budget."
In other words, Corbett was another governor who solved budget deficits with short-term maneuvers, but failed to fix the looming structural deficit that continues to hang over the state.
The report did not celebrate these transfers: "Those measures must be replaced by other one-time measures, permanent funds or expenditure reductions. The reliance on fund balances and nonrecurring measures has allowed policymakers to defer solutions to the long-term structural imbalance identified by this analysis."
Our ruling
Turzai wrote, "Each budget finished in the black" from the Corbett administration. This is right, but borderline misleading.
It conveys that the state was healthy place financially. Pennsylvania wasn't. Moreover, the administration implemented one-time tactics to balance the books that their own budget secretary had previously decried.
We rule this claim Half True.
"How education funding became Gov. Corbett's big problem," Philadelphia City Paper, November 27, 2013
"As budget deadline nears, Gov. Wolf needs a fiscal reality check: Mike Turzai," PennLive, June 15, 2016
"At a time of surpluses elsewhere, Pennsylvania faces deficit," Washington Post, February 7, 2014
"Pledging 'no gimmicks,' Corbett budget chief warns of cuts," Pittsburgh Tribune-Review, Feb. 28, 2011
"Rendell seeks to 'set the record straight' about Corbett budget deficit," Pittsburgh Tribune-Review, Feb. 20, 2014
"Pennsylvania's Economic and Budget Outlook, Fiscal Years 2014-15 to 2019-20," Independent Fiscal Office, November 2014
Email, Matthew Knittel, director, Independent Fiscal Office, Commonwealth of Pennsylvania, July 6, 2016
Statement, Nathan Benefield, Vice President of Policy, Commonwealth Foundation, July 12, 2016
"Continued Cuts: The PASA-PASBO Report on School District Budgets," Pennsylvania Association of School Administrators & Pennsylvania Association of School Business Officials, June 2015
Phone interview, Mark Price, research director, Pennsylvania Budget and Policy Center, July 6, 2016
Phone interview, Marc Stier, director, Pennsylvania Budget and Policy Center, July 7, 2016
Browse the Truth-O-Meter
More by Cassie Owens
Support independent fact-checking.
Become a member!
In a world of wild talk and fake news, help us stand up for the facts.