Stand up for facts and support PolitiFact.
Now is your chance to go on the record as supporting trusted, factual information by joining PolitiFact's Truth Squad. Contributions or gifts to PolitiFact, which is part of the 501(c)(3) nonprofit Poynter Institute, are tax deductible.
I would like to contribute
African-Americans don't use drugs at a higher level than whites but "wind up going to prison six times more."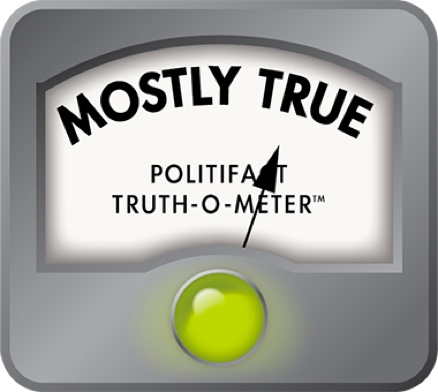 Van Jones claim on drug use, imprisonment rates for blacks, whites is mostly accurate
After two black men died at the hands of police, CNN commentator Van Jones tried to make a case for institutional racism in law enforcement with panelist Harry Houck, a former New York Police Department detective, during the July 7 edition of Erin Burnett Outfront.
"The statistics don't lie about the excessive numbers of stops," said Jones, who is black. "Let's not talk about traffic stops. Let's take something tough like drugs. African-Americans don't use drugs (at a) higher level than whites. (It's) about the same percentage; about 12 percent. But we wind up getting arrested, not 50 percent more. We wind up going to prison six times more because there seems to be some institutional bias. Doesn't that bother you?"
Houck's response: "That doesn't show any institutional bias."
We were interested in Jones' statement that blacks don't use drugs at a higher level than whites, yet they the wind up going to prison six times more often.
We fact-checked a similar statement in February 2016, when presumptive Democratic presidential nominee Hillary Clinton declared that "African-Americans are more likely to be arrested by police and sentenced to longer prison terms for doing the same thing that whites do." We rated that statement True.
But Jones' comment was less generic, dealing specifically with drugs.
When we contacted him, he said he was going away for a while and couldn't remember the source off the top of his head.
So we went looking for information.
Jones may have been referring to data contained in the 2014 National Research Council report on "Growth of Incarceration in the United States: Exploring Causes and Consequences." Pages 60 and 61 focus on drug crimes.
We'll talk about drug use first.
The report says, "The prevalence of drug use is only slightly higher among blacks than whites for some illicit drugs and slightly lower for others; the difference is not substantial. There is also little evidence, when all drug types are considered, that blacks sell drugs more often than whites."
We checked the overall data from the 2013 National Survey on Drug Use and Health. Here's the breakdown for all illicit drugs.
There are racial differences in the types of drugs being abused, according to surveys by the federal Substance Abuse and Mental Health Services Administration. Blacks, for example, are far less likely to have used marijuana, cocaine and hallucinogens in their lifetime than whites, but — at least in the case of marijuana — whites are more likely to give it up over time.
With that backdrop, the National Research Council report says, "In recent years, drug-related arrest rates for blacks have been three to four times higher than those for whites. In the late 1980s, the rates were six times higher for blacks than for whites."
Here's the drug arrest rate trend:
But Jones was talking about the rates of imprisonment for drug crimes, not arrest rates. Those numbers turned out to be harder to find.
We turned to Nazgol Ghandnoosh, a research analyst for The Sentencing Project, an advocacy group in Washington. She pointed us to data from the Bureau of Justice Statistics reporting on the number of people going to state prison for drug offenses and numbers from the United States Sentencing Commission on the racial makeup of drug offenders going to federal prison.
Those numbers aren't perfect for our comparison. For example, the state prison data only lists inmates based on their most serious offense, so someone convicted of a drug crime may not be listed in that category if that person was given a longer sentence for assault.
Adjusting for the number of blacks and whites (another approximation because many Americans are of mixed race), the black imprisonment rate for drug offenses is about 5.8 times higher than it is for whites.
That's very close to what Jones said.
It should be noted that these numbers vary from source to source.
The NAACP's Criminal Justice Fact Sheet asserts that "five times as many whites are using drugs as African Americans, yet African Americans are sent to prison for drug offenses at 10 times the rate of whites." It doesn't list a source. Spokeswoman Raquel Coombs said the ratios may be out of date.
We noted in the BJS data that the racial disparity has decreased significantly since 1991. That NAACP 10 percent imprisonment statistic appears to be based on 2003 data analyzed in 2009 by Human Rights Watch. (We also note that the drug-use statistic is easy to misread. Whites aren't five times more likely to use drugs. Five times more whites are using drugs because there are about 5.5 times more whites in the U.S. population than blacks.)
We wondered why so many more blacks are going to prison for drug offenses.
They're more likely to get caught selling drugs, as Michael Tonry, professor of law at the University of Minnesota, told us back in February. "Whites are more likely to sell to people they know, and they much more often sell behind closed doors. Blacks sell to people they don't know and in public, which makes them vastly easier to arrest."
Blacks arrested for drugs are more likely to be sent to jail because they're more likely to have had a previous run-in with the law. Police tend to patrol high-crime areas more aggressively, which tend to be the poor areas, which have a higher proportion of minorities. Thus, they're more likely to be stopped for something and have a rap sheet once a drug charge comes along.
As we found in our previous fact-check, their sentences also tend to be longer.
Our ruling
Jones said that African-Americans don't use drugs at a higher level than whites but wind up going to prison six times more.
African-Americans use drugs at roughly the same levels as white Americans, although overall illicit drug use among blacks has been marginally higher than for whites, with some differences in the types of drugs used, according to a national surveys.
Jones' bigger point was about the disparity in sentencing, and the rate of African-Americans' incarceration for drug offenses is very close to what Jones said.
We rate his claim Mostly True.
PolitiFact, "Hillary Clinton says blacks more likely to be arrested, get longer sentences," Feb. 26, 2016
Substance Abuse and Mental Health Services Administration, Results from 2011 and 2012 surveys, accessed July 12, 2016
Interview and emails, Nazgol Ghandnoosh, research analyst, The Sentencing Project, July 11-12, 2016
Bureau of Justice Statistics, "Prisoners in 2012: Trends in Admissions and Releases, 1991-2012," Table 8, December 2013
United States Sentencing Commission, "Race of Drug Offenders in Each Drug Type - Fiscal Year 2015," accessed July 11, 2016
Census Bureau data, "Profile of General Population and Housing Characteristics: 2010," accessed July 11, 2016
SentencingProject.org, "Black Lives Matter: Eliminating Racial Inequity in the Criminal Justice System," February, 2015
Brookings Institution, "How the War on Drugs Damages Black Social Mobility," Social mobility blog, Sept. 30, 2014,
National Academy Press, "Growth of Incarceration in the United States: Exploring Causes and Consequences," 2014, accessed July 111, 2016
The Oxford Handbook of Ethnicity, Crime, and Immigration, "Race and Drugs," published online October 2013
Interview, Michael Tonry, professor of law, University of Minnesota, Feb. 23, 2016.
Stanford Law and Policy Review, "Race, Drugs, and Law Enforcement in the United States," June 19, 2009
University of Michigan, "Quick Tables for the National Survey on Drug Use and Health, 2011."
Browse the Truth-O-Meter
More by C. Eugene Emery Jr.
Support independent fact-checking.
Become a member!
In a world of wild talk and fake news, help us stand up for the facts.