Stand up for the facts!
Our only agenda is to publish the truth so you can be an informed participant in democracy.
We need your help.
I would like to contribute
"We fixed a loophole in the (gun) background record check system so that we could make our commonwealth safer."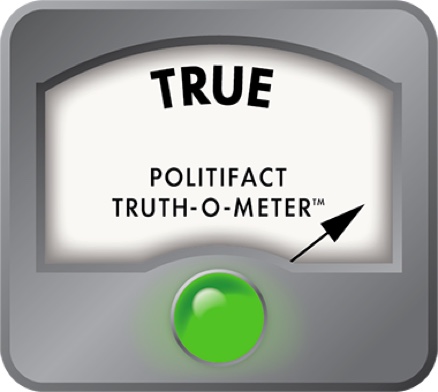 Tim Kaine says Va. closed a background check loophole while he was governor
Tim Kaine says he steered Virginia through some dark days as governor, but none was worse than April 16, 2007.
That was the day a gunman murdered 32 students and faculty members at Virginia Tech before he took his own life. In the aftermath, Kaine says he turned his attention to Virginia's gun laws.
"We fixed a loophole in the background record-check system so that we could make our commonwealth safer," Kaine told the Democratic National Convention on Wednesday while accepting his party's nomination for vice president.
Josh Schwerin, a Clinton campaign spokesman, backed Kaine's statement by pointing to several articles about an executive order Kaine issued shortly  after the shootings. The order expanded the court records that are shared with law enforcement officials to ensure that mentally ill people who are deemed dangerous can't buy firearms from licensed gun dealers.
Federal law bars people who have been adjudicated "mentally defective" from purchasing firearms.
But the Virginia Tech gunman, Seung-Hui Cho, cleared background checks in early 2007 to buy the two semiautomatic pistols he used in the massacre despite having been found by a judge to be a danger to himself in December 2005.  
Cho was ordered to undergo outpatient care, but that record wasn't shared with Virginia law enforcement officials, according to a state report on the shootings that was issued in 2009. As a result, Cho's history wasn't entered in the National Instant Criminal Background Check System, and he was cleared to buy the firearms.
Virginia's laws were unclear about whether Cho's mental health records were required to be sent to the state police so that they could be entered into national background check files.
The issue centered around the fact that Cho had been ordered to undergo outpatient mental health treatment instead of being sent to an inpatient facility. While state law was clear that anyone admitted to an inpatient care facility couldn't buy a gun, the law was ambiguous on whether someone ordered to undergo outpatient care was barred from buying a weapon, according to the 2009 state report examining the shootings.
Kaine issued his executive order on April 30, 2007, two weeks after the Tech shootings. He mandated that state agencies collect information about people who are required to undergo mental health treatment "whether on an inpatient or outpatient basis" and send those records to state and federal databases to ensure they can't buy a gun.
Even with Kaine's order, gaps remained. The Washington Post noted in an article that Kaine's executive order wasn't retroactive, meaning it only covered court orders made after its April 2007 enactment. Also, it didn't address a loophole in state law that allows people to buy guns from unlicensed sellers without undergoing a background check. An unlicensed seller is someone who is not in the business of dealing firearms, such as a citizen seeking to sell a gun he keeps in his house.
In 2008, the General Assembly passed a bill that enshrined Kaine's executive order on mental health records into law. But Kaine failed in an effort to go one step further and close the loophole that allows private sales of guns without a background check.
Our ruling
Kaine said that while governor, "We fixed a loophole in the background record check system so that we could make our commonwealth safer."
Kaine can legitimately take credit for plugging a gap in state law that allowed some mentally ill people to buy guns even after having been ordered by courts to get outpatient treatment.
So we rate his claim True.
Tim Kaine's speech at the Democratic National Convention, July 27, 2016.
Email from Josh Schwerin, spokesman for Hillary Clinton's campaign, July 28, 2016.
CNN video of Tim Kaine's speech, July 27, 2016. (His statement is just over 10:45 into video).
The New York Times, "Virginia ends a loophole in gun laws," May 1, 2007.
The Washington Post, "Ban on sale of guns to mentally ill expanded," May 1, 2007.
Associated Press, "Va. governor closes loophole on gun access," April 30, 2007.
Interview with Andrew Goddard, legislative director of the Virginia Center for Public Safety, July 28, 2016.
Legislative Information System, H.B. 815, April 14, 2008.
PolitiFact Virginia, "Cuccinelli says Virginia is No. 1 in stopping the mentally ill from buying guns," Oct. 7, 2013.
Virginia Tech Review Panel, "Mass shootings at Virginia tech," August 2007.
CNN, "Campus killer's purchases apparently within gun laws," April 19, 2007.
New York Times, "Cho's mental illness should have blocked gun sale," April 20, 2007.
Richmond Times-Dispatch, "To know a killer -- It appears Cho fell through cracks after a quick exam," April 29, 2007.
Virginia governor's office via the WayBack Machine, "Governor Kaine issues executive order expanding background checks for gun purchases," April 30, 2007.
Virginia governor's office via the WayBack Machine, "Executive order 50," April 30, 2007.
Richmond Times-Dispatch, "Conflicting gun laws let Cho buy," April 22, 2007.
Browse the Truth-O-Meter
More by Sean Gorman
Support independent fact-checking.
Become a member!
In a world of wild talk and fake news, help us stand up for the facts.