Stand up for facts and support PolitiFact.
Now is your chance to go on the record as supporting trusted, factual information by joining PolitiFact's Truth Squad. Contributions or gifts to PolitiFact, which is part of the 501(c)(3) nonprofit Poynter Institute, are tax deductible.
I would like to contribute
"According to Pew Research, 99 percent of the people in Afghanistan support oppressive Sharia law."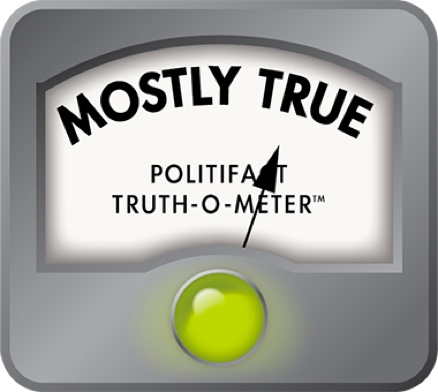 Trump mostly correct about Sharia law support in Afghanistan
Donald Trump reinvigorated calls for a ban on Muslims entering the United States following the mass shooting of an Orlando nightclub by a U.S. citizen who pledged allegiance to ISIS during the fatal attack.
Among his reasons, many Muslims support Sharia law —a set of religious principles that critics say include harsh punishments and can be used as a rationale for violence.  Trump singled out Afghanistan to make his point in a speech June 13, 2016, in New Hampshire.
"According to Pew Research, 99 percent of the people in Afghanistan support oppressive Sharia law," Trump said.
Is that number correct?
What is Sharia law
First, what is Sharia law? The Council on Foreign Relations offers a useful primer.
Meaning "path" in Arabic, Sharia is largely derived from the Quran and is intended to guide various aspects of Muslim life. Sharia law has been incorporated in different ways, ranging from secular governments to fully Islamic governments.
Many Republican presidential candidates have criticized Sharia law for its unequal treatment of women and after the Orlando attacks its views on homosexuality. They have also criticized the inclusion of Hudud punishments (ranging from stoning to execution) that are required for certain crimes such as adultery or theft.
Scholars say that these punishments are not necessarily used in practice and that different countries interpret and apply Sharia law differently. Like other religions, personal interpretations are subject to change over time, said Abdullahi Ahmed An-Nai'im, a professor of law at Emory University.
"Sharia is understood to be the religious obligations of Muslims, but it is a normative system in which Muslims have profound differences and always have," An-Nai'm said.
Pew's research
Trump's figure does come from a Pew Research study published in April 2013, titled "The World's Muslims: Religion, Politics and Society."
One clarification right of the bat — the Pew study found that 99 percent of Muslims in Afghanistan supported Sharia law as the "law of the land." Trump said people in Afghanistan.
However, Pew also estimated in a 2012 study that Muslims made up 99 percent of the Afghanistan population, so that distinction does not invalidate Trump's claim. Furthermore, Pew reported that their 2013 sample was representative of 94 percent of the Afghani adult population.
A Pew spokeswoman said that Trump's claim is "largely accurate." The "largely" qualification came because their study did not include the word "oppressive" like Trump did.
Caveats
Trump's statistic is relatively solid, but the survey does shed some additional light on what the 99 percent figure means, and does not mean.
The survey notes that, while overwhelming numbers of Afghani Muslims favored making Sharia law official, respondents were not unanimous on certain beliefs contained within Sharia law. Percentages are of Afghani Muslims. 
Violence
81 percent favored corporal punishment for crimes like theft;

79 percent favored a death penalty for leaving Islam;

58 percent think suicide bombing is rarely or never justified in the defense of Islam.
Women's rights
30 percent believe men and women should have equal inheritance rights;

37 percent believe it is "often justified" to kill a woman for dishonoring her family.
Views on religious plurality
96 percent believe converting others to Islam is a religious duty.
So people's interpretation of Sharia law is not universal. Nor is it universal whom Sharia law should apply to.
Nearly 40 percent of respondents, for instance, said that Sharia law should only apply to other Muslims, not non-Muslim citizens.
Moving away from Afghanistan, it is also important to note that other Middle East countries yield different figures.
Only 12 percent of Muslims in Turkey favor making Sharia law the "law of the land," for example, and only 66 percent of Muslims in Iraq think converting others to Islam is a religious duty.
The Pew study Trump cites is also not the only study on the matter. A November 2015 study found that the majority of people in 10 countries with large Muslim populations viewed ISIS negatively (except Pakistan). The study did not include Afghanistan.
Our ruling
Arguing in favor of his proposed ban on Muslims entering the country, Trump said that a Pew Research Study had found "99 percent of the people in Afghanistan" support Sharia law.
Pew said Trump's contention was "largely accurate," noting that the phrase "oppressive" was Trump's own. We did not take a stance on his use of the adjective.
There is some nuance in the Afghanistan results, however, as Muslims surveyed have different perspectives on various aspects of Sharia law and how it ought to be implemented. And nearly 40 percent of respondents in Afghanistan said that Sharia law should only apply to other Muslims, not non-Muslim citizens.
We rate this claim Mostly True.
https://www.sharethefacts.co/share/4a912410-e50d-4843-b468-a9002ea4b3ae
Time, "Read Donald Trump's Speech on the Orlando Shooting," June 13, 2016
Pew Research Center, "The World's Muslims: Religion, Politics and Society," April 30, 3013
Pew Research Center, "Table: Religious Composition by Country, in Percentages," December 18, 2012
Email response from Leila Barzegar, Pew communications assistant, June 14, 2016
Trump campaign website, "Donald J. Trump Statement on Preventing Muslim Immigration," December 7, 2015
Pew Research Center, "In nations with significant Muslim populations, much disdain for ISIS," November 17, 2015
Council of Foreign Relations, "Islam: Governing Under Sharia," July 25, 2014.
Phone Interview with Abdullahi Ahmed An-Nai'im, Charles Howard Chandler professor of law at Emory University, June 15, 2016
Browse the Truth-O-Meter
More by Neelesh Moorthy
Support independent fact-checking.
Become a member!
In a world of wild talk and fake news, help us stand up for the facts.