Get PolitiFact in your inbox.
"Americans haven't had a raise in 15 years."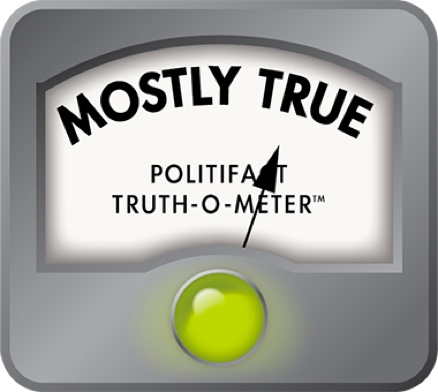 Hillary Clinton ad points out it's been 15 years since Americans had a raise
As Democratic presidential candidate Hillary Clinton pledged to "root out" several barriers to progress in a TV ad that aired ahead of the South Carolina primary in February, she offered one specific statistic to underscore the challenges facing average Americans.
"Americans haven't had a raise in 15 years," she says in the 30-second ad, which aired more than 150 times on four networks in the Columbia, S.C., TV market beginning on Feb. 20 and lasting through the Feb. 27 Democratic primary.
The spot was captured by the Political Ad Archive, a database maintained by the nonprofit Internet Archive.
Incomes are obviously highly variable among individuals, and many people have seen their wages increase since 2001. But economists and federal agencies keep data on aggregate income growth that can tell us, on average, whether Americans' incomes are rising.
To evaluate Clinton's claim, we'll start by looking at inflation-adjusted median household income, which takes into account rising prices when comparing average income levels across time.
According to an analysis of U.S. Census Data performed by the Federal Reserve Bank of St. Louis, median household income dropped from $57,843 in January, 1999, to $53,657 in January, 2014, the most recent period for which statistics are available. That's a 7 percent drop, and supports Clinton's assertion that Americans haven't seen their incomes rise over the last decade and a half.
(These figures account for inflation by expressing income from both years in 2014 dollars.)
Another way to measure whether Americans have "had a raise" would be to look at a narrower slice of the population: full-time workers over the age of 16. The Federal Reserve Bank of St. Louis draws on U.S. Bureau of Labor Statistics data to show median usual weekly earnings for these workers.
In January, 2000, the average worker earned $334 a week. By January, 2015, that figure was $341 – a 2 percent increase.
($334 a week equates to $17,368 a year, while $341 per week is $17,732. These inflation-adjusted figures are expressed in 2015 dollars.)
As we've explained before, we could judge Clinton's claim on this second figure, since it captures people who are employed full-time on a wage and salary basis and who could receive a "raise" as that term is commonly understood.
That said, median household income is the broadest measure of income growth, and arguably the more appropriate one to use in this context.
Many households receive at least a portion of their income from government transfer payments, such as Social Security, or from investments – income that isn't reflected in wages or salary data alone. Because median household income encompasses a wider range of income sources, it's reasonable for Clinton to base her statement on that measurement.
Our ruling
Clinton's campaign ad claims, "Americans haven't had a raise in 15 years." Inflation-adjusted median household income has indeed dropped 7 percent over that period, while earnings for wage and salary workers have increased a modest 2 percent.
We rate Clinton's statement Mostly True.
https://www.sharethefacts.co/share/90f91331-9cee-4c32-903f-f5b27803d730
Browse the Truth-O-Meter
More by Louis Jacobson
Support independent fact-checking.
Become a member!
In a world of wild talk and fake news, help us stand up for the facts.