Stand up for the facts!
Our only agenda is to publish the truth so you can be an informed participant in democracy.
We need your help.
I would like to contribute
It "is Hillary Clinton's agenda" to "release the violent criminals from jail. She wants them all released."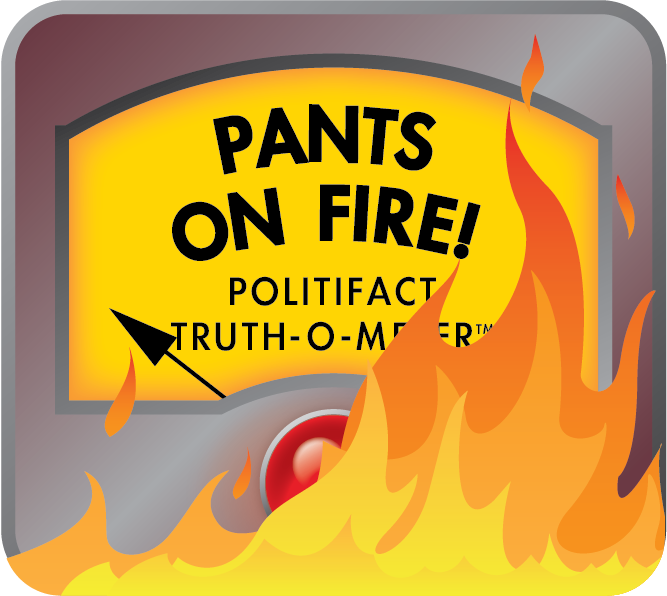 Donald Trump wrong that Hillary Clinton wants to release all violent criminals from prison
Donald Trump didn't mince words about Hillary Clinton's criminal justice agenda when he addressed the National Rifle Association's national convention on May 20, 2016.
"President Obama pushed for changes to sentencing laws that released thousands of dangerous drug trafficking felons and gang members who prey on civilians," Trump said. He continued, "This is Hillary Clinton's agenda, too, to release the violent criminals from jail. She wants them all released."
We think most observers would agree that releasing every violent criminal in American prisons would amount to political suicide, not to mention bad policy. But we thought it was worth checking Clinton's actual policy prescriptions.
What Trump said is far off-base. (The Trump campaign did not respond to an inquiry.)
Existing criminal-justice reform efforts
Trump said Clinton wants to continue Obama's release of "thousands of dangerous drug trafficking felons and gang members." But Trump overreaches both on the substance of the policy and on Obama's personal role in enacting it.
In recent years, liberals and conservatives have increasingly found common ground over criminal justice reform. Many on the left, center and right -- including the libertarian Koch brothers and the generally more liberal American Civil Liberties Union -- have come to agree that many tough-on-crime policies instituted between the 1970s and the 1990s were misguided. They argue that policies such as mandatory minimum sentences and tough prosecution of low-level drug offenders have led to overcrowded prisons and exacerbated racial injustices.
Obama has taken some steps to unwind these policies. Using his pardon powers, Obama has commuted the sentences of more than 200 inmates who had been convicted of drug crimes, though it's important to note -- as Trump does not -- that all of them have been considered nonviolent under Justice Department guidelines.
In addition, during Obama's tenure, the Justice Department has approved the release of 6,000 federal inmates, about two-thirds of them to halfway houses or home confinement and about one-third who are expected to be deported.
Unlike the commutations, these releases were prompted not by Obama but by the U.S. Sentencing Commission, an independent body. In unanimously approving the changes, the panel estimated that the reduced sentencing guidelines could eventually qualify 46,000 of roughly 100,000 drug offenders in federal prisons for early release, according to the Washington Post. (It does not affect the larger pool of offenders in state prisons.) And federal judges must approve all early releases.
Though applicants for early release typically have a connection to drug trafficking, the releases are not intended to free drug-traffickers and gang members who have a record of violence, as Trump contends. Obama's then-Attorney General Eric Holder actually proposed excluding convicts who had used weapons or had significant criminal histories, but the commission put its trust in judges to weigh those factors on a case-by-case basis, the Post reported.
The commission submitted the proposal to Congress in April 2014, and Congress did nothing to stop the proposal from taking effect six months later.
What Clinton supports
Clinton does support criminal justice reform, but we found no evidence that her plan includes the release of "violent criminals," much less "all" of them.
For starters, we should note that the Sentencing Commission's action is now a done deal. Short of calling on the commission to reverse itself -- which the panel, being independent, could simply ignore -- or passing a law through Congress, there isn't really anything Clinton (or Trump) could easily do to stop the forthcoming early releases. And of course, federal judges, not the president, are the ones who must sign off on applications for early release.
More broadly, we looked at Clinton's stated proposals for criminal justice policy and found that she focused her initiatives only on "nonviolent" offenders. The Clinton campaign said Trump's comment is a misrepresentation of her views.
On the criminal justice reform page of her website, Clinton summarizes her key proposals as follows:
• "End the era of mass incarceration, reform mandatory minimum sentences, and end private prisons."
• "Encourage the use of smart strategies — like police body cameras — and end racial profiling to rebuild trust between law enforcement and communities."
• "Help formerly incarcerated individuals successfully re-enter society."
It's worth noting that Clinton focuses more on what happens before prison (such as sentencing of people not currently incarcerated) and after prison (especially reintegrating ex-convicts into society after they are released) than actually releasing current inmates.
"Clinton has not focused on early release," said John H. Laub, a professor in criminology and criminal justice at the University of Maryland.
For a politician, this is a canny omission, because it sidesteps difficult questions about who should be released early.
"There is little consensus about releasing violent criminals from prison before their terms end," said Richard Rosenfeld, a professor of criminology and criminal justice at the University of Missouri-St. Louis. "Then there is the question of who is 'violent.' Someone who has a prior record for a violent crime but whose current charge is for a nonviolent crime. or only those with a current charge for violence?"
But even if Clinton is sidestepping a thorny issue by remaining largely silent on which, if any, inmates deserve early release, that position does throw a wrench into Trump's accusation that it's her stated "agenda" to "release" violent criminals.
If anything, Clinton's policy page bends over backward to focus her attention on "nonviolent," rather than violent, offenders. Proposals specify "nonviolent" offenders no fewer than seven times. This consistent focus on nonviolent offenders undermines the notion that Clinton wants to release violent offenders at all, much less to do so willy-nilly.
Our ruling
Trump said it "is Hillary Clinton's agenda" to "release the violent criminals from jail. She wants them all released."
It would be preposterous for any politician who wants to win an election to propose freeing every violent criminal from jail. Like many political figures today on the right, center and left, Clinton supports something much more modest — easing how the criminal justice system treats nonviolent offenders. That's a far cry from saying Clinton is poised to set free everyone from Charles Manson to Unabomber Ted Kaczynski.
We rate Trump's claim Pants on Fire!
https://www.sharethefacts.co/share/b0b07924-eba6-416e-ae30-fb221f79ebbc
Donald Trump, speech to the National Rifle Association's national convention, May 20, 2016
Hillary Clinton campaign website, criminal justice reform issues page, accessed May 25, 2016
U.S. Sentencing Commission, "U.S. Sentencing Commission Unanimously Votes to Allow Delayed Retroactive Reduction in Drug Trafficking Sentences," July 18, 2014
U.S. Sentencing Commission, "Frequently Asked Questions: Retroactive Application of the 2014 Drug Guidelines Amendment," accessed May 26, 2016
The Marshall Project, "What You Need to Know About the New Federal Prisoner Release," Oct. 29, 2015
Washington Post, "President Obama grants early release to 61 more federal drug offenders," March 30, 2016
Washington Post, "Justice Department set to free 6,000 prisoners, largest one-time release," Oct. 6, 2015
Washington Post, "Unlikely Allies: A bipartisan push for sentencing reform unites President Obama and the Koch brothers, but many are still waiting behind bars," Aug. 8, 2015
Email interview with Josh Schwerin, spokesman for Hillary Clinton, May 24, 2016
Browse the Truth-O-Meter
More by Louis Jacobson
Support independent fact-checking.
Become a member!
In a world of wild talk and fake news, help us stand up for the facts.