Stand up for the facts!
Our only agenda is to publish the truth so you can be an informed participant in democracy.
We need your help.
I would like to contribute
Says Donald Trump wants to deport "our Dreamers."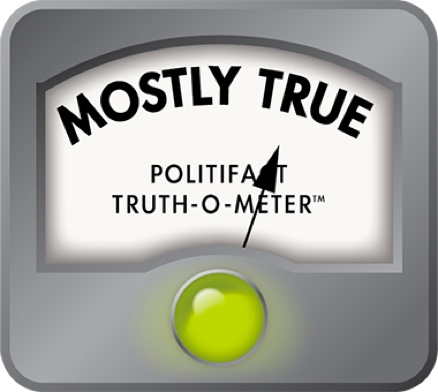 Pro-Clinton Super PAC says Trump wants to deport millions, including 'Dreamers'
An ad by a political action committee supporting Hillary Clinton spotlights Donald Trump's comments on deporting undocumented immigrant families.
The ad, launched by Priorities USA Action on Sept. 28, is narrated in Spanish and includes snippets of media interviews in which the Republican presidential candidate firmly said he would deport people in the country illegally.
It starts with Trump's voice saying "this is a country where we speak English, not Spanish" over an image of a woman and two children sitting at a dining table.
"Donald Trump wants to see us disappear," a female voice says in Spanish. It then cuts to a November 2015 MSNBC interview where Trump said "you are going to have a deportation force."
"Trump will capture and deport millions, even our Dreamers," the narrator says in Spanish as images of a family and what appears to be a student fade away.
Trump has not been consistent on his deportation plans. But in his immigration speech in Arizona on Aug. 31, Trump emphasized deportation priorities and the removal of "at least 2 million" "criminal aliens."
He also said those who are here illegally and want lawful status, "will have one route and only one route: to return home and apply for re-entry."
There's an estimated 11 million people living illegally in the United States.
For this fact-check, we focused on whether or not Trump wants to deport people in the country illegally who arrived in the United States as children, a subset of the undocumented population referred to as Dreamers.
Who are Dreamers?
"Dreamers" is a term used by advocates for potential beneficiaries of the Development, Relief, and Education for Alien Minors Act, or the DREAM Act, which has stalled in Congress.
President Barack Obama's administration in 2012 announced a program to help this group of undocumented immigrants, Deferred Action for Childhood Arrivals, or DACA. It allowed those who met certain guidelines to apply for work permits and for deportation reprieve for two years, subject to renewal.
Pew Research Center in 2012 estimated there were 4.4 million unauthorized immigrants ages 30 and under, and that up to 1.7 million were potentially eligible for DACA.
Data through June 2016 shows 741,546 individuals nationwide have been approved for DACA.
Obama in 2014 sought to offer deportation relief to more people through two more programs: an expanded version of DACA, and a new program, Deferred Action for Parents of Americans and Lawful Permanent Residents, or DAPA.
While the initial deferred-action program is still active, the expansions are on hold after a Supreme Court deadlock. About 5 million people might be eligible for the halted initiatives, or just less than half of the nation's undocumented population.
Trump's position
Trump would "immediately terminate President Obama's two illegal executive amnesties," according to his 10-point immigration plan.
(Neither program granted citizenship, but deferred deportation and allowed immigrants to apply for permission to work.)
Trump's plan says his administration would enforce all immigration laws and set priorities — including the removal of criminals, gang members and visa overstays.
"Anyone who has entered the United States illegally is subject to deportation — that is what it means to have laws and to have a country," his plan says.
It is not clear if Trump would cancel the existing deferred-action program or just not issue any new ones, said Steven Camarota, director of research at the Center for Immigration Studies, which favors stricter immigration policies.
Toward the end of his immigration speech, Trump also said that after building a wall, ending illegal immigration, and accomplishing enforcement and deportation goals, "then and only then will we be in a position to consider the appropriate disposition of those individuals who remain."
Priorities USA led us to a July 2015 CNN interview between Trump and Dana Bash, where she asked him specifically whether or not he would deport Dreamers. Trump responded with a mixed message.
"It's a tough situation," Trump said. "We're going to do something. And one of the things we're going to do is expedite. When somebody is terrific, we want them back here. They have to be legally."
Bash asked if they have to leave.
"They're with their parents. It depends. But look, it sounds cold, and it sounds hard," Trump said. "We have a country. Our country is going to hell. We have to have a system where people are legally in our country."
A Priorities spokesperson noted other media reports saying Trump would deport all immigrants in the country illegally, including Dreamers, that he would rescind Obama's deferred action programs, and that undocumented immigrants seeking relief from Obama's executive actions "could expose themselves to Trump's mass deportation plan."
Hypothetically, Trump could revoke the deferred action status of DACA recipients, which in turn would terminate their employment authorization and render them subject to removal, said Shoba Sivaprasad Wadhia, an immigration law expert and professor at Pennsylvania State University.
"However the biggest impediment to deporting this cohort of immigrants would be the resources it would take to apprehend, detain, charge, try and remove so-called Dreamers," Wadhia said. "If he wanted to, he could target the vast majority of Dreamers for removal but it would not be easy or quick — it would likely take years to implement."
Our ruling
A Priorities USA Action ad said, "Trump wants to deport millions, even our Dreamers."
Trump has made clear he would deport millions. More recently in the campaign, Trump said he would set priorities, starting with at least 2 million "criminal aliens." He has given mixed messages on the timeline of deportations for people who don't pose safety threats.
Trump has also said he would terminate Obama administration programs that defer deportation for undocumented people who arrived in the United States as children. If that happens, Dreamers may be subject to deportation.
In interviews, Trump has been slightly more sympathetic to this group, calling their situation "tough." At the same time, he has consistently said all immigrants here illegally will have to go, but "terrific" ones could have their return expedited.
We rate the ad's statement Mostly True.
https://www.sharethefacts.co/share/c63d89f6-100c-4245-ad3d-6cfa953e39ac
Priorities USA Action ad, launched Sept. 28, 2016
Email exchange, Priorities USA Action spokesperson, Oct. 17, 2016
Email exchange, Nancy Watzman, Managing editor at Television Archive, Oct. 17, 2016
MSNBC, Trump vows humane 'deportation force', November 11, 2015
PolitiFact, Pence wrongly says Trump has been consistent in immigration views, Sept. 4, 2016
Los Angeles Times, Transcript: Donald Trump's full immigration speech, annotated, Aug. 31, 2016
Department of Homeland Security, Deferred Action for Childhood Arrivals
Pew Research Center, Up to 1.7 Million Unauthorized Immigrant Youth May Benefit from New Deportation Rules, Aug. 14, 2012
PolitiFact, 12 key fact-checks on immigration and executive action, Nov. 20, 2014
U.S. Citizenship and Immigration Services, Consideration of Deferred Action for Childhood Arrivals by Fiscal Year, Quarter, Intake, Biometrics and Case Status: 2012-2016 (June 30)
U.S. Citizenship and Immigration Services, Executive Actions on Immigration
New York Times, Supreme Court Tie Blocks Obama Immigration Plan, June 23, 2016
Donald Trump campaign website, Address on Immigration, Aug. 31, 2016
Email exchange, Steven Camarota, director of research at the Center for Immigration Studies, Oct. 17, 2016
Email exchange, Shoba Sivaprasad Wadhia, an immigration law expert and professor at Pennsylvania State University, Oct. 17, 2016
CNN, Trump's immigration plan: Deport the undocumented, 'legal status' for some, July 30, 2015
CNN, Trump on immigration: No amnesty, no pivot, Sept. 1, 2016
Miami Herald, Fabiola Santiago: Trump campaign feeds ignorance and fear, Aug. 21, 2015
Politico, Feud in Florida over Clinton backer, Aug. 2, 2015
Politico, Dreamers face nightmare of Trump's deportation force, May 29, 2016
NBC News, Meet the Press Transcript - August 16, 2015, Aug. 19, 2015
Browse the Truth-O-Meter
More by Miriam Valverde
Support independent fact-checking.
Become a member!
In a world of wild talk and fake news, help us stand up for the facts.