Facts are under assault in 2020.
We can't fight back misinformation about the election and COVID-19 without you. Support trusted, factual information with a tax deductible contribution to PolitiFact
I would like to contribute
"Wisconsin is one of several states where you can change your early ballot if you think you've made a mistake."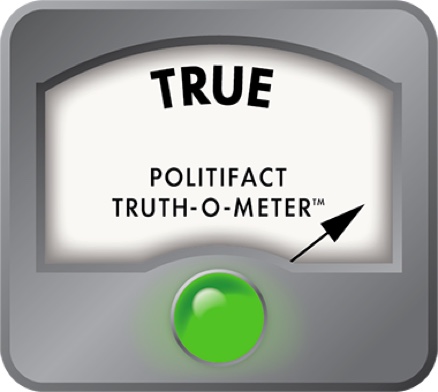 Is Donald Trump right that in some states, you can cast an early ballot, take it back, vote again?
Campaigning in Eau Claire, Wis., one week before election day, Republican presidential nominee Donald Trump had a message for Wisconsinites who voted early for Democratic nominee Hillary Clinton but now regret it.
"Wisconsin is one of several states where you can change your early ballot if you think you've made a mistake," Trump said in the Nov. 1, 2016 speech.
Cast your ballot early, take it back and cast a new one?
In Wisconsin, if you act quickly enough, you can do it, whether you voted in-person absentee or absentee by mail.
The act is known as "spoiling," something that has been permitted in Wisconsin for many years.
"It's something that, prior to this year, very few people have done," Wisconsin Elections Commission spokesman Reid Magney told us.
Of course, 2016 has been unlike most any other election year.
And it also applies in reverse -- folks who voted early for Trump could take back their ballots, too.
How spoiling works
According to a Wisconsin Elections Commission news release issued on the same day of Trump's speech:
Once you have been issued a ballot, whether at the polling place, at the clerk's office or by mail, you can ask to spoil your ballot as long as the ballot has not been cast and get a new one in the event you make a mistake or change your mind.
When voting by mail, spoiling your ballot requires contacting the clerk's office and requesting a new ballot be sent to you. The deadline for most voters to make that request is Nov. 3, 2016.
Voters who have already mailed absentee ballots back to the municipal clerk's office can go to the clerk's office and make the request for a new ballot in person.  The deadline to request a new absentee ballot would the last day the clerk offers in-person absentee voting.  For most clerks, that is Nov. 4, 2016, but voters should contact their municipal clerk for scheduled hours.
Absentee voters cannot spoil their ballot at their polling place on Election Day.  That was prohibited by a 2011 state law.
Voters in at least three other states -- Michigan, Minnesota and Pennsylvania -- also accommodate early voter's remorse, according to news articles in the past two days by the Washington Times, ABC News and Fox News.
The National Conference of State Legislatures doesn't have a list of states that allow re-casting a ballot. In some instances, it may come down to the discretion of a local election official, spokesman Mick Bullock said.
Our rating
Trump says: "Wisconsin is one of several states where you can change your early ballot if you think you've made a mistake."
As long as you do it in time -- in Wisconsin, several days before election day -- you can "spoil" your original ballot and cast a new one. At least three other states allow re-voting, too.
We rate Trump's statement True.
https://www.sharethefacts.co/share/a44566ab-602e-42cc-bac3-47e4efcdee04
Fox News, video clip of Donald Trump speech, Nov. 1, 2016
Interview, Wisconsin Elections Commission public information officer Reid Magney, Nov. 2, 2016
Wisconsin Elections Commission, news release, Nov. 1, 2016
Washington Times, "Buyer's remorse? Some states allow early voters to change ballots," Nov. 1, 2016
ABC News, "These States Allow Early Voters to Change Their Minds," Nov. 2, 2016
Fox News, "Early-absentee voters can still change ballots in at least four states," Nov. 1, 2016
Email, National Conference of State Legislatures director of public affairs Mick Bullock, Nov. 2, 2016
Browse the Truth-O-Meter
More by Tom Kertscher
Support independent fact-checking.
Become a member!
In a world of wild talk and fake news, help us stand up for the facts.