Get PolitiFact in your inbox.
"We're already bombing seven countries."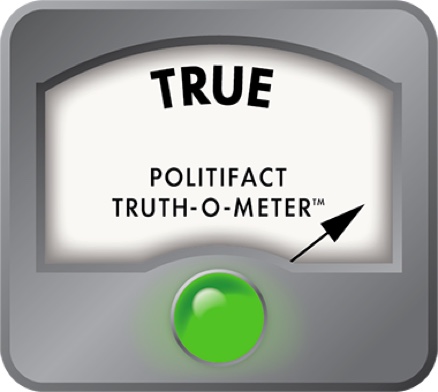 Jill Stein, Green Party candidate, correct about U.S. bombing seven countries
Jill Stein, the Green Party presidential nominee, charged the major-party hopefuls with failing to tell Americans how they'd tackle challenges including foreign conflicts.
Stein, speaking at Huston-Tillotson University in Austin, said of Hillary Clinton and Donald Trump a couple of nights before the last 2016 presidential debate: "They are very busy talking about grabbing women's genitalia so that they don't have to reveal that they cannot tell you what are we going to do about this crashing economy, what are we going to do about the climate that is barreling down on us, this catastrophe of the climate."
Stein drew our curiosity when she went on: "They don't have a solution to the expanding wars except more wars. We are already bombing seven countries and now we do appear to be engaging in this war crime in Yemen where we have been partnering with the Saudis in this war crime for the past year. They do not want to talk about that."
Saudi Arabia, a U.S. ally, has sided with Yemen's government against Houthi rebels in a continuing war.
For this fact check, we wondered if the U.S. is bombing seven countries.
That at least has been so: In September 2014, PunditFact rated True a bombed-countries claim by Ryan Lizza of The New Yorker. Lizza referred to President George W. Bush and his successor, Barack Obama, in a tweet that said: "Countries bombed: Obama 7, Bush 4."
At the time, the U.S. on Obama's watch had bombed Afghanistan, Iraq, Pakistan, Somalia, Yemen, Libya and Syria.
When we asked Stein for her backup information, spokeswoman Meleiza Figueroa pointed out various web posts including a September 2014 CNN news story stating that Obama had ordered air strikes in seven countries through the bulk of his eight years in the office.
Mindful that Stein spoke in the present tense, we checked on if the U.S. has lately been bombing seven countries.
The Bureau of Investigative Journalism, a nonprofit news service based at City University London, maintains a running list of U.S. military actions in a number of countries. The bureau annotates each incident with links to press reports.
When we looked, the bureau's accounts by country indicated the latest U.S drone strike in Pakistan occurred in May 2016; the latest strike in Somalia was in September 2016; and the latest U.S. strikes in Yemen and Afghanistan were in October 2016.
Separately, we noticed, the Department of Defense said in an Oct. 11, 2016, web post that countries including the U.S. battling the Islamic State of Iraq and the Levant, or ISIL, have conducted 15,634 air strikes to date -- 10,129 in Iraq, 5,505 in Syria -- with the U.S. conducting 6,868 in Iraq and 5,227 in Syria. In a Sept. 30, 2016, post, the U.S. Air Force said attacks from the air have affected ISIL's "ability to fight and conduct operations in Iraq, Syria and Afghanistan."
Too, in August 2016, the New York Times reported the U.S. had "stepped up a new bombing campaign against the Islamic State in Libya, conducting its first armed drone flights from Jordan to strike militant targets" in Libya's coastal city of Sirte.
That news story quoted Obama saying during a news conference that the airstrikes were critical to helping Libya's fragile United Nations-backed government to drive Islamic State militants out of Sirte, which the group has controlled since June 2015. Obama promised the air campaign would continue as long as necessary to make sure that the extremist group "does not get a stronghold in Libya," the newspaper said.
Our ruling
Stein said: "We're already bombing seven countries."
We identified seven countries lately bombed by the U.S.: Pakistan, Somalia, Yemen, Afghanistan, Syria, Iraq and Libya.
We rate the claim True.
---
TRUE – The statement is accurate and there's nothing significant missing. Click here for more on the six PolitiFact ratings and how we select facts to check.
Email, Meleiza Figueroa, press director, Stein/Baraka 2016 campaign, Oct. 19, 2016
Truth-O-Meter article, "Lizza says Obama has bombed more nations than Bush," PunditFact, Sept. 25, 2014
Web post, "Special Reports: Inherent Resolve," U.S Department of Defense, Oct. 11, 2016 (accessed Oct. 19, 2016)
Web post, "Airpower Effects," U.S. Air Force, Sept. 30, 2016
News story, "U.S. Strikes Help Libyan Forces Against ISIS in Surt," New York Times, Aug. 2, 2016
Browse the Truth-O-Meter
More by W. Gardner Selby
Support independent fact-checking.
Become a member!
In a world of wild talk and fake news, help us stand up for the facts.