Get PolitiFact in your inbox.
Says he and his running mate "are the only candidates that do believe in free trade."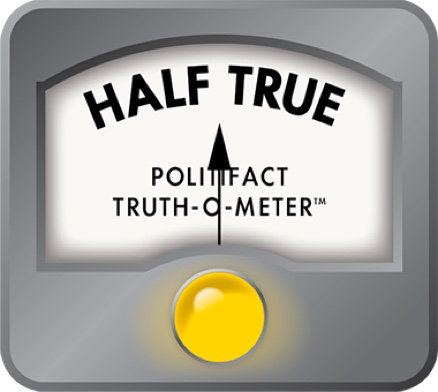 Testing Gary Johnson claim that he is only candidate in favor of free trade
Amid a presidential election that seems to grow stranger every day, Libertarian candidate Gary Johnson is looking to stand out the old-fashioned way: with good, clean political claims.
Johnson, a former governor of New Mexico, appeared on UpFront with Mike Gousha, a public affairs show on WISN-TV (Channel 12), when he stopped in Milwaukee in early September. Responding to a question about how his platform might appeal to a Republican voter, Johnson rattled off a minute-long list of values ranging from honesty to low taxes to limited government.
"We're the only candidates that do believe in free trade," he told Gousha midway through, referring to his himself and his running mate, Bill Weld, a former governor of Massachusetts.
Free trade — the ability to import and export products among countries without restrictions such as taxes and tariffs — has been a hot topic this cycle. While it is an example of limited government intervention, which conservative voters tend to favor, critics say unfettered competition sends domestic jobs to countries with lower wages.
The issue of trade came up in each of the three presidential debates — though Johnson's poll numbers didn't earn him a spot on the stage with Democrat Hillary Clinton and Republican Donald Trump.
So, do Johnson and Weld stand alone in support of free trade?
Trading positions
Let's start with Johnson's own position.
Over the course of the campaign, he and Weld have both said several times they're the only candidates who believe in free trade. Specifically, they have voiced support for the Trans-Pacific Partnership, a far-reaching free trade deal between 12 countries that was finalized and signed by President Barack Obama in February but has yet to be voted on by Congress.
John Vaught LaBeaume, a spokesman for Johnson's campaign, referred us to a Ballotpedia overview of each candidate's position on the TPP to support Johnson's claim that he and Weld are the only candidates who support free trade.
While a collection of quotes shows Johnson has embraced the TPP, in June, Johnson questioned whether or not he would have signed the TPP while speaking to Politico's Glenn Thrush.
"Would I have signed or implemented the Trans-Pacific Partnership?" he said in the June 6, 2016 podcast. "I've got to tell you, I think it's laden with crony capitalism."
Three months later, when speaking to Gousha in Milwaukee, Johnson suggested that his view that political favors are tied in to free trade agreements is similar to that of many Americans.
"The aversion that we have to these trade agreements is that they are laced with favoritism," he said. Despite the issues, Johnson says he would sign the TPP.
Clinton and Trump
Clinton has had her own change of heart when it comes to free trade agreements. She praised the North American Free Trade Agreement finalized during her husband's presidency — only to criticize it while running for president herself in 2008. PolitiFact verified the switch at the time.
And in 2012, she famously called the TPP "the gold standard" of trade deals while serving as Secretary of State — before flipping entirely. At a Democratic primary debate last October, she said that after absorbing new information, she determined the TPP did not meet her standards and she now opposed it.
As a senator, she had the opportunity to vote on 10 free trade deals, though none as sizable as NAFTA or the TPP. She voted in favor of six. Two other deals she supported but missed the votes. The final two she voted against. PolitiFact previously broke down her votes.
So, Clinton has supported such trade deals in at least some of the cases.
Republican nominee Donald Trump's position has been equally conflicting. He has floated the idea of tariffs, as PolitiFact has previously examined, which is not in line with free trade positions.
In July, he railed against the TPP: "The Trans-Pacific Partnership is another disaster done and pushed by special interests who want to rape our country — just a continuing rape of our country. It's a harsh word, but it's true."
Much like Clinton, Trump has voiced support of free trade while criticizing current free trade deals. In the final presidential debate, he said if elected, he would support free trade deals but re-negotiate them.
"We'll have more free trade than we have right now, but we have horrible deals," he said.
Finally, Green Party candidate Jill Stein has a clear track record of opposing free trade agreements including the TPP and NAFTA. In 2015, she released a video called "Flush the TPP" in which she characterized the agreement as a "backroom deal" that "gives corporations more power than nations."
Our rating
Johnson said he and his running mate were the only candidates who support free trade.
While his statement has truth to it — they are the only candidates supporting the largest free trade agreement currently on the table — Clinton and Trump say they support the idea of free trade deals if executed to their liking. Clinton supported NAFTA and in the Senate voted for several smaller trade deals.
For a partially accurate statement that leaves out important details, our rating is Half True.
https://www.sharethefacts.co/share/923861a1-ca56-4194-815e-b6bc706cf015
Email exchange with John Vaught LaBeaume, Johnson/Weld spokesman, September 2016
First presidential debate transcript, Vox, September 26, 2016
Second presidential debate transcript, Vox, October 9, 2016
Third presidential debate transcript, Vox, October 19, 2016
Presidential candidates on the TPP, Ballotpedia, 2016
Full transcript: POLITICO's Glenn Thrush interviews Gary Johnson, POLITICO, June 6, 2016
Tracking the many Hillary Clinton positions on trade, Washington Post, June 17, 2015
Hillary Clinton now opposes trans-pacific partnership, PolitiFact, October 8, 2015
Bernie Sanders: Clinton voted for virtually every trade agreement, PolitiFact, April 10, 2016
Donald Trump has floated big tariffs, PolitiFact, June 21, 2016
Trump largely accurate about Clinton's past, PolitiFact, July 21, 2016
Democratic debate full transcript, CNN, October 13, 2015
Flush The TPP, Stein/Buraka 2016 YouTube channel, March 24, 2015
Browse the Truth-O-Meter
More by Cara Lombardo
Support independent fact-checking.
Become a member!
In a world of wild talk and fake news, help us stand up for the facts.