Stand up for facts and support PolitiFact.
Now is your chance to go on the record as supporting trusted, factual information by joining PolitiFact's Truth Squad. Contributions or gifts to PolitiFact, which is part of the 501(c)(3) nonprofit Poynter Institute, are tax deductible.
I would like to contribute
As executive director of the Democratic Party of Virginia there were "300 people on my payroll in 2008."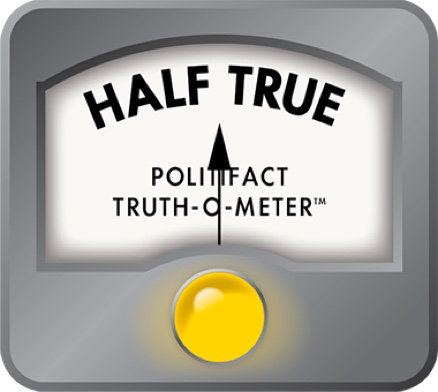 Levar Stoney says he oversaw 300 paid workers at Va. Democratic Party
Levar Stoney, a 35-year-old political operative running for Richmond mayor, was asked at a recent debate if he has the managerial chops to lead the city.
"We know you served as head of the Democratic Party (of Virginia) and as secretary of the commonwealth," said Craig Carper, news director for WCVE Public Radio. "How do these skills translate to an executive position like mayor? How many people did you manage in these positions?"
Stoney replied, "Well, when I was executive director of the Democratic Party, I was able to run the day-to-day operations of a multi-million dollar organization, a multi-million dollar operation that featured 300 people on my payroll in the year 2008."
There's no doubt that millions of dollars were running in and out of the Democratic Party of Virginia in 2008, when Barack Obama was first elected president and carried Virgina, a key swing state. Federal Election Commission reports show the state party spent nearly $17 million that year, much of it coming from national Democratic campaign sources.
What caught our attention is Stoney's statement that there were "300 people on my payroll" that year. Our experience is that you can often count the state party's staffers on your fingers.
Filings with the Federal Election Commission show that when Stoney became executive director that February, the party had a paid staff of 11.  The number remained constant in March and increased to 16 in April and May.
Then the numbers began to surge. The party, by our count, listed 51 people on its payroll in June, 140 in July, 238 in August and 298 in September. Matt Corridoni, a spokesman for Stoney, sent us a copy of the party's report covering the almost six-week period from Oct. 16, 2008 to Nov. 24. We counted 301 people listed as "payroll" employees.
Who were these people and what did they do?
Corridoni said most of them were young people, fresh out of college or taking a break from their studies, who worked on a field staff to help Obama win Virginia. They fanned out to campaign offices across the state to reach out to voters, stage local campaign events and organize get-out-the-vote efforts. About half of the workers were from Virginia, the rest came from all over the country.
The field staff was funded by millions of dollars pumped into the state party by the Democratic National Committee and Obama's campaign. The staff's activities, Stoney told us, were jointly coordinated by those national entities and the state party.
Stoney said he didn't have a personal hand in much of the hiring but, as executive director of the state party, had "the final sign off" on who came aboard. He said he worked with the national campaign to establish goals for the field staff and assigned mid-level managers at the party to supervise the daily work.
"I was executive director of the party, so I was responsible for ensuring all these people got paid," Stoney said. He said he and others spent a lot of time finding homes for the workers and that he traveled the state "rallying and galvanizing" them.
"We were given a task at the beginning of the year that Virginia would be a battleground in the election and you need to get people on the ground," Stoney said. He added that he carried out the mission and it helped Obama become the first Democratic presidential candidate in 44 years to win Virginia.
In December 2008, with the presidential election in the books, the state party's payroll fell to eight people.
A final note: Stoney also was asked at the debate how many people he supervised when he was secretary of the commonwealth from 2014 until this April. He didn't provide an answer, but we will.
The state budget provided funding for 17 employees in the office, including Stoney, for the fiscal year that ended on June 30.
The secretary of the commonwealth helps the governor make nearly 4,000 appointments to state boards and commissions. Among other duties, the secretary also helps the governor process restoration of rights requests from felons who have completed their sentences and keeps records on state lobbyists.
Our ruling
Asked how many people he supervised as executive director of the state Democratic Party, Stoney said "there were 300 people on my payroll in 2008."
Records show the state party's payroll did hit 300 that fall as it hired temporary field workers to help Obama's presidential campaign in Virginia. It was a massive effort coordinated by the state party, the Democratic National Committee and Obama's campaign.
The caveat is that there were 11 people on the payroll in February 2008 when Stoney became executive director and that didn't begin to significantly rise until June. And in December, when the election was history, the party's payroll shrank to eight.
So the statement is partially accurate but leaves out important details. That makes it Half True.
Levar Stoney, Comments made in Chamber RVA mayoral debate, Oct. 17, 2016 (at about 3:50 mark on tape).
Federal Election Commission, 2008 Reports filed by the Democratic Party of Virginia, accessed Oct. 19, 2016.
Interview with Levar Stoney, Oct. 20, 2016.
Interview with Matt Corridoni, spokesman for Stoney, Oct. 20, 2016.
Browse the Truth-O-Meter
More by Warren Fiske
Support independent fact-checking.
Become a member!
In a world of wild talk and fake news, help us stand up for the facts.