Stand up for the facts!
Our only agenda is to publish the truth so you can be an informed participant in democracy.
We need your help.
I would like to contribute
Says Al Jazeera, "a mouthpiece for terrorists, has been paying Jon Ossoff thousands of dollars. ... What is he hiding?"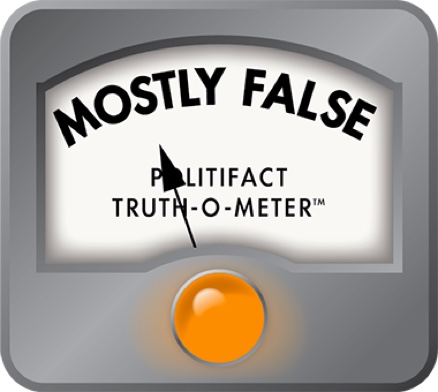 Attack ad in Georgia special election ties Jon Ossoff to Al Jazeera
No Democrat has held Georgia's 6th Congressional District since 1979. Now, in a race to replace Republican Tom Price who joined the administration as secretary of Health and Human Services, 30-year-old Democrat Jon Ossoff stands out.
In a field packed with 16 candidates from both parties, the latest poll shows Ossoff with about 40 percent. He needs to break 50 percent on Election Day, April 18, to avoid a runoff.
Republican groups and their allies aim to block that.
The Congressional Leadership Fund, a super PAC aligned with House Speaker Paul Ryan, posted a web video that ties Ossoff to Al Jazeera, the Qatar-based news organization.
The ad opens with shots of Islamic fighters followed by a grainy television snippet of Osama bin Laden talking. The voiceover says: "Al Jazeera, a media outlet that has been described as a mouthpiece for terrorists, has been paying Jon Ossoff thousands of dollars. But Jon refuses to tell voters exactly how much money he's received. Just like Jon refuses to tell voters the truth about his experience. What is he hiding?"
The focus of this fact-check is on the ad's statement, combined with the imagery that accompanies the claim, that Al Jazeera, "a mouthpiece for terrorists, has been paying Jon Ossoff thousands of dollars."
A mouthpiece for terrorists?
The ad cites an article from the American Journalism Review to back up its description of Al Jazeera. The article, entitled "The Al Jazeera Effect," centered on the news organization's strategy of getting on-the-ground camera footage and reporting in the early days of the Arab Spring protests. The article relays a variety of opinions that have been offered about Al Jazeera.
The ad chose one from this passage: "For years, critics have assailed what they see as anti-Semitic, anti-American bias in the channel's news content. In the wake of 9/11, Al Jazeera broadcast statements by Osama bin Laden and reported from within the ranks of the Taliban, earning a reputation as a mouthpiece for terrorists."
But the article also quotes David Marash, a former Nightline correspondent who joined and then left Al Jazeera over concerns about anti-American bias.
Despite that history, the article said Marash described "Al Jazeera as 'the best news channel on earth.... Al Jazeera has become the model all around the world. Video reporting from the field sets them apart and makes them the best.'"
Congressional Leadership Fund spokeswoman Courtney Alexander offered several other examples of criticism of Al Jazeera. A 2001 New York Times Magazine article said "day in and day out, Al Jazeera deliberately fans the flames of Muslim outrage." A 2013 USA Today article quoted an Israeli center analyst who said Al Jazeera's Arab language broadcasts "very often promote a very radical Islamist approach."
Alexander also pointed to reports that the news network is backed by the Qatari government, and Qatar has been linked to financing terrorist groups.
On the other hand, in 2011, Sen. John McCain, R-Ariz., described Al Jazeera in glowing terms for its work during the Arab Spring.
"I'm very proud of the role that Al Jazeera has played," McCain said. "I congratulate you and I mourn for those who have sacrificed in the service of providing the information, which is knowledge, which is power."
The point is, some people have a bad opinion of Al Jazeera and others think it's done good work. The ad cherry-picked images and a quote that cast Al Jazeera in the most dubious light possible. That characterization was the basis for the rest of the ad.
Al Jazeera payments to Ossoff
The video said Al Jazeera has been paying Ossoff thousands of dollars. Its source is an article from the conservative website the Washington Free Beacon, based on Ossoff's congressional financial disclosure form.
The report covered all of 2016 and nearly three months in 2017, and in it, Ossoff includes Al Jazeera as one client out of 13 that paid his firm Insight TWI at least $5,000. Insight TWI is a British-based documentary film production company. Ossoff became its CEO in 2013. Here's the key section from his disclosure:
The Washington Free Beacon asked Ossoff to go beyond the federal requirements and say how much he received from Al Jazeera. He didn't respond.
As a technical matter, according to the experts we reached, the Al Jazeera payments went to the firm, not Ossoff as the video said. He was CEO and shared in the proceeds, but all we know is that Al Jazeera paid Insight TWI at least $5,000.
In a statement, Ossoff's campaign said his firm's clients include broadcasters in Britain, the Netherlands, Denmark and Sweden.
"Under Jon's leadership, the company's investigations have resulted in the arrest of foreign officials stealing U.S.-taxpayer-funded aid and quack doctors who mutilate women, as well as exposed atrocities committed by ISIS in Iraq, including sexual slavery," the statement said.
According to the Insight TWI website, the company produced 10 film projects since Ossoff took the helm. Of those, nine were for Al Jazeera. During the time period covered by Ossoff's financial disclosure, 2016 and 2017, there is only one film project reported for Al Jazeera. The other was for the BBC.
The most recent Al Jazeera project was a six-part series on Latin America. Topics covered included child trafficking and sexual exploitation across the Argentina-Bolivia border, allegations of slave labor in Brazil's garment industry and deaths in police custody in Mexico.
Over the years, Al Jazeera paid Ossoff's company for investigations that revealed government corruption in Africa, extra-judicial killings, corrupt doctors selling HIV/AIDS drugs on the black market, and related themes.
One film dealt with terrorists. It was produced for the BBC and followed a group of Yazidi women turned soldiers who seek revenge on ISIS fighters.
Alexander of the Congressional Leadership Fund noted that Ossoff mentions the BBC but not Al Jazeera on his website.
Ossoff's resume
When Ossoff launched his campaign, he touted his national security background, saying he had five years under his belt as a congressional staffer. We found that was an exaggeration. By our count, he spent about three years in middle-to-senior level foreign policy posts.
The ad says Ossoff "refuses to tell voters the truth about his experience." On the contrary, the campaign provided a timeline (at the bottom of this link) showing what he did and when.
Alexander told us that on the stump, Ossoff doesn't go out of his way to acknowledge his exaggeration.
Our ruling
The Congressional Leadership Fund video says Al Jazeera, "a mouthpiece for terrorists, has been paying Jon Ossoff thousands of dollars and asks "what is he hiding?"
This is a case when a series of partial truths are strung together to promote the worst possible conclusion. Some Americans have called Al Jazeera a mouthpiece of terrorists. Others, including a U.S. senator, have praised it as a beacon of reporting in the Middle East and Africa. The ad cherry-picks its evidence to characterize Al Jazeera only as aligned with terrorists.
Al Jazeera did pay Ossoff's company. During the time frame covered in his financial disclosure, Ossoff's firm produced two film projects, one for Al Jazeera and one for the BBC. Al Jazeera has been a major client over the years, but going back to the start of 2016, it is one out of 13.
In addition, the films Al Jazeera have commissioned focus on wrongdoing in Africa and Latin America and have nothing to do with the Middle East or terrorism.
The ad suggests Ossoff is hiding something. Given the evidence at hand, the answer appears to be that he is unwilling to open the books of his business beyond what the law requires.
The ad's description of Al Jazeera strikes us as particularly selective and central to the suspicions the ad raises. We rate this claim Mostly False.
CLF, Jon Ossoff: How Can We Trust Him?, April 5, 2017
American Journalism Review, The Al Jazeera Effect, April 21, 2011
USA Today, How will Al Jazeera translate in USA?, Jan. 4, 2013
Al Jazeera, John McCain speaks at the Al Jazeera US Forum, May 24, 2011
Office of the Clerk of the House of Representatives, Financial disclosure - Ossoff, March 27, 2017
Insight TWI, About Insight TWI, accessed April 11, 2017
Insight TWI, Africa Investigates, accessed April 11, 2017
Insight TWI, Films, accessed April 11, 2017
Free Beacon, Ossoff Admits He Misrepresented National Security Credentials, March 28, 2017
Atlanta Journal Constitution, Republicans assail Ossoff's work with Al-Jazeera in Georgia's Sixth, March 15, 2017
National Republican Congressional Committee, $ from Al Jazeera, March 22, 2017
Atlanta Journal Constitution, Political Insider, March 28, 2017
Atlanta Journal Constitution, All about the Georgia 6th congressional district election, Feb. 28, 2017
PolitiFact, How extensive was Jon Ossoff's national security background in Congress?, April 3, 2017
Interview, Courtney Alexander, spokeswoman, Congressional Leadership Fund, April 12, 2017
Interview, Evan Lukaske, communications staff, Democratic Congressional Campaign Committee, April 12, 2017
Interview, Hasan Patel, senior executive, Communications, Al Jazeera Media Network, April 12, 2017
Browse the Truth-O-Meter
More by Jon Greenberg
Support independent fact-checking.
Become a member!
In a world of wild talk and fake news, help us stand up for the facts.