Stand up for the facts!
Our only agenda is to publish the truth so you can be an informed participant in democracy.
We need your help.
I would like to contribute
"Business spirit is the highest it's ever been, according to polls."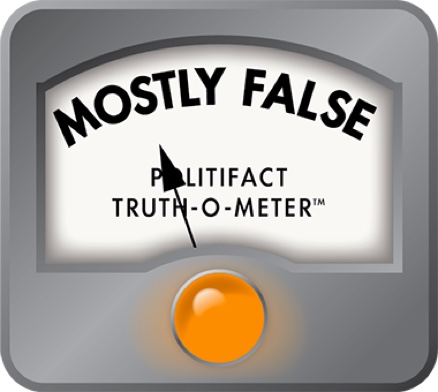 Donald Trump says 'business spirit' is highest it's ever been, but proof is lacking
Right after swearing in his new chief of staff, President Donald Trump once again touted some of the economic accomplishments during his six months in office. This time, Trump included a metric he referred to as "business spirit."
"Business spirit is the highest it's ever been, according to polls," Trump said. "If you look at the polls, (it's) the highest it's ever been in the history of these polls."
Never having heard of a measurement called "business spirit," we asked the White House for the name of the poll or polls in question. The press office did not get back to us. However, we found a few polls that seem to fit the bill, so we'll use those to analyze Trump's statement.
Business Roundtable's CEO Economic Outlook
The Business Roundtable, a group of corporate CEOs, has released a CEO Economic Outlook Survey on a quarterly basis since the fourth quarter of 2002. The survey is "designed to provide a picture of the future direction of the U.S. economy by asking CEOs to report their company's sales expectations and plans for capex spending and hiring in the next six months," according to the group. Here's the historical data:
The index's current level is reasonably high at 93.9. But the survey has shown a higher rating in 16 earlier quarters, or about 29 percent of the quarters since the survey began.
So using this data, it isn't accurate to say that the business outlook is "higher than it's ever been."
NFIB's Index of Small Business Optimism
The National Federation of Independent Business has been releasing its index of small-business optimism on a monthly basis since 1986. The survey questions selected small business owners who belong to the organization.
The current index level is 103.6. Here's the data since 1986:
The chart shows that while the index is relatively high at the moment, it was higher for periods in 2004 and 2005. It has also fallen since Trump took office. It peaked at 105.9 in January 2017, right as Trump was taking office and has fallen consistently.
The survey data, the group said, indicates that "economic growth in the first half of this year will be about the same as we have experienced for the past three or four years, no real progress. There isn't much euphoria in the outlook for the second half of the year."
Institute for Supply Management's Purchasing Managers Index
The Institute for Supply Management surveys purchasing executives at some 300 companies on a monthly basis.
The number for June was 57.8, which was up 2.9 points since May. However, you don't have to look too far in the past for a number higher than June's -- in August 2014, the measurement registered 57.9 percent.
YPO Global Pulse
YPO is an organization of 24,000 CEOs that publishes studies of business confidence around the world. Here is the data for its survey of the United States since 2009:
This is probably the strongest piece of evidence for Trump's assertion, as the current level is essentially the highest the survey has found since 2009. However, today's level is not unprecedented -- it hit essentially the same level three times under President Barack Obama.
These four surveys all broadly fit the category of business surveys. There's another kind of survey, as well -- consumer confidence surveys, which are asked of ordinary Americans rather than business owners.
These don't fit Trump's description, but it's worth taking a look. They describe how ordinary Americans feel about the economy.
The Conference Board Consumer Confidence Index is probably the most widely tracked study of consumer confidence, published either monthly or quarterly since 1967.
The current level of 121.1 is relatively high, but it was exceeded for almost all of the stretch between May 1997 and November 2000, when Bill Clinton was president, as well as a stretch between 1967 and 1969, when Lyndon Johnson and Richard Nixon were president.
The University of Michigan Consumer Sentiment Index is similar in format to the board's consumer confidence index and its results are similar. Here is the data going back to 1978.
Finally, the polling firm Gallup surveys approximately 1,500 adults nationally to come up with its Economic Confidence Index. Confidence did peak under Trump in this survey, but as with other measurements, it has fallen during his time in office.  
"Though Americans remain optimistic about the state of the economy, this sentiment is not as strong as it was in the weeks just before and after Donald Trump's presidential inauguration," Gallup wrote July 25.
In addition to pointing out the difference between business confidence and consumer confidence, we should make clear that high levels of confidence are not the same thing as high levels of economic activity. Surveys that measure either business or consumer confidence measure something intangible -- how someone feels and what they think they will do in the future. It's not necessarily dependent on past or current performance, and confidence levels can go up or down untethered to actual economic results.
Our ruling
Trump said, "Business spirit is the highest it's ever been, according to polls."
Current levels of business confidence, as measured by regular surveys of executives, are relatively high at the moment, but they are not the highest ever -- and in several that are taken on a monthly basis, they have fallen since Trump took office. The statement is a significant exaggeration, so we rate it Mostly False.
Donald Trump, remarks after the swearing in of chief of staff John Kelly, July 31, 2017
Business Roundtable, "CEO Economic Outlook Survey Q2 2017," accessed July 31, 2017
National Federation of Independent Business, Small Business Optimism Index main page, July 31, 2017
Institute for Supply Management, "PMI at 57.8%; New Orders, Production, Backlog of Orders and Employment Growing Supplier Deliveries Slowing Inventories Contracting Prices Increasing at Slower Rate," July 3, 2017
YPO Global Pulse, 1st quarter 2017 survey results, May 9, 2017
Conference Board, "The Conference Board Consumer Confidence Index Increased in July," July 25, 2017
Federal Reserve Bank of St. Louis, "University of Michigan: Consumer Sentiment," accessed July 31, 2017
Gallup, "Confidence in Economy Remains Slightly Positive in U.S.," July 25, 2017
The Hill, "Survey: CEOs' economic optimism hits highest level since 2009," March 14, 2017
CNBC, "US leads 'significant increase' in global economic confidence: Survey," Feb. 7, 2017
Email interview with Tara Sinclair, George Washington University economist, July 31, 2017
Browse the Truth-O-Meter
More by Louis Jacobson
Support independent fact-checking.
Become a member!
In a world of wild talk and fake news, help us stand up for the facts.