Stand up for the facts!
Our only agenda is to publish the truth so you can be an informed participant in democracy.
We need your help.
I would like to contribute
"The past (Obama) administration was the first administration that never had a whole year of 3 percent growth."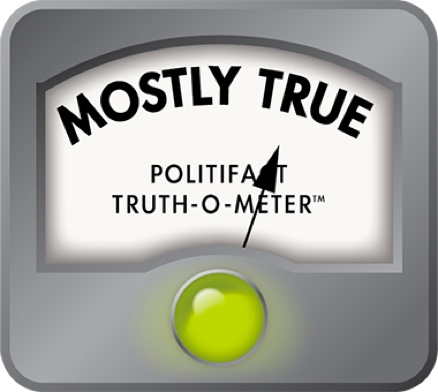 Roskam says Obama admin the first to never top 3% in annual GDP growth
Speaking at an event in Chicago earlier this month, U.S. Rep. Peter Roskam, R-Ill., was talking tax policy and the economy when he pointed to lackluster economic growth that occurred under former President Barack Obama.
"The past (Obama) administration was the first administration that never had a whole year of 3 percent growth," Roskam said during a March 6 speech at the City Club of Chicago.
It's an oft-cited figure Republicans tend to throw around to highlight the weak economic recovery throughout Obama's presidency, but does the data back it up?
A familiar claim
Roskam's claim lacks some specifics, particularly the type of growth and time frame he was referring to in his speech.
David Pasch, the Wheaton Republican's communications director, provided a link to data compiled by the Bureau of Economic Analysis showing both the annual and quarterly percentage change in real gross domestic product, or GDP, which is the total value of goods and services provided in the country.  
While annual figures on GDP growth date back to the Herbert Hoover administration and the onset of the Great Depression in 1929, the federal government did not start tracking quarterly growth until 1947.
Considering the time frame for which this annual data is available, it's safe to assume Roskam was referring to economic growth since the Hoover administration.
In fact, Roskam's claim is quite similar to a statement Donald Trump made during a campaign speech in October, which was fact-checked by our colleague Joshua Gillin at PolitiFact Florida.
As was the case with Trump's claim, Roskam is right when he says that year-over-year GDP growth never topped 3 percent while Obama was in office.
But as Princeton University economist Alan Blinder told PolitiFact at the time, looking at annual data can be misleading because it doesn't provide context or account for historical factors that affect economic growth, such as recessions and global crises. For example, Hoover came into office on the cusp of the Great Depression, and Obama took over during the tail end of the Great Recession and amid instability in the Middle East.
That's one of the main reasons why economists suggest looking at the percentage change in GDP by quarters, rather than growth in a single calendar year.
When PolitiFact Florida fact-checked Trump saying Obama was the first president "in modern history not to have a single year of 3 percent growth," data for the third and fourth quarters of 2016 was not yet available.
But now it is.
GDP growth in 2016 and the Obama years
According to the Bureau of Economic Analysis, the percentage change in GDP growth during the third and fourth quarters of the last year of Obama's final term was 3.5 percent and 1.9 percent, respectively, resulting in an average growth rate of 1.6 percent for 2016.
That was down 1 percentage point from 2015 when GDP grew by 2.6 percent, which marked the best year for average growth under Obama.
Typically, economic growth in the first quarter of a new presidency is attributed to the previous administration, meaning former President George W. Bush gets credit for the 5.4 percent contraction in the economy during the first three months of 2009.
As for the remainder of Obama's time in office, quarterly GDP growth averaged 2.0 percent, or 1.5 percent when averaging out annual figures.
But if the data is used to compare one quarter to the same quarter from a year ago, there were two periods during Obama's tenure in which growth exceeded 3 percent. Between the third quarters of 2009 and 2010, GDP growth was about 3.1 percent; and between the first quarters of 2014 and 2015, the economy grew by 3.3 percent, according to the Bureau of Economic Analysis.
With the way Roskam refers to growth, however, Obama indeed was the first president who did not achieve more than 3 percent growth in GDP. Average growth under Bush Sr., was 2.1 percent; 3.9 percent for Bill Clinton; 2.3 percent for George H.W. Bush; and 3.5 percent for Ronald Reagan.
The highest annual growth on record occurred in 1942 during the Franklin D. Roosevelt administration, when GDP grew by a staggering 18.9 percent as the United States entered World War II and ramped up production following the Dec. 7, 1941, attack on Pearl Harbor.  
Our ruling
Roskam said the Obama "administration was the first administration that never had a whole year of 3 percent growth."
While Roskam's claim is accurate when based on annual GDP growth figures between 2009 and 2016, there are other ways to look at the data, such as from one quarter to the same in the previous year. Doing so reveals economic growth has surpassed 3 percent during two periods of Obama's presidency.
We rate Roskam's claim Mostly True.
PolitiFact Florida, "Trump's claim about weak economic growth under President Obama doesn't tell the full story," Oct. 31, 2016
Phone correspondence, U.S. Rep. Peter Roskam's communications director David Pasch, March 15, 2017
Email correspondence with Allan MacNeill, Webster University economics professor, March 15, 2017
U.S. Bureau of Economic Analysis, Gross Domestic Product statistics, accessed March 15, 2017
Federal Reserve Bank of St. Louis, Real Gross Domestic Product, accessed March 15, 2017
Princeton University, "Presidents and the U.S. Economy: An Econometric Exploration," July 2014
YouTube, Roskam City Club of Chicago speech, March 6, 2017
Browse the Truth-O-Meter
More by Kevin Hoffman
Support independent fact-checking.
Become a member!
In a world of wild talk and fake news, help us stand up for the facts.