Stand up for the facts!
Our only agenda is to publish the truth so you can be an informed participant in democracy.
We need your help.
I would like to contribute
"The vast majority of marketplace enrollees have experienced no average premium hike at all."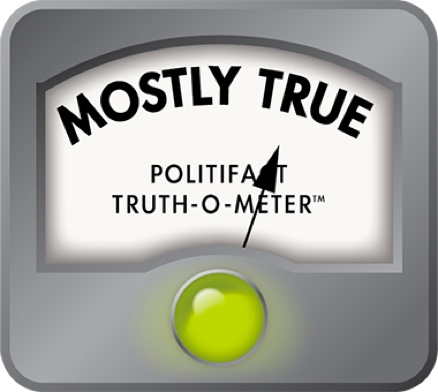 Obama: No premium hike for 'vast majority' covered on government exchanges
On the day House Republicans had scheduled a vote to repeal and replace Obamacare, the man whose name became synonymous with the sweeping health care law touted its accomplishments.
Marking the seventh anniversary of the Affordable Care Act, former President Barack Obama released a statement saying that after a century of talk, "we finally declared that in America, health care is not a privilege for a few, but a right for everybody."
"Reality continues to discredit the false claim that this law is in a 'death spiral,' because while it's true that some premiums have risen, the vast majority of Marketplace enrollees have experienced no average premium hike at all," he wrote.
We decided to vet the assertion that on average, the vast majority of people who signed up on a federal or state marketplaces saw no premium hike at all.
Government numbers back that up, although the meaning of "vast majority" lies in the beholder. And it's not as though premiums didn't rise. They did, but most people purchasing health care through the marketplace didn't feel it.
According to the Centers for Medicare and Medicaid Services, about 12.2 million people signed up through a federal or state-based marketplace, also called an exchange. Of those, 7.8 million, about 64 percent, qualified for tax credits to reduce how much they personally would pay for coverage. Thanks to the tax credits, the average monthly bill for insurance stayed at $106 from 2016 to 2017, as the government chart below shows.
The light blue represents the monthly premium paid by customers out-of-pocket. The darker blue represents the tax credit.
"Premiums went up, but a lot of people were protected from that," said Katherine Hempstead, director of health insurance coverage at the Robert Wood Johnson Foundation, a philanthropy and research group based in New Jersey.
The Congressional Budget Office underscored that dynamic in its most recent report on health care legislation. The analysts wrote that many people "are largely insulated from increases in premiums because their out-of-pocket payments for premiums are based on a percentage of their income; the government pays the difference."
On average, premiums rose about 32 percent.
The government data on the actual premiums people pay isn't 100 percent complete. Details on about 3 million people who signed up through state-based exchanges are missing. But Hempstead said in the past, people in both groups had similar experiences.
"The only place you can get the subsidy is through the exchanges, so for both the federal and the state exchanges, most of the enrollment is from people who qualify for the subsidies," Hempstead said.
It's worth noting that as premiums rise, so does the price tag for Washington.
The death spiral debate
Obama was rebutting fears about a death spiral. That concern lies outside this fact-check, but we'll summarize the arguments on both sides here.
A death spiral takes place when costs rise so fast, healthy people begin opting to pay a tax penalty rather than pay for health care. With sicker people making up a larger percentage of those left in the health insurance pool, the average cost of care rises dramatically.
White House press secretary Sean Spicer took on Obama's statement during his daily press briefing.
"Enrollment is nowhere near expectations and this year is actually declining," Spicer said. "Insurers are fleeing the exchanges, and one in three counties only has one insurer."
A 2016 summary from Mark Farrah Associates, a private analytic service, reported that insurers who left the exchanges cited "significant losses on Marketplace business" due in part to lower numbers of healthy enrollees.
As for enrollment overall, according to the Center for Medicare and Medicaid Services, sign-ups fell by about 4 percent from 2016 to 2017.
Outside analysts such as Hempstead say that's not enough to spell trouble.
"Enrollments are largely holding steady," she said. "There is no death spiral."
The Congressional Budget Office largely agreed. Comparing the Affordable Care Act with the Republican health care bill, the CBO wrote that "the nongroup market would probably be stable in most areas under either current law or the legislation."
Our ruling
Obama said that on average, the "vast majority" of people who have insurance through Obamacare experienced no premium increase. The actual numbers are that about 64 percent of enrollees saw their out-of-pocket premiums stay the same. So in terms of their personal experience, the former president is correct.
However, premiums did rise. The reason many people didn't feel it is because the government subsidies increased to insulate them.
Obama was largely correct, but he brushed over the reality of rising premiums.
We rate this claim Mostly True.
Barack Obama, Statement from President Barack Obama On the 7th Anniversary of the Affordable Care Act, March 23, 2017
Centers for Medicare and Medicaid Services, Health insurance marketplaces 2017 open enrollment period final enrollment report: November 1, 2016 – January 31, 2017, March 15, 2017
Congressional Budget Office, Cost estimate: The American Health Care Act, March 13, 2017
Washington Post, Right turn: Is Obamacare in a 'death spiral' or just in need of important reforms?, March 15,2017
Los Angeles Times, Obamacare 101: Are health insurance marketplaces in a death spiral?, Feb. 23, 2017
Townhall, Analysis: Would GOPCare Actually Stop the Obamacare Risk Pool 'Death Spiral'?, March 10, 2017
MSNBC, White House - daily press briefing, March 23, 2016
Fox News, Cavuto interview with Rep. David Brat, March 21, 2017
Mark Farrah Associates, The Unpredictable Individual Health Insurance Market, Aug.24, 2016
Interview, Katherine Hempstead, director, Robert Wood Johnson Foundation, March 23, 2017
Browse the Truth-O-Meter
More by Jon Greenberg
Support independent fact-checking.
Become a member!
In a world of wild talk and fake news, help us stand up for the facts.