Stand up for the facts!
Our only agenda is to publish the truth so you can be an informed participant in democracy.
We need your help.
I would like to contribute
Texas "spent close to a third of its budget on Medicaid last year, a third of all state spending."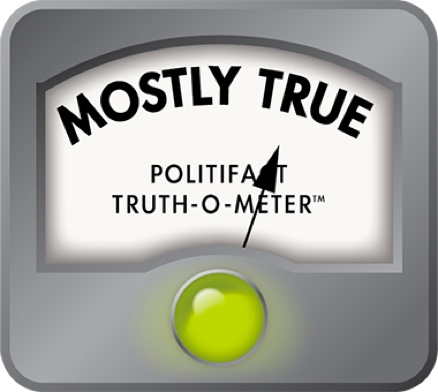 John Cornyn claim about Texas Medicaid spending counts state plus federal aid
Extolling the health care act that Republicans briefly advocated as an improvement on the Obamacare law, Sen. John Cornyn singled out how much Medicaid costs Texas state government.
In March 9, 2017, Senate floor remarks brought to our attention by a reader, the Texas Republican prefaced his claim by saying state and federal governments "spend an awful lot of money on Medicaid," the federal-state entitlement program providing health coverage to the poor, especially mothers, children and the disabled, which was launched by Congress in 1965 as part of President Lyndon Johnson's Great Society.
Cornyn went on: "In Texas, for example, my state spent close to a third of its budget on Medicaid last year, a third of all state spending."
We emailed Cornyn's office to request his backup, then turned to the authoritative May 2016 Fiscal Size-up report from the Legislative Budget Board, which advises state legislators on spending matters.
That report, Cornyn spokesman Drew Brandewie shortly advised by email, was the basis of Cornyn's claim along with other published accounts of Medicaid's share of the two-year budget approved by the 2015 Legislature.
According to the report, the 2016-17 Texas budget devoted $61.2 billion in funds from all sources, including state and federal aid, to Medicaid, which lately has had a monthly caseload of 4.1 million residents, up from about 2.1 million in 2002, according to a 2017 LBB presentation --and that amount over the two years running through August 2017 accounted for 29.3 percent of $209.1 billion in All Funds appropriations.
Federal funds drive Medicaid budgets because by law, the federal share of a state's Medicaid expenditures can't be less than 50 percent though the share is refined for each state using a formula comparing the state's average per capita income to the national average. In Texas in fiscal 2016, the federal share broke out to about 57 percent, according to the Henry J. Kaiser Family Foundation. Also, each Texas dollar spent on Medicaid that year was matched by $1.33 in federal aid, the foundation says.
We noticed another way to frame the issue in that Cornyn referred to Medicaid accounting for one third of all "state" spending in 2016.
That's not correct. According to the Fiscal Size-up, the 2016-17 budget allocated $25.2 billion in state general revenue and GR from dedicated accounts — meaning state funds — to Medicaid. Those billions, we calculated, amounted to 22.1 percent of nearly $114 billion in total GR and GR-D spending in the two-year budget.
Separately, we asked the Texas Health and Human Services Commission how much Medicaid absorbs in money budgeted by lawmakers. By email, Christine Mann shared an agency chart showing the escalating share of Medicaid spending in the budget, considering both state and federal aid, from fiscal 2000 through fiscal 2015. Medicaid absorbed about 20 percent of budgeted state and federal funds in 2000, the chart indicate, but it's accounted for 25 percent or more of the All Funds budget since 2010.
Spending decisions remain
Mann also pointed out that exactly how much legislators commit to Medicaid for the budget that runs through August 2017 will depend on actions during the session that ends May 29. As of mid-March 2017, Mann said commission staff expected Medicaid spending to be around $63 billion in state and federal funds.
Traditionally, lawmakers adjust for increases in Medicaid caseloads and costs that build up between sessions by signing off on short-term supplemental appropriations. A March 2017 LBB document summarizes a version of House Bill 2, which proposes additional spending through August 2017. From figures in the document, we calculated that lawmakers could end up authorizing $63.8 billion in spending, both state and federal, on Medicaid, through the 2016-17 biennium; barring changes, that would break out to 29.8 percent of the state's total budgeted spending of $214.3 billion.
We also sought insight from Oliver Bernstein of the budget-savvy liberal-leaning Center for Public Policy Priorities. Bernstein emailed us slightly different figures for what's likely to be spent on Medicaid through August 2017. He otherwise suggested by email that Medicaid's heightened share of total spending traces in part to cuts in state support for public schools and institutions of higher education; when other big items get whittled, Medicaid's budgetary significance grows.
Our ruling
Cornyn said Texas "spent close to a third of its budget on Medicaid last year, a third of all state spending."
Nearly 30 percent of state plus federal aid in the 2016-17 Texas budget went to Medicaid. About 22 percent of state funds alone was appropriated for Medicaid.
We rate this claim Mostly True.
---
MOSTLY TRUE – The statement is accurate but needs clarification or additional information. Click here for more on the six PolitiFact ratings and how we select facts to check.
YouTube video of Sen. John Cornyn speech supportive of American Health Care Act, Senate floor, March 9, 2017 (Nine-minute mark)
Report, "Fiscal Size-up, 2016-17 Biennium," Legislative Budget Board, May 2016 (accessed March 22, 2017)
Document, "Summary of Legislative Budget Estimates, 2018-19 Biennium," Legislative Budget Board, January 2017
Email, Drew Brandewie, communications director, U.S. Sen. John Cornyn, March 22, 2017
Report, "Texas Medicaid and CHIP In Perspective," Texas Health and Human Services Commission, February 2017
Emails, Oliver Bernstein, communications director, Center for Public Policy Priorities, March 22-23, 2017
Browse the Truth-O-Meter
More by W. Gardner Selby
Support independent fact-checking.
Become a member!
In a world of wild talk and fake news, help us stand up for the facts.