Stand up for the facts!
Our only agenda is to publish the truth so you can be an informed participant in democracy.
We need your help.
I would like to contribute
It is a myth that Florida's education legislation was "negotiated in secret."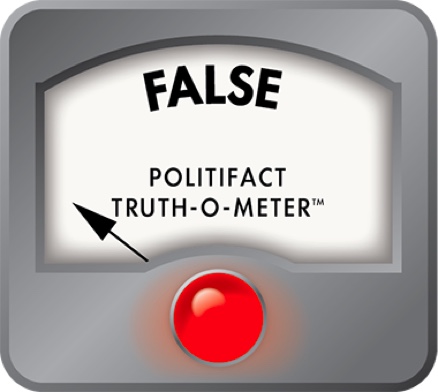 Florida House Speaker Richard Corcoran misleads about education legislation negotiations
Florida House Speaker Richard Corcoran says his critics are wrong that the main education bill was hammered out behind closed doors.
"Time to end the myth of 'legislation negotiated in secret.'  #transparency #HB7069 #PutKidsFirst," Corcoran tweeted May 12.
Corcoran tweeted that it is "fiction" to say that the "best and brightest teachers and principals provision in HB 7069 was NOT made public."
"Fact: these provisions were contained in HB 7069 which was filed on March 10, 2017 passed two committees and the House 79-38 on April 13th, 2017."
We found the original legislation about teacher bonuses for the "best and brightest" was unveiled and voted on in public; however, the final version of the bill and important details were negotiated out of the public eye.
Mammoth education bill hammered out at end of session
The legislative session began in March with dozens of education bills in the House and Senate.
Many bills moved their way through the traditional legislative process of public committee hearings and votes.
But at the end of the session, at least 55 bills were crammed into one mammoth $419 million, 278-page education bill negotiated by legislative leaders.
The final outcome is now in the hands of Gov. Rick Scott, who can veto the entire education bill or sign it in the coming weeks.
In March, both chambers produced bills -- HB 7069 in the House and SB 1552 in the Senate -- to expand eligibility criteria for bonuses to top public school teachers under the Florida Best and Brightest Teacher Scholarship Program.
Lawmakers wanted to add in bonuses for principals, and the House budget proposal called for $214 million to the expanded program in the 2017-18 budget, up from the $49 million this year.
Two House committees voted in favor of the bill at public meetings on March 10 and March 29.
Although senators also expressed interest in expanding the program, the Senate's initial budget proposal included no such funding. The decision was part of a strategic move in hopes that the Senate would get some of its priorities in later negotiations with the House.
On April 13, the House version passed the House (79-38). The Senate voted unanimously -- but not to pass the bill, rather to send it to budget conference. HB 7069 was among four K-12 policy bills sent into conference negotiations.
Conference negotiations between members of both the House and Senate are common to work out differences in spending allocations, but it is unusual to resolve policy disagreements. Watchdogs raised concerns that policy and funding decisions would be hashed out in secret. Legislative leaders repeatedly vowed a transparent process.
But by Saturday, April 29 -- three days before lawmakers needed to agree on a final total state budget in order to end session on time -- House and Senate leaders still hadn't released proposed language to be discussed, including about the teacher bonuses.  
House and Senate negotiators -- Hialeah Republican Rep. Manny Diaz Jr. and Altamonte Springs Republican Sen. David Simmons -- told the Tampa Bay Times and Miami Herald that they would not release draft language until the House and Senate were ready to exchange formal offers.
While Florida's Sunshine Law bans city or county commissioners from meeting in secret to hash out legislation, two legislators are allowed to meet in private under limited circumstances before voting in public on legislation.
While a budget conference subcommittee held a brief public meeting that Saturday morning to trade spending offers, they revealed little about what their intentions were for the policy bills.
Ultimately, legislators couldn't agree on the overall state budget on time, which led to an extension of the session from Friday, May 5 to Monday, May 8.
During the final week of the regularly scheduled session, Corcoran and Negron -- with help from other key lawmakers, such as Simmons, Diaz and House Education chairman Michael Bileca, R-Miami -- negotiated in private a catch-all education bill that included a final version of the teacher bonuses language, the policies of the other K-12 budget bills and myriad other proposals unrelated to spending.
That final version of HB 7069 was made public for the first time on Friday evening May 5.
Several newspapers -- including the Herald and Times, the Tallahassee Democrat, the Gainesville Sun, the Orlando Sentinel -- wrote that final legislation was hammered out behind closed doors.
"State lawmakers flushed promises of transparency down the toilet," wrote the Gainesville Sun editorial board.
There were a few differences in the teacher bonus program as outlined in the final version in May, compared to the original House version in March. The most significant change -- and one not previously contemplated or discussed in public -- was that the final version added the ability for teachers to get bonuses over the next three years of $1,200 if they were "highly effective" or up to $800 if rated "effective."
Corcoran and Negron publicly discussed HB 7069 for 10 minutes May 5 without any substantive debate of the contents before formally accepting it.
The Times/Herald submitted several questions to Corcoran's office May 6 after the final language of HB 7069 was made public. An explanation provided in the speaker's response:
"Negotiating solutions when there are significant differences between the two chambers on an issue in conference sometimes requires adding new language and bringing in issues that were not part of the budget conference. That is often what it takes to reach agreement and is inherent to the conference process."
On May 8, both chambers met for the final day of the session.
Sen. Jack Latvala, R-Clearwater, the Senate's appropriations chairman, took responsibility for allowing HB 7069 to balloon so much. But he urged passage anyway.
The House (73-36) and Senate (20-18) both voted in favor of the final compromise version of HB 7069 that was decided in budget conference.
In an interview with PolitiFact Florida, Corcoran spokesman Fred Piccolo defended the process that led to the final version. He said that Corcoran's tweet didn't mention anything about discussions during conference.
"I get folks don't like it, but because it wasn't talked about during a public budget conference debate doesn't mean it wasn't publicly discussed for months beforehand," he said.
The same argument could be made about any other type of legislation -- from the environment to health care -- if it was discussed during a conference, he said.
Our ruling
Corcoran tweeted that it is a myth that education legislation was "negotiated in secret."
Corcoran pointed to the filing of HB 7069 in the House on March 10 and its passage in two committees and then the House on April 13.
While part of the legislative process was done in public, Corcoran omits that the final dealmaking between the House and Senate was largely done behind closed doors.
We rate this claim False.
House Speaker Richard Corcoran, Tweet, May 12, 2017
Florida House of Representatives, HB 7069, 2017 session
Florida House of Representatives, HB 7069 version filed in House, March 2017
Florida House of Representatives, HB 7069 House Amendment, 2017 session
Florida House of Representatives education committee, House committee vote on HB 7069, March 10, 2017
Florida House of Representatives appropriations committee, Vote on HB 7069, March 29, 2017
Florida Channel, Senate session, May 8, 2017
Miami Herald/Tampa Bay Times, "More teachers, principals could qualify for 'Best & Brightest' bonuses," March 10
Miami Herald/Tampa Bay Times, "Another budget showdown looms over 'Best & Brightest' teacher bonuses," March 29, 2017
Miami Herald/Tampa Bay Times, "House fights over $200 million incentive for charter schools, but bill passes," April 13, 2017
Miami Herald/Tampa Bay Times, "Legislature vows transparency on negotiating education policy. History says otherwise," April 14
Miami Herald/Tampa Bay Times, "As clock ticks, lawmakers' compromises on education policy remain a mystery," April 29
Miami Herald's Naked Politics blog, "Senate Approps chairman on massive budget bill: 'We won't do this again under my watch,"' May 8, 2017
Miami Herald/Tampa Bay Times reporter Kristen M. Clark, Twitter, May 12, 2017
Tallahassee Democrat, "Key issues in Scott's hands; No agreement reached on gambling, medical pot," May 11, 2017
Gainesville Sun Editorial, "Veto state budget, education bill," May 10, 2017
Orlando Sentinel, "Education bill alters testing, recess, more," May 9, 2017
Interview, Fred Piccolo, House Speaker Richard Corcoran spokesman, May 12, 2017
Interview, State Rep. Manny Diaz, May 12, 2017
Browse the Truth-O-Meter
More by Kristen M. Clark
Support independent fact-checking.
Become a member!
In a world of wild talk and fake news, help us stand up for the facts.