Get PolitiFact in your inbox.
Charles Francis "vows to slash funding for parks and open space."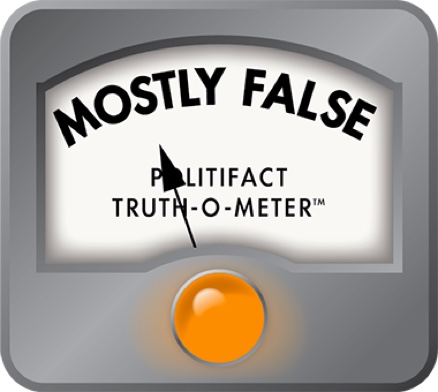 Raleigh mayor: my opponent 'vows to slash' park funding
Charles Francis has campaigned on the idea that Raleigh leaders aren't paying enough attention to the city's neediest.
He's said that Mayor Nancy McFarlane and other council members seem more enthusiastic about big projects, like building a new City Hall or planning Dix Park, than they are about providing more affordable housing or helping poor residents find jobs.
This has prompted McFarlane, the three-term incumbent who's in a runoff against Francis, to defend those projects. The city purchased the 308-acre Dix property from the state in 2014 for $52 million with the goal of transforming it into a destination park that people could walk to from downtown Raleigh.
The deal is one of McFarlane's proudest accomplishments. So perhaps it's no surprise that she has cast Francis as someone who "opposed" the project, which she claimed in a recent debate.
A campaign mailer she paid for goes a step further, saying Francis "vows to slash funding for parks and open space."
Francis denies McFarlane's claim, which implies that he has promised deep cuts. We caught up with him on the campaign trail on Nov. 4, where he called it a "flat-out lie."
"I have never said that I would cut spending," Francis said. "What I've said is that park spending needs to be equitable."
So we asked McFarlane's campaign advisors, Perry Woods and James Sonneman, if they have evidence to support the claim on the mailer.
What McFarlane says
Woods pointed to Francis' comments on Aug. 15, when both candidates attended the Raleigh Wake Citizens Association forum at Martin Street Baptist Church. Francis can be heard describing Dix Park as "tangential" and saying the city "can't be distracted by bike lanes and more parks."
"Charles Francis has said several times that Dix Park is peripheral to the city and that money should be moved away from parks, like Dix, and into affordable housing and transit," Woods said. "That is not supporting Dix Park or the park system in general."
Woods provided a link to a Sept. 14 News & Observer story about the mayoral candidates. Francis is quoted as saying the city has the wrong priorities.
"That's been the real conflict I've had with these pseudo-liberal Democrats," Francis said. "What's important to them is bike lanes and parks and that kind of thing. What we have in mind is more basic."
He also provided a link to an Oct. 8 N&O story, in which Francis' position is summarized this way: The city should stop spending so much money on things like parks and downtown revitalization and focus on public transit and social services, such as mental health care.
PolitiFact pointed out to Woods and McFarlane's other advisor, James Sonneman, that those examples don't provide evidence of Francis "vowing to slash funding" for parks and open space.
"Of course, no politician will spell out what their positions would do explicitly," Sonneman replied. "It is the same idea as when a politician like (U.S. House Speaker) Paul Ryan discusses entitlement reform, he doesn't explicitly state that he plans to cut medicare benefits, but taking the position that we need to stop spending so much money on a program means that cuts would be involved."
It's one thing to be critical of government spending. But it's another to vow or promise to do something.
We decided to review Francis' statements in news stories, campaign materials and video footage to see what he said about Dix Park and parks funding in general. Did he make any promises?
Other Francis statements
Most recently, Francis was quoted on his stance on Oct. 28 in a News & Observer story. The writer describes Francis' belief this way: that the fanfare surrounding Dix Park has distracted the city from attending to more basic services and needs, including smaller parks in Southeast Raleigh. Francis is critical of the city's decision to hire a New York-based firm to design the park instead of a local company.
"Access to housing, transportation, jobs and education — the basic city services — are more important than bike lanes and parks," Francis is quoted saying.
In a televised debate on Oct. 20, McFarlane accused Francis of opposing Dix Park early in his campaign. Francis responded by saying he supports Dix Park but wants to make the planning process more inclusive. "I believe in parks. But parks are not as important as good jobs with high pay and access to housing in terms of people's quality of life."
He continued: "We need to be concerned not about people who are going to be in Raleigh 50 years from now but about people who are in Raleigh right now and improving their quality of life."
A story by Indyweek quoted Francis when he announced his plan to call for a runoff: He favors the development of the Dix Park, but not to the detriment of other city parks. "It's not acceptable to put all of our focus on Dix Park and neglect other parks," Francis said.
A video posted on his campaign website is titled, "I support Dix Park – and equity for all of Raleigh." In it, he said he supports the Dix Park planning process but notes that other parks haven't gotten the same attention and have only received partial funding for upgrades throughout the years.
"Equity requires that we put just as much attention on our other parks as we do on Dix Park," he said. "Even more, the city has to put Dix Park in its proper priority. As nice as it's going to be to have Dix Park as a thriving central park 50 years from now, Raleigh must right now — not two years from now — increase access to housing, preserve existing affordable housing and build new affordable housing."
In an Indyweek questionnaire, Francis makes no mention of funding for Dix Park or other parks.
Our ruling
McFarlane's mailer says Francis "vows to slash funding for parks and open space." Francis has certainly been critical of the city's enthusiasm for Dix Park and bike lanes. But, as far as we can tell, he's made no promises to cut the parks budget. We rate this claim Mostly False.
A mailer paid for by the Nancy McFarlane Committee.
Email correspondence with Perry Woods and James Sonneman, advisors to Raleigh Mayor Nancy McFarlane.
A face-to-face interview with Charles Francis on Nov. 4.
A recording of an Aug. 15 forum hosted by The Raleigh-Wake Citizens Association at Martin Street Baptist Church in Raleigh.
Video of the debate between Nancy McFarlane and Charles Francis that was televised by Spectrum News.
A video posted on the Charles Francis campaign website.
A Sept. 14 story in the News & Observer.
A candidate questionnaire posted on Indyweek.com on Sept. 20.
An Oct. 8 story in the News & Observer.
An Oct. 16 story on Indyweek.com.
An Oct. 28 story in the News & Observer.
Browse the Truth-O-Meter
More by Paul Specht
Support independent fact-checking.
Become a member!
In a world of wild talk and fake news, help us stand up for the facts.