Stand up for the facts!
Our only agenda is to publish the truth so you can be an informed participant in democracy.
We need your help.
I would like to contribute
"Under his leadership, Tallahassee reduced its carbon intensity by roughly 40 percent."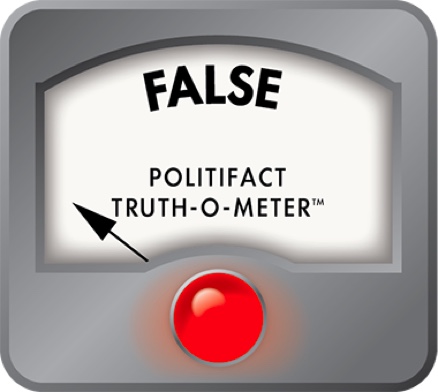 Gillum campaign changes website after touting false claim
Editor's note: This fact-check was updated at 5:35 p.m. to reflect a 2015 report about the city's electric use. The update does not affect the rating.
For months on his campaign website, Democratic gubernatorial candidate Andrew Gillum took responsibility for shaving Tallahassee's carbon footprint in his short time as mayor.
"Under his leadership, Tallahassee reduced its carbon intensity by roughly 40 percent," a post under the environmental issues page said.
We wondered how Gillum accomplished this eye-popping statistic in just three years. But if you check the website now, you won't find that claim. The Gillum campaign rolled back the talking point after PolitiFact Florida started looking into it, replacing it with a broader talking point that still leaves some questions unanswered.
There is no evidence that supported a carbon cut of 40 percent under Gillum's watch.
In reality, the city has seen an estimated reduction in carbon emissions over the course of two decades.
Gillum exaggerates role in carbon reduction
City of Tallahassee officials collect data on carbon intensity, which is the amount of carbon (in terms of weight) emitted per unit of energy consumed.
The city, which provides electric service to residents, keeps track of how much electricity is produced and monitors what's "coming out of the smokestacks" at power plants to figure out the carbon intensity each year, said John Powell, Tallahassee environmental services and facilities director. Under federal law, the city is required to report its findings on an annual basis.
Data from the city includes the amount of carbon measured in tons and the net electric load. The net electric load, or the NEL, is the amount of energy produced plus the energy purchased off the grid and minus what the city sells to the grid for use outside of their system.
The data shows that the carbon intensity has dropped around 40 percent since 1990. The decline has not been consistent, but has decreased overall.
"We've implemented more efficient utilities and switched to cleaner fuels over the last two and half decades," Powell said. "We really have seen reduction in carbon intensity over that time."
Susan Glickman, the Florida director of the Southern Alliance for Clean Energy, a nonprofit advocate for sustainable energy policy, said there are other factors that could lead to a reduction in carbon emissions.
For example, jobs in the coal industry have been declining since 1985. Because of this, a lot of utilities use more natural gas than coal, which is cleaner and cheaper. In addition, despite population gains, energy demand has gone down as appliances have become more efficient. The 2008 recession led to less energy being used.
Gillum's campaign changed the original claim on the website rather than defend it.
"You brought it to our attention and we wanted to make sure it was accurate, so we made the change when you reached out," said campaign spokesman Geoff Burgan said. "We're trying to get people the accurate information they need."
The updated post includes more nuance about the decrease in carbon intensity from initiatives Gillum has enacted as mayor since 2014.
"Over the last two decades,Tallahassee has reduced its carbon emission intensity by 40 percent, and under his leadership, has reduced the carbon footprint of electricity users in the city by 20 percent. The Mayor has worked both as Mayor and City Commissioner to implement and improve programs like free residential and commercial audits, low interest energy loans, and community outreach programs, as well (as) breaking ground on the new 120 acre solar farm that will triple the City's solar energy capacity."
We looked for information to support the modified claim that under Gillum's leadership, Tallahassee's carbon footprint really decreased by 20 percent.
We didn't find much to illuminate that claim before we originally published this check.
After publication (and repeated queries to Gillum's spokespersons), the mayor's community relations coordinator emailed PolitiFact a 2015 document that said electricity consumption in the city had dropped over a 10-year period ending in 2013, before Gillum became mayor. The statistic was included in a report about the Environmental Protection Agency's proposed Clean Power Plan pushed by the Obama administration.
"For the ten year period ending in 2013, the City's residential customers experienced an estimated 21 percent reduction in the average electricity consumption," reads the 2015 report commissioned by the city.
That overlaps with Gillum's time as a city commissioner from 2003-14. (Tallahassee's city commission is made up of four commissioners and the mayor. Every year, the commissioners and the mayor select a mayor pro-tempore.)
So even though the city reduced its electricity use during that time, the drop can not be credited to Gillum.
Further, recent data from the city shows that electricity consumption has gone down .1 percent from 2014-16, and the amount of carbon dioxide released has actually gone up 4 percent.
It's worth noting that Gillum has supported efforts to make the city greener.
The most notable example happened in May when Tallahassee leaders, including Gillum, broke ground on a 120-acre solar farm located on Tallahassee International Airport land. The solar farm is expected to be completed by November 2017 and generate 20 megawatts of electricity — enough to power 3,400 homes, or 2 percent of the city's current capacity.
Our ruling
A post on Gillum's campaign website said, "Under his leadership, Tallahassee reduced its carbon intensity by roughly 40 percent."
That claim has since been removed and replaced with a series of different claims. That's because there's nothing to support a carbon reduction of that size in his time as mayor, or on the city commission. In reality, the cut has taken place over the course of two decades and has dropped for a variety of reasons outside of Gillum's control.
We rate the statement False.
Email exchanges, Geoff Burgan, Andrew Gillum spokesman, Oct. 10 and Sept. 29
Interview, John Powell, Tallahassee environmental services and facilities director, Oct. 11
Alison Faris, Tallahassee's Communications Director, Oct. 10
Susan Glickman, the Florida director of the Southern Alliance for Clean Energy, Oct. 12
PolitiFact Florida, "Florida has reduced carbon emissions by 20 percent since 2005, Bilirakis says," July 7, 2015
Tallahassee Democrat , "First panels installed at solar farm; expected to be completed by November," Sept. 26, 2017
Tallahassee Solar Program, Tallahassee City Government
Tallahassee Democrat , "Leaders break ground on 120-acre solar farm in Tallahassee," May 30
Andrew Gillum campaign website, accessed Oct. 11
Browse the Truth-O-Meter
More by Allison Graves
Support independent fact-checking.
Become a member!
In a world of wild talk and fake news, help us stand up for the facts.