Stand up for the facts!
Our only agenda is to publish the truth so you can be an informed participant in democracy.
We need your help.
I would like to contribute
"Republicans in Congress are plotting to take away Medicare, Medicaid and Social Security."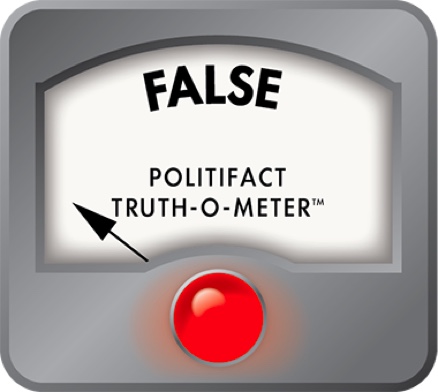 Do Republicans in Congress want to take away Social Security, Medicare, Medicaid?
It's been a time-tested Democratic attack line: Republicans are going to take away your Medicare, or maybe your Social Security. We gave a variant of the line our 2011 Lie of the Year.
Now the talking point has re-emerged, in a March 29 tweet, from Oregon's Ron Wyden, the top Democrat on the Senate Finance Committee:
"#TrumpTax was only the beginning. After giving massive tax giveaways to wealthy & powerful shareholders, Republicans in Congress are plotting to take away Medicare, Medicaid and Social Security."
In reality, the notion that congressional Republicans are scheming to "take away" Medicaid, Medicare or Social Security is inaccurate.
The Democratic news release
The first piece of evidence undercutting the tweet's message is actually linked in the tweet itself.
An accompanying Senate Democratic press release, dated March 27, starts by saying, "It's only been a few months since Republicans jammed through their massive giveaway to corporate executives and wealthy shareholders. Now they're planning on paying for it with huge cuts to Medicare, Medicaid, and Social Security, despite President Trump's promises that he wouldn't do so."
"Huge cuts," the phrase used in the press release, sounds scary. But it's not the same as saying the Republicans will "take away" the programs.
The release goes on to cite specific comments by Republican leaders. These comments focus on changes to "entitlements," the wonky term for federal programs that automatically allocate benefits to qualified recipients, rather than being dependent on Congress appropriating enough money every year. Entitlement programs such as Social Security, Medicare and Medicaid account for the largest share of the federal budget.
The Senate Democratic release includes two separate comments from House Speaker Paul Ryan, R-Wis., in December 2017 talking about returning to entitlement reform in 2018.
The release quotes Ryan at a subsequent press conference on March 20, 2018, saying, "The House passed the biggest entitlement reform bill Congress has ever considered last year, and regrettably the Senate did not follow suit. So we're just going to have to keep at it on entitlements."
These quotes suggest the Republican in charge of the House continues to seek overhauls of the entitlement system.
Cutbacks aren't the same as elimination
However, none of the proposals being weighed by Republican lawmakers would eliminate the programs. And Senate Majority Leader Mitch McConnell, R-Ky., does not share Ryan's zeal for taking up entitlement changes.
For Medicaid, Republican-proposed cuts could lead to specific individuals losing their coverage. That was the case with GOP proposals to repeal and replace the Affordable Care Act. Under these prior proposals, other beneficiaries might have experienced cutbacks in their Medicaid coverage. But the program itself wouldn't have been taken away.
The argument that Medicare or Social Security could be eliminated is even weaker. Even if cuts to these programs are proposed — usually through limiting inflation-adjustment formulas, raising taxes on benefits, or raising the retirement age — we've seen no plan that scraps the programs.
Wyden's staff tacitly confirmed that cuts are the GOP's goal.
They pointed us to President Donald Trump's 2019 budget proposal, which calls for $15.3 billion in Medicare cuts and $6.5 billion in Medicaid cuts in just the first year.
Wyden's office added that Republicans have made no secret about their desire to "voucherize" Medicare (by giving beneficiaries a limited amount to purchase private insurance) and to raise the eligibility age for Social Security.
Still, such ideas fall well short of what the tweet said.
"Obviously the devil is in the details but reform does not equal 'take away,'" said Steve Ellis, vice president of Taxpayers for Common Sense. "And clearly there needs to be some changes to get these programs on fiscally sound footing."
AshLee Strong, Ryan's spokeswoman, told PolitiFact that "no one has ever proposed taking away these programs. This kind of hyperbole is what keeps our important entitlement programs on an unsustainable trajectory."
The House already passed a bill that would have curbed Medicaid, but it died in the Senate. And the Senate -- where Republicans have just a 51-49 edge in a chamber that requires 60 votes for most legislative business -- is expected to be a graveyard for legislation to rein in Medicare and Social Security.
Indeed, McConnell, R-Ky., said during his year-end press conference on Dec. 22, 2017, that he does not plan to bring up entitlement reforms in the current environment due to a lack of bipartisan agreement on the sensitive issue.
"We had a missed opportunity during the Obama years, when you had divided government, like you did with Reagan and Tip O'Neill, to address the long-term unsustainability of some of our most popular programs, who currently don't meet the demographics of the country in the future," he said.
Our ruling
Wyden said, "Republicans in Congress are plotting to take away Medicare, Medicaid and Social Security."
Some key Republicans, including Ryan, have long argued in favor of overhauling entitlement programs such as these by reducing the amount of money spent on them. However, no Republican proposal has been made to "take away" any of the three programs cited in the tweet. In addition, Wyden glosses over just how far away from passage even a more modest overhaul would be.
We rate it False.
Ron Wyden, tweet, March 29, 2018
Senate Democrats, press release, March 27, 2018
Department of Health and Human Services, 2019 presidential budget proposal, Feb. 19, 2018
KHOW, "Speaker of the House Paul Ryan on Tax Reform and more," Dec. 6, 2017
Paul Ryan, press conference, Dec. 14, 2017
Paul Ryan, press conference, March 20, 2018
Mitch McConnell, press conference, Dec. 22, 2017
PolitiFact, "Pie chart of 'federal spending' circulating on the Internet is misleading," Aug. 17, 2015
PolitiFact, "Bill Cassidy offers misleading defense in face-off with Jimmy Kimmel," Sept. 20, 2017
Email interview with Steve Ellis, Taxpayers for Common Sense, April 5, 2018
Email interview with AshLee Strong, spokeswoman for Paul Ryan, April 4, 2018
Browse the Truth-O-Meter
More by Louis Jacobson
Support independent fact-checking.
Become a member!
In a world of wild talk and fake news, help us stand up for the facts.