Stand up for the facts!
Our only agenda is to publish the truth so you can be an informed participant in democracy.
We need your help.
I would like to contribute
"Science says that being single will kill you faster than obesity."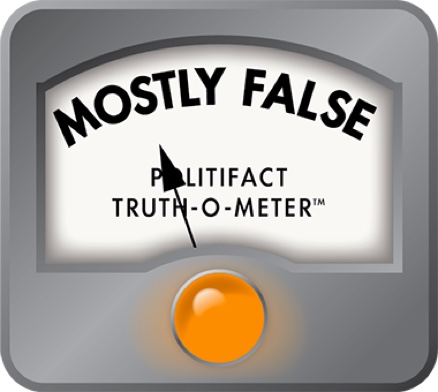 Will being single kill you faster than obesity?
Finding a date can feel like a life or death situation. According to Wonderneed, an clickbait news site, it actually might be. 
An article has the headline, "Science says that being single will kill you faster than obesity."
Facebook users shared the #relatable content over 9,000 times in less than a week. This story was flagged as part Facebook's efforts to combat false news and misinformation on its News Feed. (Read more about our partnership with Facebook.)
We decided to find out if being single was a health risk.
The danger of loneliness
The article focuses on a 2017 press release about the 125th Annual Convention of the American Psychological Association. Dr. Julianna Holt-Lunstad, professor of psychology at Brigham Young University, gave a presentation about the public health hazard of loneliness. Her team analyzed 218 studies that examined the connection between social isolation and mortality.
In these studies, researchers would track a group of subjects over the course of years. In some studies, participants would report how lonely they felt. In others, their loneliness was measured more objectively, based on the number of social connections an individual had or whether they lived alone.
Holt-Lunstad and her team found that lonely people were 50 percent more likely to die during the period of observation than those with good social connections. For comparison, obese individuals have a 45 percent higher risk of death, based on a 2016 Harvard study.
So, based on these stats, loneliness is just as much as, if not slightly more, of a health risk than obesity.
The Wonderneed article, though, doesn't say loneliness is more dangerous than obesity; it says being single is. Holt-Lunstad's study didn't focus on romance. Romantic relationships were included as social connections, she explained to us, but the result "wasn't specific to being single." Based solely on her meta-analysis, the article cannot conclude that a lack of romance is the health risk.
Phew.
The speed of death
The headline also mischaracterizes what these stats mean in practice. It claims that being single "will kill you faster" than obesity.
The mere act of being single is not killing anyone. It is the loneliness associated with being single that might carry the risk.
Second, none of these studies mention the element of time. Researchers measured the number of isolated people who died over the course of the study and compared it to the number of well-connected people who died. Because significantly more isolated people passed away, they concluded that loneliness was a health risk.
The same method would be used to measure the risk of obesity: If 15 percent of the obese sample died, and only 3 percent of the non-obese sample did, researchers would know that obesity was a health risk.
It is misleading to say that one would kill faster than the other.
All the single ladies = all the lonely ladies?
While the Wonderneed claim is incorrect, we're sure you're wondering: Are single people at a higher risk for death than those who are married?
Other research has taken on the question of romance and health more directly.
A study from 2011 showed that single people had a 24 percent increased risk for mortality. Especially within younger, healthier age groups, a single person is significantly more likely to die than someone married. Researchers found that, among 30-somethings, being single increased health risks by 128 percent.
It's unclear why this phenomenon exists. It could be because risk-takers are less likely to marry, and more likely to do stupid nonsense (emphasis ours). Or, unmarried people may have less access to health care and resources that married couples have. Perhaps, seriously ill people are getting married less often than healthy people, so it just seems like singles are more likely to die.
Regardless of the underlying reason, though, the statistics paint a dark future for the unlucky-in-love. The health risks for being single are lower than those of being lonely or obese, but still significant.
Our ruling
The article by Wonderneed claimed that "science says being single will kill you faster than obesity."
But the article cites an analysis on loneliness, not on romantic relationships. Studies have shown that loneliness can be a significant health concern, increasing a person's risk of death by 50 percent. This is a higher rate than that of obesity, which increases health risks by 45 percent.
But none of the studies actually examine the speed at which someone dies.
We rate this statement Mostly False.
Wonderneed, "Science says that being single will kill you faster than obesity," Aug. 9, 2018
American Psychological Association, "So lonely I could die," Aug 5, 2017
Julianne Holt-Lunstad et al, "Loneliness and social isolation as risk factors for mortality: a meta-analytic review," 2015
Julianne Holt-Lunstad et al, "Social relationships and mortality risk: a meta-analytic review," July 27, 2010
Harvard T. H. Chan School of Public Health, "As overweight and obesity increase, so does risk of dying prematurely," July 13, 2016
David Roelfs et al, "The rising relative risk of mortality for singles: meta-analysis and meta-regression," June 29, 2011
Martine Pinquart, "Loneliness in married, widowed, and never-married older adults," 2003
Steven Stack, "Marriage, family, and loneliness: a cross-national study," 1998
Interview with Julianne Holt-Lunstad, Aug 17, 2018
Browse the Truth-O-Meter
More by Katie Akin
Support independent fact-checking.
Become a member!
In a world of wild talk and fake news, help us stand up for the facts.