Stand up for facts and support PolitiFact.
Now is your chance to go on the record as supporting trusted, factual information by joining PolitiFact's Truth Squad. Contributions or gifts to PolitiFact, which is part of the 501(c)(3) nonprofit Poynter Institute, are tax deductible.
I would like to contribute
Says Gov. Rick Scott "ended $20 million in funding for mental health care despite Florida already ranking at the bottom."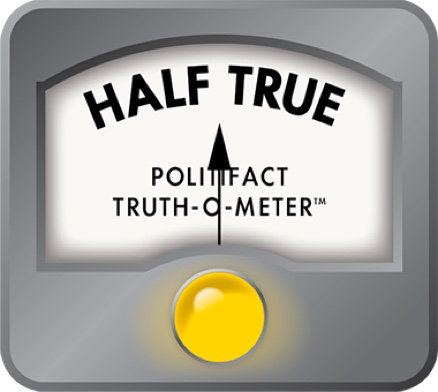 Florida Democatic Party says Gov. Scott ended a stream of mental health funding
In the wake of the school shooting in Parkland, Fla., the Florida Democratic Party issued a list of grievances against Gov. Rick Scott for what it called a "long record" of opposing gun safety and money for mental health initiatives.
Scott "ended $20 million in funding for mental health care despite Florida already ranking at the bottom," the group said in a news release Feb. 19.
Florida's bottom-rung ranking for mental health funding came up a year earlier, after another Broward County shooting, this one at the Fort Lauderdale airport that killed five people. State Rep. Carlos Guillermo Smith, D-Orlando, said Florida ranked 50th in the nation for mental health care funding, which we rated Mostly True.
A year later, we wanted to see if anything had changed with Florida's ranking on mental health spending and if Scott really ended $20 million in mental health funding.
Florida is consistently at the bottom of the pack for mental health funding
A key source of data for ranking states on mental health spending is the National Association of State Mental Health Program Directors Research Institute. According to the Institute, Florida ranked 51st in per capita spending in the fiscal year 2014.
The institute collects annual data on expenditures by state mental health agencies from the states, Washington, D.C., and Puerto Rico. The total amount of expenditures is divided by the state population to compare the amount per capita.
For Florida, the group tracked money spent through Florida's Substance Abuse and Mental Health Office, managed by the Department of Children and Families. So it doesn't include services paid from other sources, including Medicaid or local funds, on mental health programs.
Still, Florida has consistently been near the bottom of the rankings for years, Ted Lutterman, senior director of the institute previously told PolitiFact. We did not hear back from the institute to see if there was a more updated ranking, but mental health experts in the state said nothing had meaningfully changed.
Did Scott end $20 million in funding for mental health? 
The biggest thing to know about the $20 million grant is it was never intended to be permanent.
The $20.4 million was part of a federal block grant for substance abuse and mental health services. It was administered by the Florida Department of Children and Families and expired when the 2017-18 budget took effect.
Again, Scott didn't set the expiration date or cut if off early — he allowed the grant to expire.
The Florida Democratic Party argues that it was Scott's responsibility to fill the funding gap, and when he had the opportunity to fill it, he did not.
"It is the state's job to manage the federal funds they receive and fill in gaps that may arise," said Florida Democratic Party spokeswoman Caroline Rowland.
But Scott's press office said it's "completely false" to say that the grant's expiration led to budget shortfalls.
News reports, such as the Naples Daily News story included in the Florida Democratic Party's news release, noted how mental health and substance abuse providers were struggling to provide their normal services "after the Legislature and a state agency quietly allowed $20.4 million in federal money to expire without replacing it."
Even though the money was nonrecurring after the 2016-17 year, advocates said they were not expecting it to expire.
"No one was really aware that those funds were going away," said Linda McKinnon, Central Florida Behavioral Health Network president and CEO.
McKinnon said the grant funds in questions were used for the "full gamut" of mental health treatments and substance abuse services. One area that took a hit when the grant expired, she said, was the availability of children's crisis units across Central Florida's network of providers.
When word began to spread, several lawmakers called on Scott to do something about the issue.
Former state Sen. Jack Latvala, R-Clearwater, wrote a letter to Scott in August urging him to use his executive authority to fill the budget hole and extend Florida's state of emergency over the opioid crisis.
During a state of emergency, the governor can spend money appropriated for other purposes or spend unappropriated surplus funds, according to Florida statute. This way, Latvala argued, Scott could have used state reserves for the $20 million gap without the Legislature's approval.
Scott did not do this.
Rep. Kathleen Peters, R-Pasadena, immediately called Scott about the funding shortfalls.
But Scott pointed to a different $27 million grant that was included in the 2018-19 budget, according to a Tampa Bay Times column by John Romano.
However, that grant was targetted to be spent on drugs such as methadone and Vivitrol, which are used to help wean addicts off opioids. The 2018-19 budget says it "continues the state's investment of more than $1 billion in funding" for mental health and adds another $21.7 million to address other behavioral health needs.
"Gov. Scott's executive order allowed the state to immediately draw down $27 million in federal funds, and he has proposed significant investments for mental health and the fight against opioids in his 2018-2019 recommended budget," said Scott's spokeswoman Kerri Wyland.
Regardless of other grants and the new budget, Candice Crawford, the CEO of the Mental Health Association of Central Florida, described Scott's proposed amount of funding for mental health as short of where it needs to be.
"The governor has never really recommended a substantial amount of funding for mental health," Crawford said.
What's the relevance of this money to the Parkland shooting?
We wondered how the grant money might be related to the situation of Nikolas Cruz, who authorities say admitted to shooting the students at the school he once attended.
Not long before the shooting, DCF investigated Cruz after he posted "violent" social media posts, according to records obtained by the New York Times. The report mentioned that Cruz had been visited by a counselor from Henderson Behavioral Health, which provides mental health services in South Florida.  
Mental health advocates said it is fair to assume that a portion of the grant money would have gone to services that might have helped Cruz.
Our ruling
The Florida Democratic Party said that Scott "ended $20 million in funding for mental health care despite Florida already ranking at the bottom."
There's little doubt that Florida ranks near the bottom when it comes to mental health funding, but the first half of the Florida Democratic Party's claim needs context.
A nonrecurring funding stream for substance abuse and mental health block grants did end under Scott's watch. Scott could have used his executive authority to fill the gap, but chose not to do so. In other words, Scott did not end the grant, he just didn't do anything to fill the gap in funding despite having the opportunity to do so.
We rate this claim Half True.
Email exchange, Florida Democratic Party, Communications Director Caroline Rowland, Feb. 19, 2018
Email exchange, Gov. Rick Scott spokesperson, Feb. 19, 2018
Email exchange, State Rep. Jason Brodeur, R-Sanford, Feb. 19, 2018
Interview, Candice Crawford, CEO of the Mental Health Association of Central Florida, Feb. 19, 2018
Interview, Linda McKinnon, President and Chief Executive Officer, Central Florida Behavioral Health Network, Feb. 20, 2018
Naples Daily News, Florida Legislature, agency let $20M in aid for drug, mental health care end, Aug. 4, 2017
PolitiFact Florida, After Fort Lauderdale airport shooting, legislator says Florida lags behind in mental health funding, Jan. 18, 2017
Orlando Sentinel, Cuts to mental health care could leave thousands without help, advocates say, Aug. 7, 2017
Tampa Bay Times, Romano: The "morally irresponsible'' strategy to fight opioids in Florida, Aug. 13, 2017
Naples Daily News, Jack Latvala urges Rick Scott to fill mental health, drug abuse funding gap, Aug. 28, 2017
Browse the Truth-O-Meter
More by Allison Graves
Support independent fact-checking.
Become a member!
In a world of wild talk and fake news, help us stand up for the facts.