Stand up for the facts!
Our only agenda is to publish the truth so you can be an informed participant in democracy.
We need your help.
I would like to contribute
"I'm the first Democrat to ever lead Scott Walker in an election year."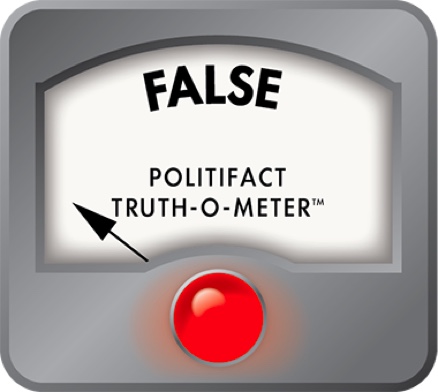 Evers' boast of being first to lead Walker in poll falls short of finish line
Is a blue wave going to hit Wisconsin come November?
It's a question that has been heavily debated since the election of President Donald Trump in 2016 -- and the wave of Democratic candidates who have won elections across the country in the months since.
Republican Gov. Scott Walker, who was first elected in 2010, has warned about complacency and the prospect of Democrats winning the office in the fall.
The race as of July is a still-dense field of Democratic candidates challenging Walker, who withstood challenges by Democrats Tom Barrett in 2012 and Mary Burke in 2014.
State Superintendent of Public Instruction Tony Evers has been leading the field of Democrats in the polls, and in a June 27, 2018, campaign email made a claim we want to check: "I'm the first Democrat to ever lead Scott Walker in an election year."
Is he right?
The Evers poll
When asked for backup, Evers' campaign team did not point to any independent polling that confirmed a lead over Walker.
Instead, they pointed to an Evers-financed poll that was conducted from May 9 to 10, 2018, by the privately-owned, Democratic polling firm Public Policy Polling.
Those who participated in the automated telephone interviews were not informed of who paid for the poll, and Evers' campaign had nothing to do with the poll other than paying for it, said Jim Williams, an analyst with the firm.
Respondents were asked: "If the election for Governor were held today and the candidates were Democratic Wisconsin Superintendent of Public Schools Tony Evers, and Republican Governor Scott Walker, who would you vote for?"
The result: Evers received 49 percent, while Walker had 45 percent, with 6 percent undecided.
According to a news release regarding the poll, the firm questioned 644 registered voters in Wisconsin. The poll had a margin of error of nearly 3.9 percent -- or, roughly the same amount Evers led by.
Other polling in the 2018 race
Of course, many campaigns do their own polling -- though they typically only release results that offer the most positive spin.
Meanwhile, the Marquette University Law School poll has done a set of head-to-head matchups between Walker and Evers (and Walker vs. other candidates) in June.
The poll showed the opposite of what Evers' poll found: As of June, Walker led by a margin of 4 percent: 48 percent favored Walker and 44 percent favored Evers. Walker also led the rest of his potential opponents in head-to-head matchups.
In the most recent poll, released July 18, 2018, voters were not asked about direct matchups with Walker, but Evers led fellow Democratic contenders, with 31 percent of voters choosing Evers.
Still, about 38% said they did not know who they plan to vote for in the August primary, and it is not yet clear that he'd bode well against Walker if he does proceed to the November election. In the July poll, Walker's approval rating was 47 percent, with 45 percent disapproving.
So, the internal poll cited by Evers is at odds with the main public poll released during this cycle.
But, the main question is whether his claim holds up when looking at past Walker runs.
Polls in past gubernatorial races
When asked to support his claim, the Evers' campaign referred to past Marquette Law School polls during Burke's run against Walker in 2014 and Barrett's run in 2012, as well as a New York Times compilation of independent pollsters regarding the 2010 election between Walker and Barrett. (The Marquette poll did not exist in 2010.)
At the same time, the campaign sought to refine the original statement.
"There is no other proof of a Democratic candidate beating Scott Walker by four points in an election year," Maggie Gau, Evers' campaign manager, said in an email.
Now, it may be true that no candidate was leading Walker by exactly four points. But there is evidence of other candidates pulling ahead in some polls -- though not many.
Let's look at the elections.
2010: In a Marist poll that involved 811 registered voters in October 2010, Barrett led Walker by 3 points, 44 percent to 41 percent. The poll was performed by the Marist College Institute for Public Opinion, a survey research center in Poughkeepsie, N.Y.
That is the only instance Barrett pulled ahead of Walker during that election season.
2012: In a February 2012 Public Policy Polling poll of 900 registered voters, Barrett led Walker 49 percent to 46 percent. Another Democratic candidate in the race at the time, Kathleen Falk, also led Walker in the poll, 48 percent to 47 percent.
Unlike the PPP survey Evers referenced in his claim, this poll was not paid for by any candidate in the race. Also like the Evers PPP poll, those results are within the margin of error of +/- 3.27 percent.
A May 2012 Marquette poll also showed that among registered voters Barrett led Walker 47percent to 46 percent. However, the one-point advantage was the opposite among likely voters, who preferred Walker 48 to 47 percent.
2014: Polls showed the race between Burke and Walker as a tight one. According to a Marquette poll from August 2014, Walker led among registered voters 47.5 percent to 44.1 percent, but Burke led among likely voters 48.6 percent to 46.5 percent.
Another survey, by Rasmussen Reports in October of that year, found Burke led Walker 49 percent to 48 percent. The survey pool included 973 likely voters.
 
Our rating
In a campaign email, Evers said "I'm the first Democrat to ever lead Scott Walker in an election year."
He cited a single internal poll -- one at odds with public polling in the race.
But there were two instances in which Burke led Walker -- however slightly -- in 2014, and one poll in which Barrett led Walker in 2010.
We rate Evers' claim False.
(Editor's note: On July 26, 2018, after this item was published, an NBC-Marist College poll was released that showed Evers leading Walker 54 percent to 41 percent. That does not change this item, as Evers' claim related to past elections.)
Poll, Marist Poll, October 2010
Poll, Public Policy Polling, February 28, 2012
Poll, Marquette University Law School, May 2012
Poll, Marquette University Law School, August 27, 2014
Poll, Rasmussen Reports, October 22, 2014
Poll, Public Policy Polling, May 23, 2018
Poll, Marquette University Law School, June 20, 2018
Campaign email, Tony for Wisconsin, June 27, 2018
Poll, Marquette University Law School, July 18, 2018
Support independent fact-checking.
Become a member!
In a world of wild talk and fake news, help us stand up for the facts.